Five-to-Try Seasonal California-Inspired Italians at Pitfire Pizza Company
(Gerry Furth-Sides) California-inspired favorite Italian dishes prepared with an abundance of the freshest, most straightforward ingredients with counter-service practical prices  –  bread products produced from sister Superba Bakery – is the ticket at Pitfire Pizza Company.   And how does this work out?  It's like living in Malibu and having your private chef cook for you, albeit with seasoning geared to a delicate American palate.
And it's like coming home with a large welcome sign outside the door directing you to the store's free nearby parking areas.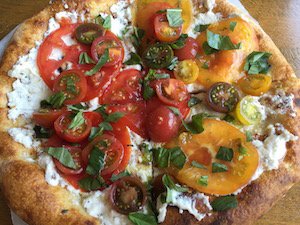 Pizzas are brushed with a light garlic puree and olive oil, then garnished with ingredients straight from the farmers market before they go into the oven.   It's not so much a classic pie with fairly standard toppings that originated  in Italy as a quickly prepared dough circle used as a plate for leftovers.  It is an entire dish on a crispy pie as you would have in an upscale restaurant.   One seasonal example is Pitfire Pizza's  summer harvest menu, so popular it was brought back with additional abundanza dishes.
The best-selling Heirloom Tomato Pizza (above) defines summer, blanketed in glorious fresh red, purple and yellow large and pearl tomatoes, punctuated with torn basil.  Good-bye acidic tomato sauce here. It you want sauce, a lovely non-acidic tomato sauce is spread on the Pitfire Pizza classic Margherita ($10) that adds parmesan plus California EVOO to the fresh mozzarella, tomato sauce and "torn" basil.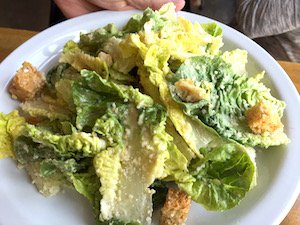 A classic Little Gem Caesar Salad is so fresh, so perfectly seasoned with each leaf lightly dressed and so wonderfully textured with crouton blocks (from Superba Bakery!) it's hard not to eat the entire thing although it is large enough for a table share starter or side.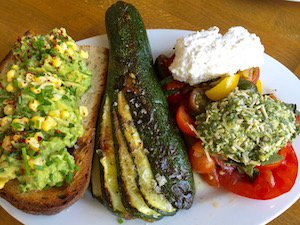 Other new Summer Sides on the Pitfire Pizza menu (left to right): Smashed Avocado Toast ($6), Grilled Zucchini ($5) and Heirloom Tomatoes with Ricotta & Chunky Basil Vinaigrette ($5).   The experience is again the equivalent of a trip to the best farmer's market with the Pitfire kitchen doing the heavy lifting and their commercial grills adding finesse.  The dishes can be ordered as individually or grouped with the Smashed Avocado Toast on their new Farmer's Market Plate for a unique, universally appeal  vegetarian meal($12.50) .

A dazzling Squash & Squash Blossom Pizza gleams with  California gold and green colors beautiful enough for a painting.   Goldman told us "it is baked with roasted garlic oil and yellow squash that has been seasoned with salt and pepper.  The  raw baby zucchini topping it has been marinated in lemon juice, lemon zest, salt, pepper and chili flake.  Its finished with several ounces of burrata, squash blossoms, Maldon sea salt, Extra Virgin olive oil, and hand torn basil.  It should be a subtle but flavorful pie!"
Produce could have come from any of the "Friends of Pitfire" listed on the menu, including the neighborhood Kenter Canyon Farms or the well-known farms of the Weiser Family, California Sunrise, Suzie'Crows Pass, Frog Hollow, China Ranch or China Hills.  It decidedly turns on its head the work detailed in his enlightening  book, The Language of Food, academic Dan Jarofsky's extensive study that includes menus. This concludes that the more times origin of products are noted on a menu, the higher the price.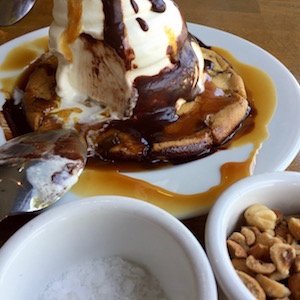 Want a DQ for dessert?  Here it is, elevated and gigantic, in the Organic Vanilla Soft Serve form the Straus Family Creamery in Marin County ($3.50 – possibly less expensive than a DQ in this case).  It's shown plopped on a house-made (Superba Bakery) Pitfire Smothered Cookie ($5.50 for two toppings) here topped with California EVOO or Virgin Olive Oil, house-made dark caramel sauce, Maldon salt and hazelnuts toasted in the kitchen.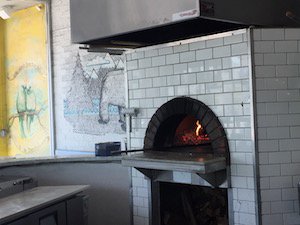 Pit fire Pizza's fashionable industrial-style decor immediately let's you know this pizzeria is high-end with soaring ceilings, chic lighting, wood tables, polished concrete floor, a sort of open-performance kitchen, one entire window wall and  interesting seating.  In a sense diners are gathered around a gleaming "pit fire," as in pre-historic days.  Only here it is a wood-burning oven, complete with cleverly placed common tables angling out from it so that the entire place really has a view.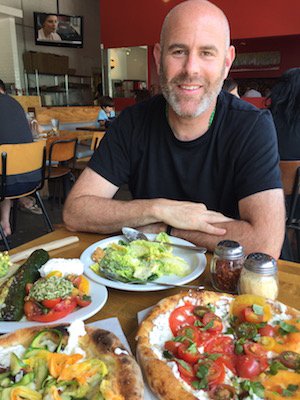 And the white-tiled wood-burning oven is "sexy," laughs self-effacing CEO Jeff Goodman, a happy east coast  transplant who can compare pizza styles on a national level, and downplays his impressive resume, that includes University Restaurant Group.
It all starts with pizza dough prepared by Pitfire bakers, "who have been making it for over 15 years!" reports Goodman.  The bread we use for toasts and croutons is Superba-made daily by sister company, the truly "superb" Superba Food + Bread's Bakery, so there's everything to like.  Products go out to the nine Los Angeles area stores from a central commissary.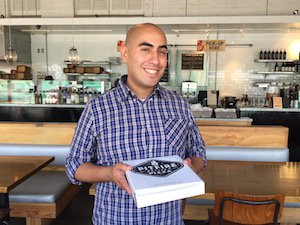 Stacks of boxes along one wall make it easy to take home leftovers — which are still tasty and fresh for a meal at home.  Service is neighborhood friendly and starts with a sign at the driveway about where to park – on the house.  Above is manager Robert Torres of the Westwood store.
Paul Hibler started Pitfire Pizza seventeen years ago with David Sanfield, and grew the company into nine  Southern California  locations under the American Gonzo Food Corporation umbrella.  This newest version bolsters the mainstream American variation of already commercialized Italian pizza with locally sourced brand name produce, counter-service style for practical prices and a sleek interior.  Each location has an individual touch, such as the bear at the Westwood location (for the UCLA bruins or the state?)  In Hibler's words, "It's the artisan casual. It's a simple build out but with cool design. Moderately priced. It's about all what's relevant right now in food."
Though we found the dishes perhaps too subtle for our taste, there were chili pepper flakes on each table to ramp it up.  Goodman noted, "Our intent is to always serve well-seasoned foods.  I'd like to think that we properly season all of our food but perhaps that was not the case with some of your dishes.  We seek to balance flavors in our food and utilize a wide variety of fresh and dried herbs, salts, spices, finishing oils, vinegars and reductions."
Mr. Goodman, you had me at the driveway with the  parking directions.
Pitfire West, 2018 Westwood Blvd., Los Angeles, Ca  90025 (310) 481.9860
www.pitfirepizza.com