To-Try (and Why) New Food Products with Ethnic Pedigrees
(Gerry Furth-Sides) New Food Products with an Ethnic Pedigree to Try range from pure Hellenic Gaea Greek Glaze to pure Virgin Coconut Oil  from the tropics and Avocado spray from Mexico and Not Ketchup created in Santa Monica by way of ancient China.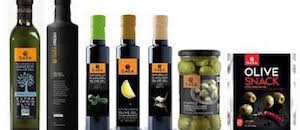 We start with Gaea Greek Glaze, crema di oymelo, the ancient balsamic.  It is simply the best on the market.  All you have to do is read the label:  "concentrated grape must, balsamic vinegar, thyme homey and floral honey." Read the label of the same Glazed Balsamic vinegar at Trader Joe's and it lists "syrup" and "artificial caramel coloring."  The Gaea label boasts,"turns cooking into cuisine," and it does just that.  Suggestions are  to use it on fresh salads, raw and cooked veggies, cheese, strawberries, meat stews, and cheesecake.  We're been especially pleased with it on ice cream and on salads.

Pitted Green Halkidiki Olive Snacks taste like the Aegean Sea, and are famous for their crisp flesh flavor.  One variety is marinated with Lemon & Oregano and one marinated with chilis & Black Pepper.  They are simply the best olives I have ever tasted.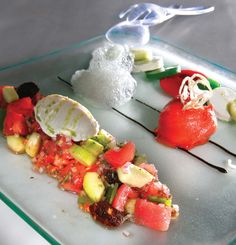 The non GMO olives perfect for salads or snacks or in cooking, arrive liquid-free for practicality, in an ingenious foil resealable package.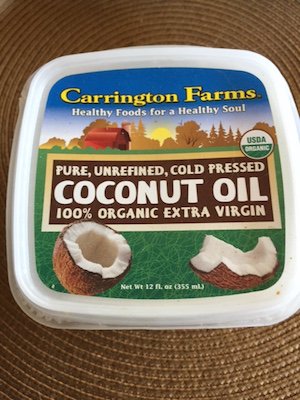 Before I tried Carrington Farms "New and improved" Pure, Unrefined, Cold Pressed Coconut Oil I mostly used coconut oil (good brand) to put in my open bathroom shelf to gauge the real (not iPhone) temperature outside. (it liquifies from solid form at 75 degrees F and 24 degrees C with all health and nutrition properties remaining the same in either solid or liquid state)  It is was liquid, I knew it was hot. (Thankfully, the 1/2 inch or so this summer left in the jar stayed mostly solid.)
So it is not so much "new and improved" as brought back to the finest version its original state.  Carrington Farms differs from other store-bought brands, including the one at Trader Joe, because it is simply pure, unrefined, cold- pressed and 100% organic extra virgin.
It also differs from other Coconut Oils because it comes in a convenient liquid bottle form that can be measured out for cooking, sautéing and baking as a substitute for butter or other fats.  It easily mixes in smoothies, coffee, and oatmeal.  The oil can also be used salad dressing, sauces, dips, smoothies and to  drizzle over popcorn. We tried it on oatmeal and it is delicious.
However, it does have 130 calories per tablespoon in comparison to grape seed oil, which has 120 calories for the same amount.  This is "good fat" but still calories.  Honey (on our oatmeal) or even molasses is only 60 calories per tablespoon.
Because is it easily digestible, Carrington Farms oils are perfect to include in pre-workout snacks and provides an energy boost.  And it contains over 93% Medium Chain Triglycerides (MCTs).  The natural product is even a carrier for essential oil and natural skincare needs.  The oil retails for  $12.86/12oz and is available nationwide at stores and online at www.CarringtonFarms.com.
Carrington Farms is dedicated to providing the absolute highest quality products to the consumer in search of a healthy and long life. With a 16-year history of developing natural and organic consumer packaged goods in vibrant packaging, the companyhas become recognized by the health conscious consumer as the brand of choice in presenting products that are, in their words, 'Simple. Real. Delicious.'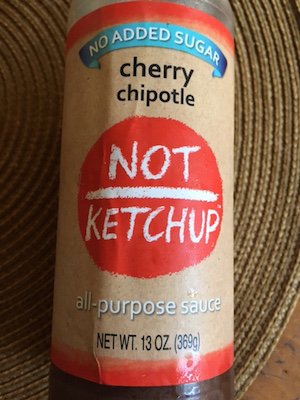 The new NOT KETCHUP flavor, Cherry Chipotle is already big news for  founder-owner, Erika Kerekes because it is made without processed sugar as a result of Erika avoiding a potential type II Diabetes diagnosis.  The texture is reminiscent of ketchup, but the flavors are entirely different: chipotle cherry, blueberry white pepper and a smokey date.  The line of sauces spice up dishes from rotisserie chicken, grilled cheese sandwich, burgers and they are perfect for spicy, grilled sausages – and just about any salad with fridge ingredients.  I use it to flavor salad dressing with grapeseed oil and rice vinegar.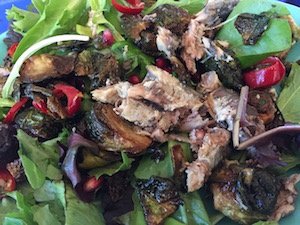 This positive story is that it will be featured in the Dr. Oz magazine in the coming months.  It features the new concept of "no added sugar" to the sauce. Erica herself lost 20 pounds by completely cutting our sugar in her diet.
Erika is known as the writer of the  "in Erika's kitchen" and for starting the first official food blogger organization in Southern California.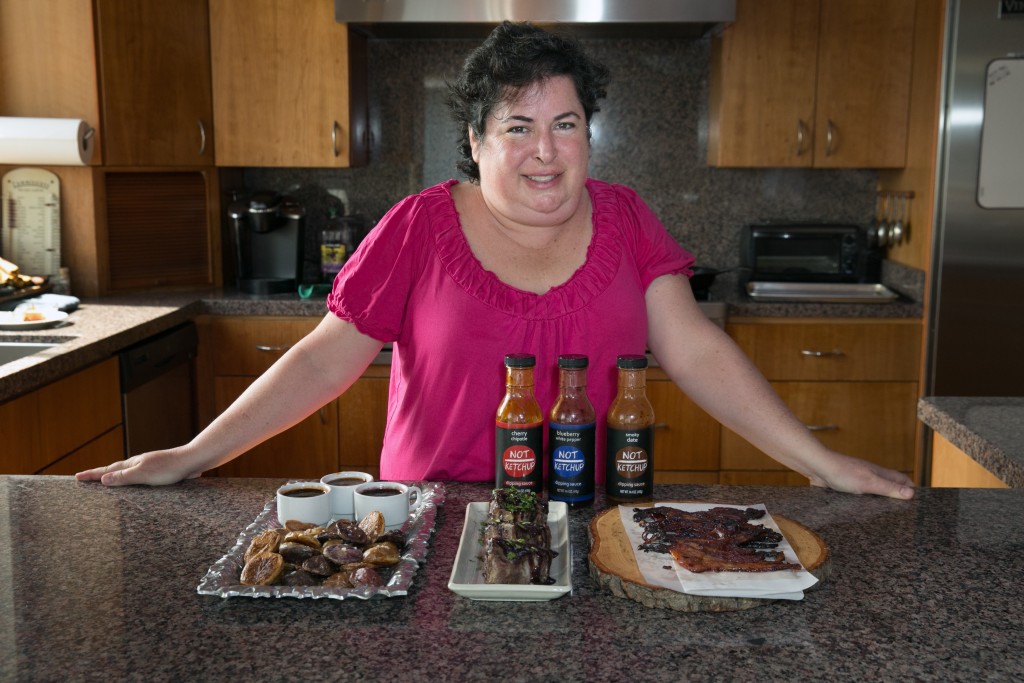 For the story of NOT KETCHUP please see (http://localfoodeater.com/erika-kerekes-not-ketchup-in-whole-foods-and-a-whole-lot-of-shelves/). For purchase information, please see www.notketchup.com.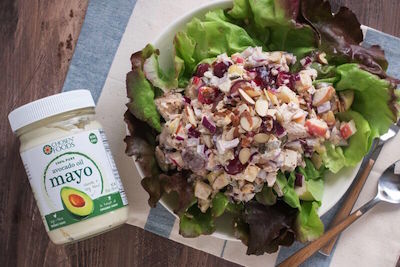 Avocado Oil Mayo and Avocado Spray Oil, made with 100% pure avocado oil are touted by Chosen Foods as healthy products.  Their Avocado Oil, was a "Best of East Press Winner" at the "Natural Products Expo East 2015," among a field of over 100 products. Criteria included innovation, ingredients, visual appeal and taste, according to officials.  The Avocado Oil Mayo has a taste  redolent of homemade mayo because of the identical ingredients, with a kiss of dijon mustard and rosemary.
Avocado oil mayonnaise joins the list of currently popular oils made of grape seed, walnut, hazelnut; grape seed, toasted sesame and roasted almond.  I've reviewed them all, starting with grape seed oil, which I recommended as a sprinkle along with rice vinegar, salt and pepper to make up an instant dressing.  To my surprise, I eventually found myself preferring this to anything else because you can really taste the salad ingredients, and it is doesn't wilt the lettuce.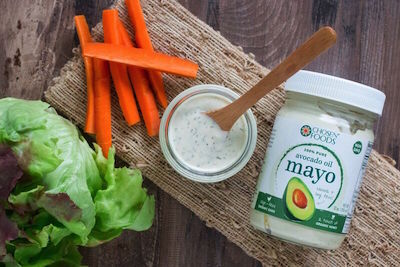 I was recently startled to see the spray on an outlet store shelf.  Like other treasured products I used to find there, such as  La Tourangelle Grapeseed Oil (sold in Bloomdale's for again half the price) and St. Dalfour jams and honeys made with grape juice and no sugar (sold at half again the price at Gelson's and sold these days  at Sprouts), I'm sure the Chosen Foods will soon disappear from the outlet shelves, too.