Fogo de Chão's New Spring (Fall) Menu 2017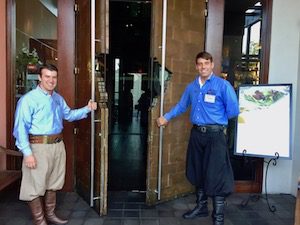 (Gerry Furth-Sides) It would be fine with this writer even if Fogo de Chão ("fire on the ground"in Portuguese) the world's leading Brazilian steakhouse/churrascaria, offered their same superb, close to over-the-top, over-sized menu and impressive dining rooms all year round.  But, not so.  Each spring and fall, with the seasons in North and South Americareversed, the famed Fogo de Chão  creates seasonal additions to their menu.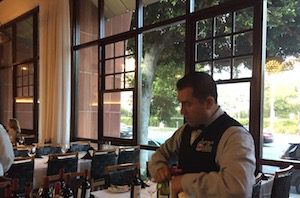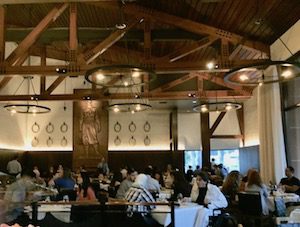 This spring new additions even included a dining room update with windows that are more open to lightened the shrubbery outside.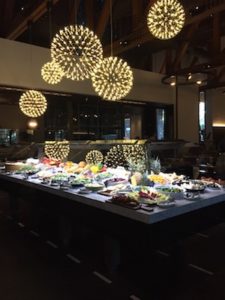 The Market Table is in place, just as tempting as ever.  See our top picks below.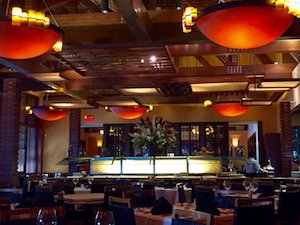 The new look also includes new chandeliers.   We love them both (former look underneath)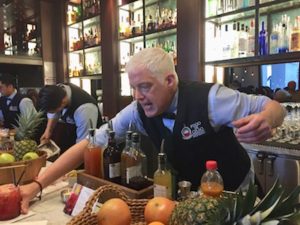 And at the Beverly Hills Fogo de Chão, a brand new expanded bar with outdoor patio floods light into the welcoming foyer.  The bar does equal justice to the  Brazilian-inspired craft cocktails and South American wines.  (please see http://localfoodeater.com/new-bar-fogo-beverly-hills-fogo-de-chao-ushers-spring-fall/we)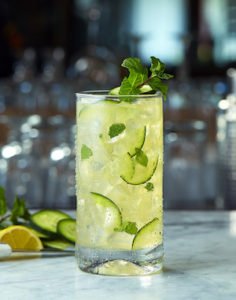 This one small "taste" of the new spring bar menu.  It is the Cucumber Mint Smash with a name as refreshing as it looks and tastes.
On the food menu side, three new seasonal salad and soup dishes debut as do a refined array of new Brazilian Bites.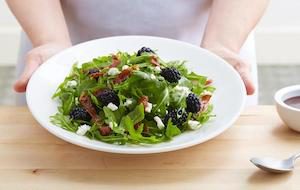 The new, Blackberry Arugula Salad features fresh blackberries and spring onions topped with goat cheese, crispy prosciutto and served with a blackberry balsamic vinaigrette.   The Blackberry Arugula Salad shows how Fogo de Chão's side dishes always stood up to the Brazilian-born gaucho chefs' authentic, superb grilled meats – from beef filet mignon to Brazil's signature piranha.
Fogo's spring seasonal menu items have been crafted for those ready to embrace warmer temperatures using the freshest ingredients of the season.
The Lentil Quinoa Salad: This colorful salad features quinoa and green lentils, finely diced red onion and red bell pepper and is garnished with fresh chopped parsley and basil
Carrot Ginger Soup: Sweet spring carrots are blended with coconut milk and ginger for a delicious vegan treat.
For more information on the new Bar Fogo and spring menu offerings or to make dining reservations, please visit http://www.fogo.com.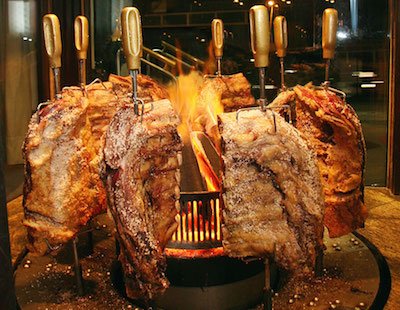 The show is still all there with gaucho's bearing filets and steaks of beef, lamb chops, shrimp and seafood.  Gauchos carve off the exact slice you choose, rare, medium or well-done.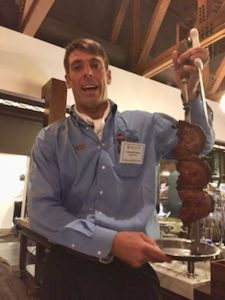 A small plate and a pair of tongs at every place setting is there to nap the sliced off meat from the skewer when the gaucho slices it off for you.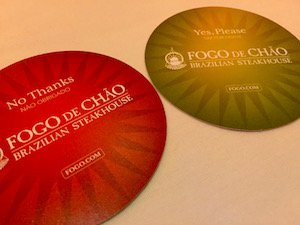 The fun of the experience is simply placing your cardboard disc as a sign to the passing gauchos on the table as they pass by with skewers.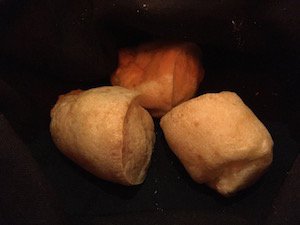 Baskets of Brazilian yucca-flour cheese puffs, pão de queijo, put mini-popovers in mind with their paper-crisp exterior and spongy interior remain just as addictive.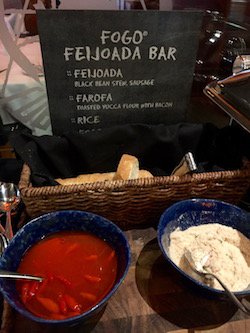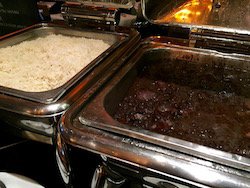 We could make a meal of the national dish of Brazil, at the Feijoada Bar with warm Black Bean Steak Sausage and Farofa (Roasted Yucca Flour with Bacon) and "dirty rice" of rice with beans and special seasonings.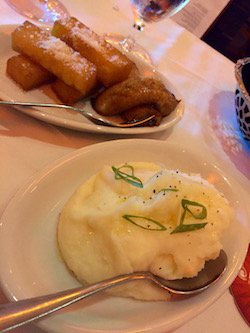 Caramelized bananas, hot, warm cheese polenta, and garlic- mashed potatoes are placed on each table fall into the same satisfying category.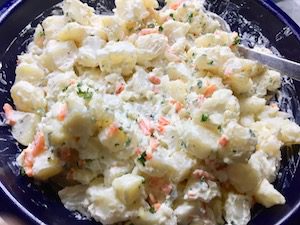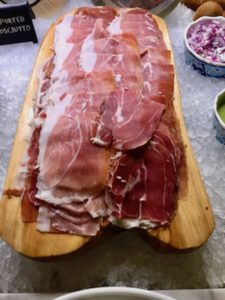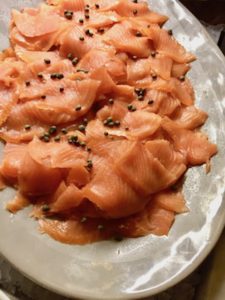 On the buffet table itself, even the the potato salad salmon and prosciutto are the finest anywhere.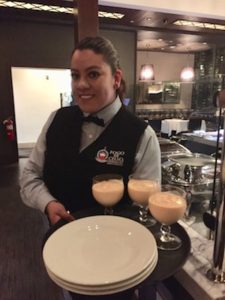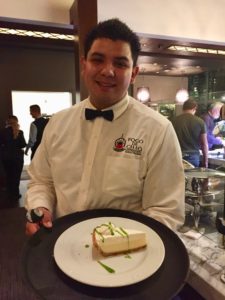 And don't forget dessert- flan and key lime pie are favorites.
Fogo de Chão, however, perhaps the best known and leading Brazilian steakhouse, or churrascaria, has specialized for more than 36 years in fire-roasting high-quality meats utilizing the centuries-old Southern Brazilian cooking technique of churrasco.
For more information about Fogo de Chão, including locations and hours, pricing and menu offerings like the new Brazilian Brunch, Gaucho Lunch or expanded Market Table, please visit http://fogodechao.com/.
For a visual representation of the story of Fogo de Chão, watch "the Gaucho Way,"  a documentary-style video shot through the eyes of real Fogo de Chão Brazilian gauchos and explores the restaurant's deep cultural roots in Southern Brazil.
FOGO DE CHÃO –  133 N. La Cienega Blvd., Beverly Hills 90211 (310) 289-7755