Fred Eric Celebrates Fred 62's 20th Birthday with Party Invite
Los Feliz's favorite funky retro themed American diner, Fred 62 is turning 20.  Guests are invited to celebrate with him at a hosted party, Saturday, June 17 – 9:00PM-Midnight.
As a thank you for the many years of loyal patronage, Fred 62 will be celebrating by serving up complimentary minis of menu food and drink classics from 9pm-Midnight (or until the food runs out!) on Saturday, June 17.
A mainstay of the area and a restaurant that started the Silverlake area resurgence of good food,  if's worth a trip just to see the historic booths and 62 portraits shot in 1962.
Chef and Co-Founder Fred Eric opened the diner's doors in 1997 with the intent of serving food that appeals day in and out, night and day. Fred is the "thinking man's chef" though you can love his food without even thinking about it.  His scope is wide; Fred 62, with its late night hours,  has become a popular draw for both club goers and observant Muslins during Ramadan
Fred is the guy who could always "think outside the box"  -after he had mastered the box.  Innovative, creative and refined, you could count on him for satisfying, often whimsical, wry food in whatever setting he chose.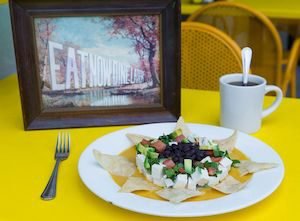 Angelenos of all ages and persuasions have been ordering crowd favorites including 45,000 servings of the affectionately called "breakfast of stoners", the Dime Bag; 90,000 fried Mac n Cheese Balls orders; 45,000 stacks of Billion $ pancakes; and 180,000 milkshakes. All ordered around the clock for 20 years of 24 hour service, 7 days a week, 365 days a year summing up to more than 175,000 hours of continual public service.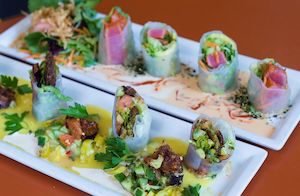 Curmudgeony Fred Eric is one of the "under the radar" brilliant chefs known to all foodie and other chef insiders.  Neal Fraser, Bruce Marder are two others with the same sort of cynical demeanors hiding a passion for food they are pleased to share.  Their time will come although these guys don't really care about becoming a household word.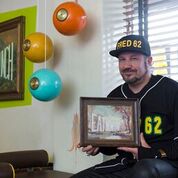 The chef-restaurateur behind Fred 62 in Los Feliz and Tiara Cafe downtown is competitive  – in a good way.  This is why he has always been standouts at any food event in which he participated.  His past ventures, which marked Los Angeles restaurant history in one sense or another include Airstream Diner (where Dominick's once stood), Olive, Vida, Liberty Grill.
Recently he launched a new D'elish "sandwich shop" menu at Tiara Cafe, the whimsical Fashion District restaurant where he's also serving pizzettes, tartines and farmers market salads to chic downtowners during lunch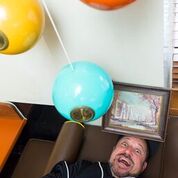 When I was working with CAVA (Cha Cha Cha sister restaurant by the chef who wrote the IVY menu as a teen-ager), Chef Toribio Prado turned to Fred first and only to develop his James Beard NYC dinner menu.  Fred is a consultant to many more chefs these days I am told.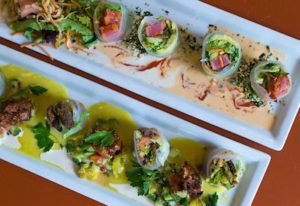 Fred 62 XX Party
Come as you are…
When: Saturday, June 17 – 9:00PM-Midnight
Fred 62, 1850 N. Vermont Ave., Los Angeles, (323) 667-0062; Tiara Cafe, 127 E. 9th St., Los Angeles, (213) 623-3663. www.tiara-cafe-la.com.