Gluten Free "Scary Fun" Halloween Ideas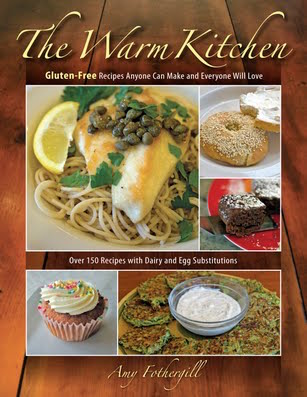 (Gerry Furth-Sides)If you're looking for some simple, ghoulish, and fun party ideas, Chef Amy Fothergill, a mom and author of the award-wining cookbook, The Warm Kitchen: Gluten-Free Recipes Anyone Can Make and Everyone Will Love, offers these ideas in her newest book.  Amy's Gluten Free Menu for a Halloween Party includes Mashed potato ghosts (regular mashed potatoes with peas as eyes), shown below.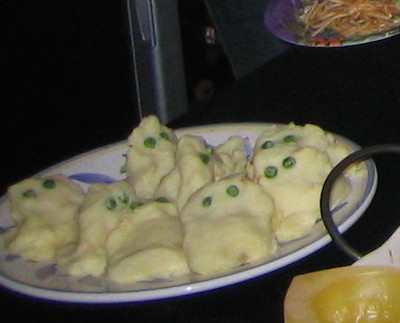 Worms and bugs (lentil, gf pasta and brown rice pilaf) looks "wormy" and yet appealing at the same time.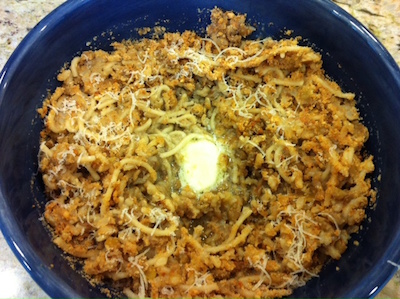 The recipe for "Words and Bugs in Dirt" is an example of the clever idea that is simple to make and healthy. 
Gluten-Free Spaghetti, Rice and Lentil Pilaf (aka Worms and Bugs in Dirt)
Serves 4
2 cups of low sodium gluten-free chicken or veggie broth
1 1/4  water
1/3 cup brown lentils, rinsed
1/2 cup long grain brown rice (if you use short grain, add at least 1/4 cup of additional liquid)
1 ounce or about 1/2 cup dry brown rice spaghetti (or any gluten-free spaghetti)
Optional: few strands of saffron (it will give the pilaf a yellow color)
1/2 cup gluten-free bread crumbs (try Schar or make your own)
1 tablespoon unsalted butter (for dairy-free, use olive or your favorite vegetable oil)
1/4 teaspoon sea salt
Ground pepper to taste
Optional: grated parmesan cheese
1. Heat broth and water to boiling in a medium size pot (see note below for tips on using a rice cooker). Add lentils, rice and saffron, if using. The pasta is added later. Stir, cover and bring back to a boil. Lower to a simmer and cook 25 minutes.
2. Remove cover, add pasta and stir. Cook for 10 minutes, stirring occasionally. If there is still liquid, remove cover and continue cooking until liquid is absorbed. Test everything for doneness. If any of the grains or rice is still crunchy and there is no more liquid, add 1/4 cup and cook another 3-5 minutes.
3. While the pilaf is cooking, place the breadcrumbs in a shallow pan (e.g. round baking dish) and place in a toaster oven or the regular oven (300F) to brown. Crumbs toast quickly so keep an eye on them.
4. When the pilaf is done, stir in the butter, salt, pepper and breadcrumbs.
5. Optionally garnish with grated parmesan or any hard Italian cheese. That's what you see in the photo!
Note: Rice Cooker Method
Add broth, water, lentils and rice (saffron if using) to bowl of rice cooker plus another 1/4 cup of water. Brown rice made in the rice cooker needs more liquid. Turn rice cooker on and set a timer for 25 minutes. Open cooker and add spaghetti. Stir and close cooker. Prepare breadcrumbs in step 3. When rice cooker is done, leave closed for 5 minutes. Check to make sure all of the liquid has been absorbed.  If for some reason it has not, turn cooker back on for 3 minutes. Add ingredients in step 4 and optionally garnish with parmesan cheese.
Other recipes for scary dishes are:
Monster fingers (carrot sticks w cream cheese and slivered almonds)
Witches fingers with blood (gluten free chicken tenders with ketchup or BBQ sauce
Monster eyes (fruit salad balls or grapes)
Amy's book is available on her website (http://amythefamilychef.com/the-warm-kitchen-cookbook/buy-the-book) or at amazon.com.