Los Angeles Greek Film Festival 10th Anniversary Introduces Culinary Theme
A brand new "Gastronomical Sidebar" and  a number of  culinary inspired films was one of the highlights of the tenth anniversary Los Angeles Greek Film Festival (LAGFF.org) as it rolled out the red carpet to celebrate its  June 1 – 5, 2016 at the Egyptian Theatre in Hollywood, CA.  Cuisine-themed entertainment and a top chef cooking demonstration with tasting on June 4 plus a panel discussion headed by noted Greek Chef, Marisa Churchill on June 5, mirrors the similar events at the lively, annual Athens International Culinary Film Festival (AICFF) celebration.
The award-winning short, Fig (Fikon) from Sweden (2015) was shown in its Los Angeles premiere.  The story revolves around Eleni requesting a fig on her deathbed and the travails of her husband, Kostas, from picking one form the nearest tree to falling down and breaking his foot and having to get the fig home in time.  It earned the Golden Dionysus Best Short Film award at the 2015 Drama international Short Film Festival and the "Iris" Best Short Film award by the Hellenic Film Academy the same year.
A Touch of Spice (Politiki Kouzina or "Kitchen Politics")  the second feature Greek film of Taso Boulmetis   (2003), is a moving yet joyful coming of age documentary starring George Corraface as a forty-year-old chef who returns to Istanbul after years of exile after recalling his childhood in his  there with his grandfather in his spice store.
The AIGFF festival showcased more films, Q&A's and festivities than ever before.  Boulmetis also directed the festival's opening night film, Mythopathy (Notias – 2016)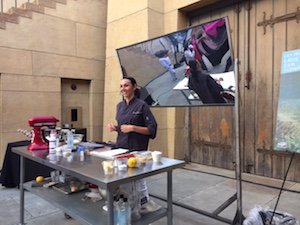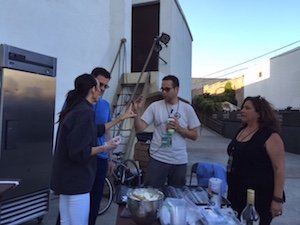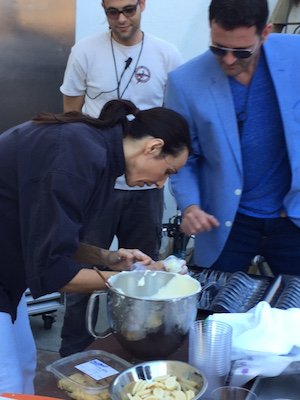 Marisa Churchill, award-winning chef,  was on hand to offer up a cooking demonstration in the Egyptian courtyard with tastes of Greek cuisine for all in attendance.  Chef Marisa who had driven down from San Francisco with freshly baked shortbread on her lap, prepared her samplings of Hellenic-inspired strawberry shortcake with an array of ingredients and equipment brought together and arranged on the side wide walkway of the historic theatre — which is "the kitchen" for every  catered event at the venue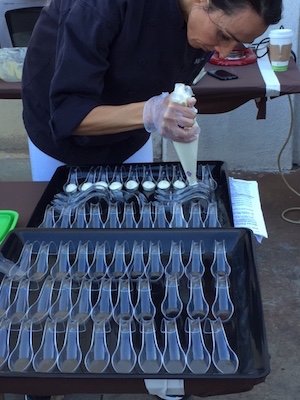 Sunday's food-focused screening featured Director Angelos Abatzoglou's documentary, Mustafa's Sweet Dreams (Ta Glyka Oneira Moustafa) released in 2012 tells the story of 16 year-old Mustafa who wants to become a master in the art of making baklava in a small Turkish town, the famous town of food history, Gaziantep.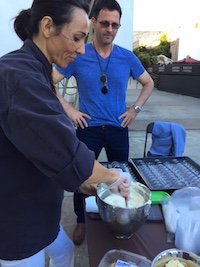 This year's festival boasted films a variety of international films from Australia, Cyprus, Denmark, France, UK, Greece, Sweden, Turkey and the U.S. representing 15 narratives, 9 documentaries, and 31 short films. LAGFF will introduce four World premieres, 25 North American premieres, and 13 Los Angeles premieres to the Hollywood audience. 42 films will vie for LAGFF's coveted "Audience Choice" Orpheus Award.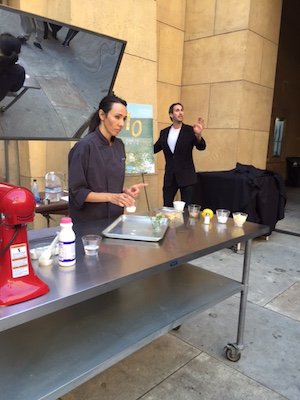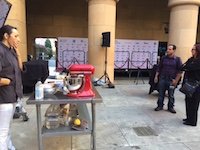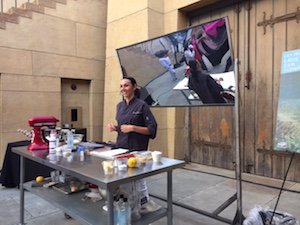 Following the final screening and star-studded Orpheus Awards Ceremony the closing night party included wine, food, and entertainment under the Hollywood stars. J.K. Simmons will receive the 2016 Orpheus at the ceremony hosted by "American Beauty" star Mena Suvari.
For a complete list of films and screening times visit http://lagff.org
The All-Access GOLD PASS is currently on sale. General admission tickets go on sale May 10th. For more information and press credentials, visit www.itsmyseat.com/LAGFF