Stylish Halal in Indias Restaurant in Silverlake
Los Angeles holds the title of being the most culinary diverse city in the world. The area now also holds the most diverse Muslim population in the United States, which means that a variety of restaurants serve halal dishes, such as the relatively new India's Restaurant on the eastside in Silverlake, and the long-time award-winning India's Oven in Brentwood across town.  The clear, comprehensive and  long menu is an enticing introduction to a number of Indian dishes because of the detailed explanations of ingredients and preparation provided in each description.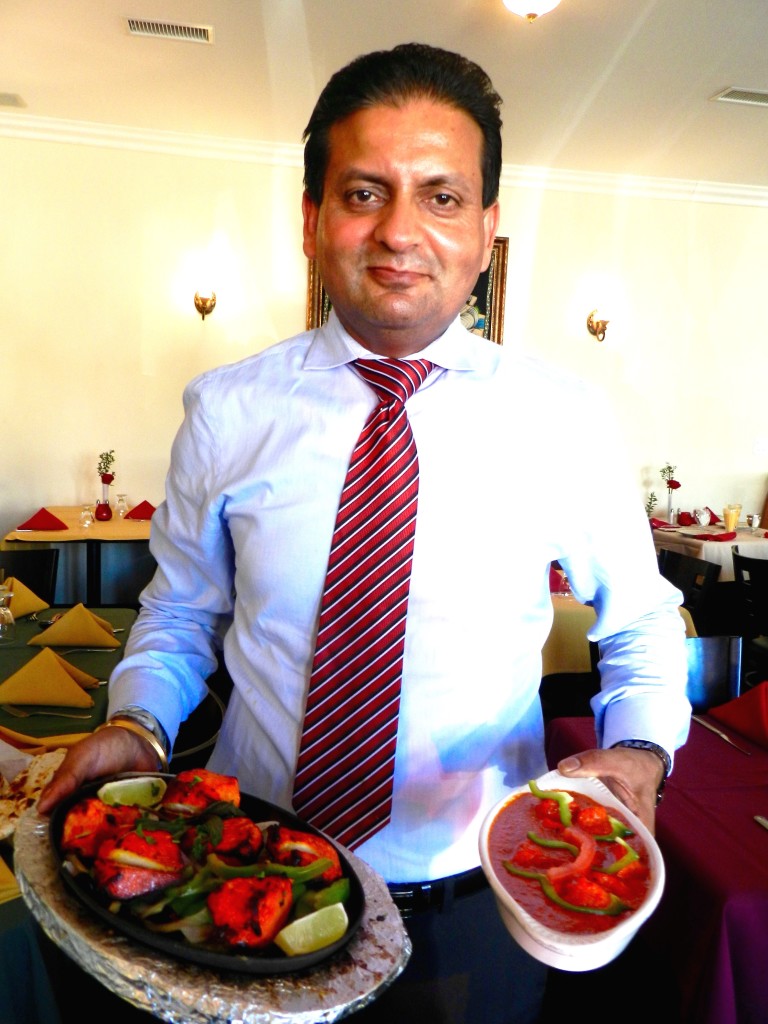 India's Restaurant, the relatively new white tablecloth, airy double space dining room in a modest strip mall and already known for its outstanding hospitality, offers classic and unusual halal dishes.
Halal menu offerings can be very exciting because they often boast ancient roots and are steeped in centuries of histories, not to mention the evolution to perfect them and the chefs who prepare them each add their own special touch.  "Halal" in Arabic means "permissible" and refers to how meats are slaughtered and prepared according to Sharia or Islamic law, as described in the Koran. Forbidden cuts include hindquarter meat, along with all pork, predators and birds of prey, amphibian products and the consumption of blood.
India's Restaurant categories of meat options include  Tandoor Se Mulakat, clay-oven gourmet specialties in the form of kabobs, chops and roasts – with the option of all white meat or half and half.  In addition to these options are three more categories of A La Carte dishes, stews and curries to pair with side dishes:  Chicken, Lamb and Goat, and Vegetarian Specialties.  Balti Specialties, served with rice in a not pan, start with a rich and hearty stew balanced by hot and sweet spicing, ginger and crushed tomatoes, all garnished with yogurt.  Lamb, Lamb Mushroom and Lamb Tikka Balti can be found in the mixed platter along with chicken.
A varied list of practically priced Combination Dinners also offers a way to try a number of new dishes at one time.  For example, the Express Dinner ($17.95) includes a choice of 3 pieces of chicken Tikka or 2 pieces of Sheesh Kabab or 1 piece of Tandoori Chicken; a choice of curry (lamb, chicken or goat), Daal Makhni; Vegetable of the day, Naan, Rice and Raita (the classic home made Yogurt Sauce with Cucumber, Tomatoes and Spices).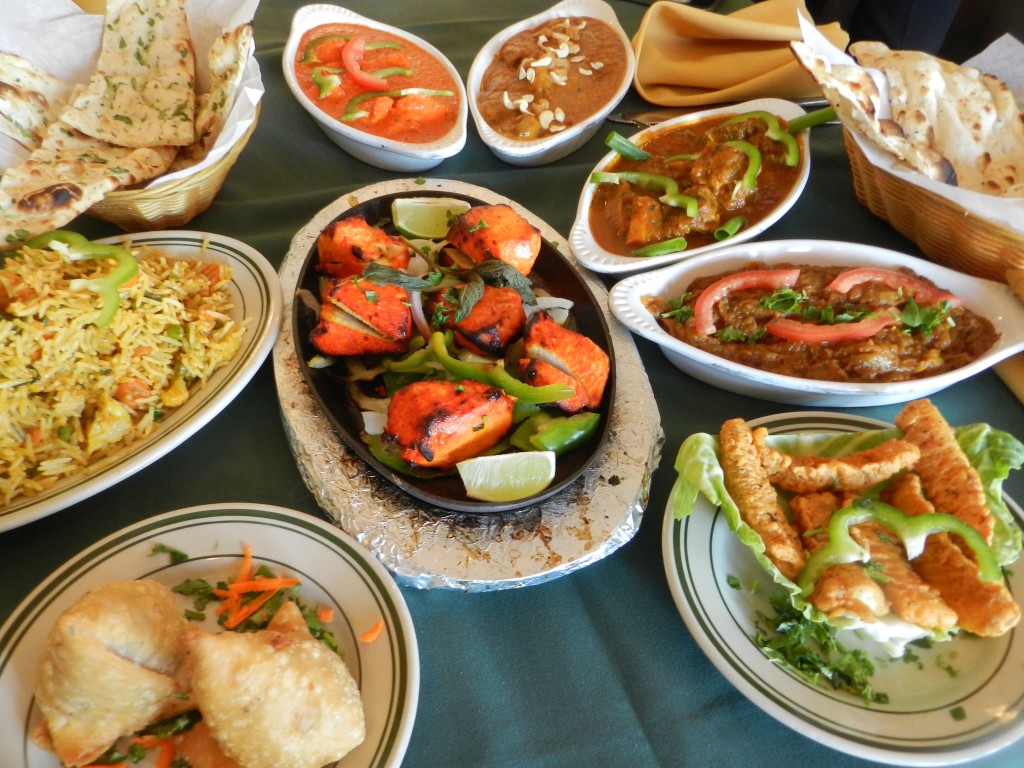 On the Tandoor list, cooks in the performance kitchen prepare lamb, game hen, chicken, shrimp and fish from the simplest versions to the complex. It begins with the unadorned Rack of Lamb, marinated in herbs and spices and cooked on a skewer. Lamb Boti Kabab, made from the tender, juicy leg of lamb meat, is marinated in yogurt and spiced, then roasted on a skewer over a bed of red hot charcoal in the clay oven. The enticing fragrance and steam rises announces the dish as it arrives from the kitchen.   And the ever popular Sheesh Kabab here is roasted, skewered minced lamb meat mixed with herbs and spices.  The Mixed Tandoori platter  a Tandoori Chicken and Chicken Tikka with Lamb Boti Kabab and Sheesh Kabab.
Biryanis, an elegant rice preparation, also offers Lamb in a special blend of herbs and spices, and Goat – bone in for flavor- prepared in North Indian spices.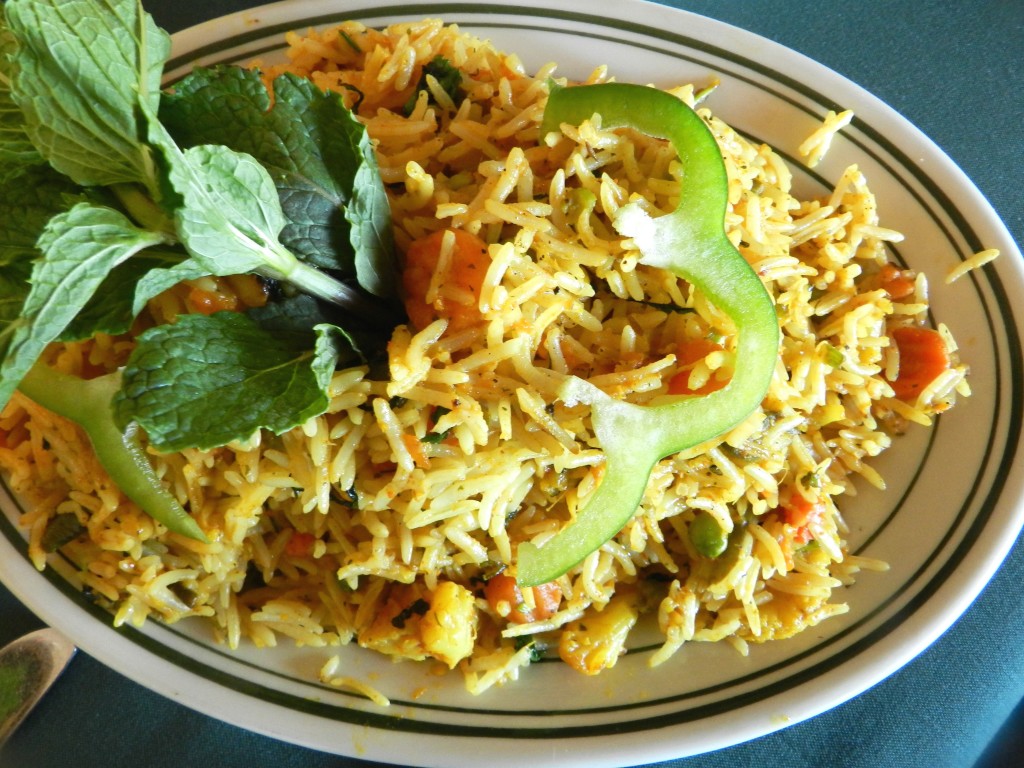 To accompany the long A La Carte lists  of Chicken, Vegetarian and also Seafood platters can be mixed and matched with those in the categories of Vegetarian.   Five Soups and Salads add to the options, along with a dozen appetizers — featuring the crispy fried Samosa, Bhaji and Pakora.
Mite Ka Lutf (traditional Indian desserts) finish a meal at India's Restaurant.  Yes, there is the traditional Gulab Jamun, and her they are freshly made in purified butter (ghee) for a rich taste.  The pistachio ice cream (with fresh green pistachio) is also made in-house, along with  Rasmalai, freshly made soft cheese patties drenched in thick sweet milk.  Mango Malai provides the perfect dessert after a big meal, fresh, shredded mangoes in thick sweet milk, served chilled.
A common question is whether Kosher means the same as Halal.   The simplest answer is that most of the principles of halal apply to kosher, but not the reverse.   Both Islamic and Kosher laws adhere to a similar form of slaughtering animals or poultry, dhabiha, involving a cut to the jugular vein, carotid artery and windpipe in one clean attempt with a non-serrated blade, avoiding the spinal cord.   In both kosher and halal, a blessing is said over the animals. After slaughter, the animal is examined to ensure that it is fit for consumption.  The difference is that Kosher meat preparation is supervised on site even after the slaughter.  There is also supervision in the restaurant kitchen with inspection of all ingredients in addition to meats and seafood, and the preparation as well.  To be kosher, aquatic animals must have scales and fins (The Muslim majority of Hanafi Sunnis follow this law as kashrut as well).
One way to explain the difference between halal and non-halal food is comparing it to organic and non-organic produce.  The taste may be the same, but it a healthier (and in the case of halal, a more humane methodology, with the main difference possibly being a fresher taste to the table and more care being put into the preparation.
Adding to the comprehensive, elegant menu, India's friendly restaurant owner and staff are also always on hand to explain dishes and answer any questions.
India's Restaurant, www.Indiasrestaurant.net, 4366 Fountain Avenue, Los Anneles, CA 90029, (323) 912-9230. Order online for pickup or delivery below.