Celebrate Historic Chocolate with New American Regional Recipes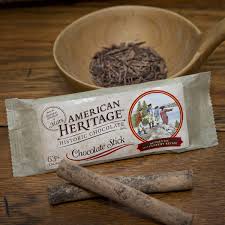 (Gerry Furth-Sides) It is almost as heartwarming to learn that chocolate is historic as well as health-promoting.  Did you know that cacao beans were used as form of currency dating back to the Aztec Empire?
More history facts go back more recently to the early 1500s when Christopher Columbus returned from his first trip to "America" and brought cacao beans back to the Spanish court.  In the new United States George Washington drank "chocolate cream" at breakfast and Benjamin Franklin sold chocolate in his print shop.  And chocolate has traditionally been included in military provisions throughout history?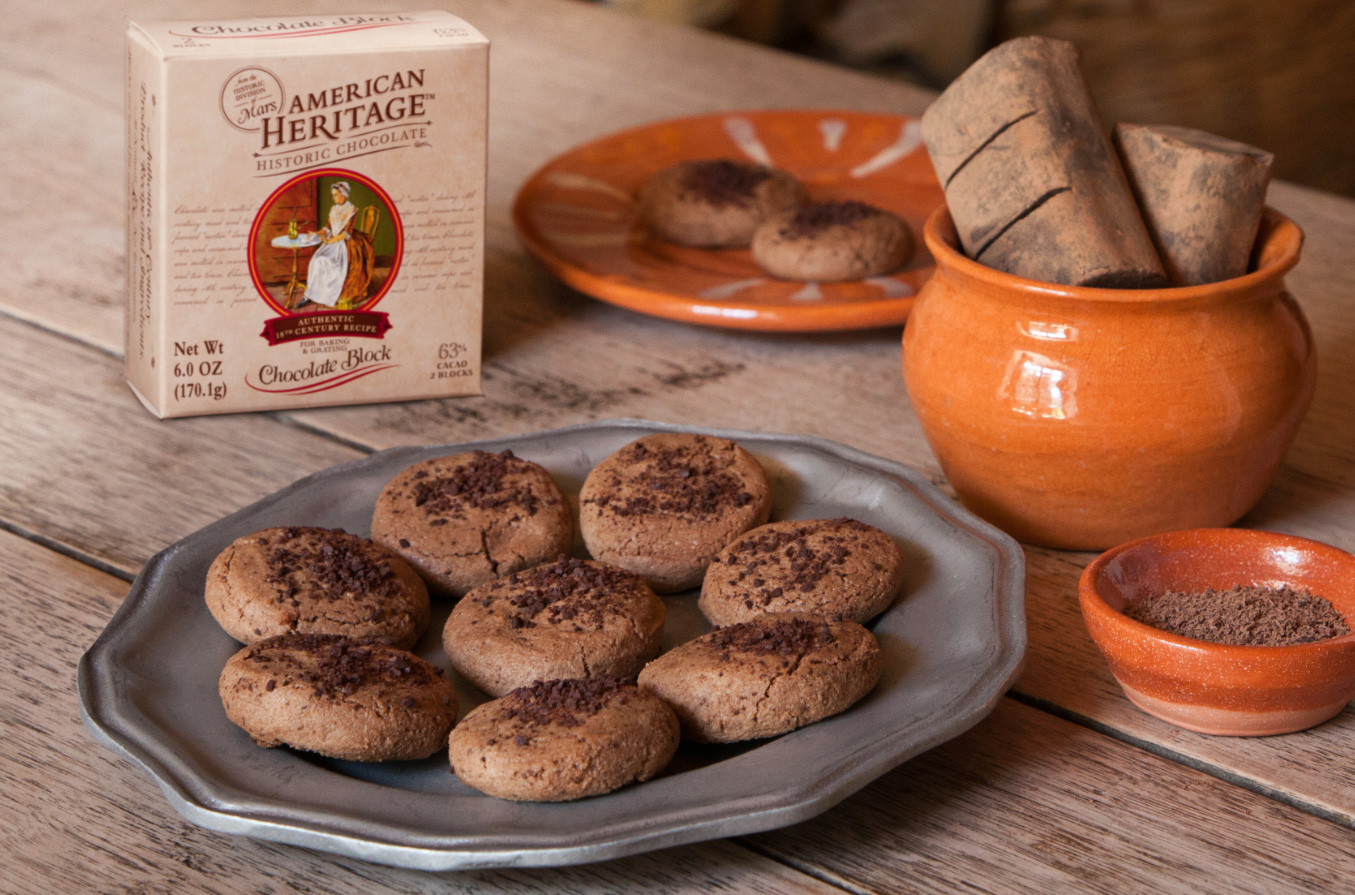 Gourmet American Heritage® Chocolate of Mars Chocolate North America has partnered with sites such as Bent's Old Fort National Historic Site, Fort Ticonderoga, Colonial Williamsburg, Mount Vernon, The National Archives, Monticello, The Smithsonian, and Parks Canada to  sell chocolate, fashioned off ingredient lists from the 1750's, but also to educate consumers on the history of the Americas through the unique lens of chocolate.
Some of the venues mentioned above, including The Smithsonian, The National Archives and Old North Church will introduce a new Spiced and Iced Chocolate drink  as well as offer free drink samples, chats with AHC's Chocolate Historian and 18th century-inspired chocolate-making demonstrations.
Since Mars feels that "Chocolate is American history,"  in 2003 the company undertook an extensive global research initiative to uncover the true history of chocolate.  Through a partnership with University of California at Davis and historic partners such as Colonial Williamsburg, Mount Vernon and Historic Deerfield, Mars led a multi-disciplinary international team of researchers, culinary chefs, food scientists and historians to compile the most comprehensive and accurate account of chocolate's journey to North America, Chocolate: History, Culture and Heritage, published by Wiley 2009.
The findings all concurred:  Chocolate reflects different groups of people, cultures and historical events throughout the ages, and introduces the ideas of sharing a connection through time.
Try the drink and other decadent chocolate treats below at home whether you are reading, planning a trip about chocolate or just wish to indulge.  The creators recommend using Gourmet Heritage® Chocolate in the recipes.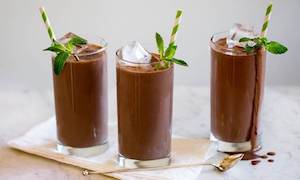 Spiced and Iced American Heritage® Chocolate
2 Servings
image001.jpg
Ingredients
¼ cup powdered sugar
½ cup nonfat dry milk
2 Tablespoons cornstarch
1 cup American Heritage® Chocolate Drink
1 ½ cups water
Directions
· Heat water until gently boiling, then remove water from heat.
· Whisk remaining ingredients slowly into water. Continue whisking until chocolate is dissolved and smooth.
· To serve, either: Dispense hot liquid over crushed ice, or; Pour into container and chill overnight.
Note – settling may occur with chilling; if solids present, mix vigorously with whisk until back into solution. Pour over ice before serving.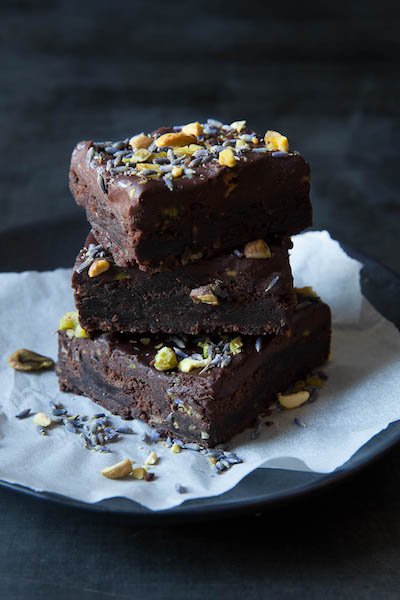 American Heritage® Chocolate Lavender Pistachio Brownies
Baking is all about gathering together. So why not whip up a batch of brownies to share? Want to show a little extra appreciation, AMERICAN HERITAGE® Chocolate has developed a stunner – lavender pistachio brownies made with our tasty chocolate chunks. So good!
Ingredients
1/2 cup, chopped American Heritage® Chocolate Block
1 box brownie mix
water, vegetable oil, egg as directed on brownie mix
1 TBSP finely chopped edible lavender
1/4 cup roughly chopped pistachios
Follow the directions on the box of your desired brownie mix.   Add chopped chocolate, lavender and pistachios to brownie batter.  Pour brownie batter into baking pan and bake as directed. Brownies are done when a toothpick inserted comes out clean.
Optional: Top with additional colorful, chopped lavender and pistachios.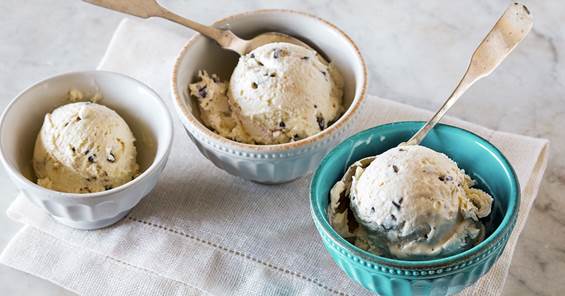 American Heritage® Chocolate Ice Cream (No Churn)
Makes 1 quart
Ingredients
1 ½ cups whole milk
3/4 ounce (3 tablespoons) cornstarch
1 ½ cups heavy cream
6 ounces (3/4 cup) granulated sugar
1 ounce (¼ cup) cocoa powder
½ teaspoon powdered espresso
Pinch kosher salt
4 ounces American Heritage® Chocolate Chocolate – GRATED
1 teaspoon vanilla extract
Directions
· Whisk ½ cup milk with cornstarch to dissolve, set aside.
· In a saucepan, whisk remaining milk with heavy cream, sugar, cocoa powder, espresso and salt until blended. Heat the mixture until just before a simmer. Remove some of the hot milk mixture with dissolved cornstarch, blending together. Pour the cornstarch mixture into the saucepan and continue cooking until mixture slightly thickens. Remove from heat, stir in American Heritage Chocolate® Drink and vanilla.
· Pour mixture into serving cups. Once it slightly cools, cover with pieces waxed
paper and freeze.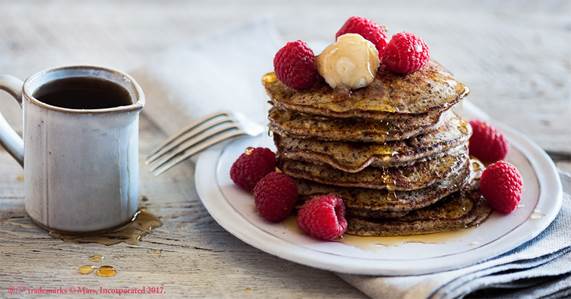 CHOCOLATE RICOTTA PANCAKES (makes 2 dozen 3-inch cookies)
Ingredients
3 eggs, separated
8 ounces ricotta cheese
2 ounces milk
1 ½ oz. sugar
½ oz. salt
4 oz. flour
2 ½ oz. American Heritage® Chocolate, Grated
3 oz. butter
Directions
· Whisk egg yolks with ricotta cheese, milk, sugar and salt. Fold in the flour and chocolate. Set aside.
· In a separate bowl, whip egg whites to soft peak. Fold whites into ricotta mixture.
· Melt butter as needed in a large skillet. Ladle batter, 1/4 cup per pancake. When edges brown and pancake bubbles, flip over and continue cooking until firm.