Honey Bear Daisy Cafe Blooms with Best of East and West Coast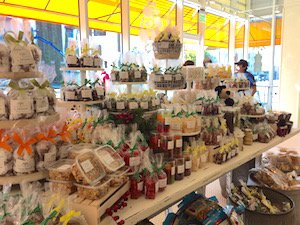 Editors Note:  THIS RESTAURANT IS CLOSED as of 2017
About the only true thing about Honey Bear Daisy's homey "cute" name is that the place is friendly.  Otherwise the refined American regional, rustic dishes are layered with international flavors, and the airy, soaring space overlooking the ocean is as spiffy as can be.
Intense, internationally experienced, Executive Chef-owner John Schenk, is the driving force behind HB Daisy.  It is the culmination of his diverse culinary background put to best use; Chef Schenk's seasonings alone command enormous respect.  His journey took him from his hometown of Buffalo, then back and forth between NY and San Francisco at the height of each city's heady pioneering, innovative days in the '80's, with stints in between to Africa and Las Vegas.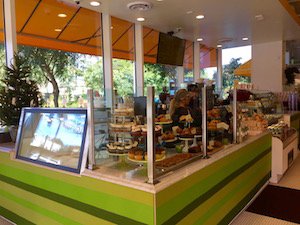 Colorfully painted counters hold an array of baked goods and packaged foods.  Refrigerated foods and drinks wait behind glass sliding doors on one wall.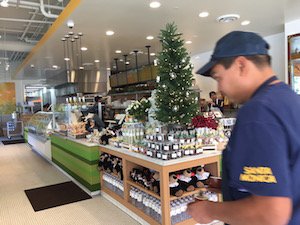 The HB Daisy is ingeniously designed so that you can order at the counter with your food prepared in the kitchen OR you can choose from gloriously prepared food on platters inside the glass cases in front of you.  The dishes looked so good is was almost impossible to choose!  Before we knew it, we had nibbled almost ALL of the snappy house-made sample potato chips at the counter while studying the menu.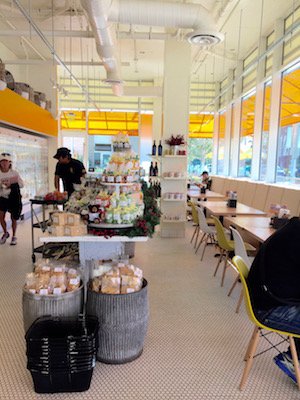 Again, wonderful, well thought-out design shows in the side space because a "rounded feel" comes with the banquette seating, with comfy plastic chairs at each table.  Note the timeless, marble tile on the floor. So it is perfect for a leisurely meal or a quick one.  It is truly a combination of the best of east and west coast.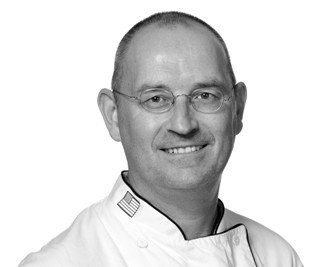 Chef Schenk  talked us into the Turkey Cubano as the best we would ever eat.  The chef with a self-assured, rugged demeanor that only comes from experience and expert bears such a resemblance to Chef Robert Irvine.  You cannot say, "no" to him.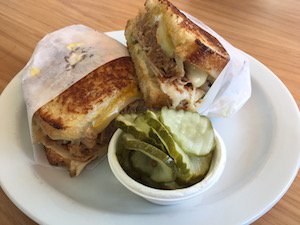 We're glad we did.  He was  right!  "French's mustard" supposedly is the key ingredient that makes this sandwich work – and the housemade pickles-  but oh-so-thinly sliced turkey was meltingly tender and flavorful.  The fresh bread was just crusty enough on the outside.  We forgot our disappointment that it was not pressed.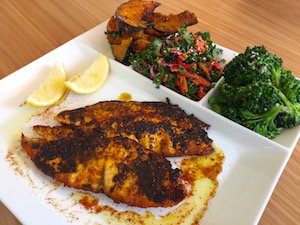 The dressing on the salmon was paprika – not one of my favorites.  But combining it here with cinnamon and other spices now puts it on the top of my list.  Two side dishes come with each entree.  Here they are broccoli and divine, butter, silky squash.  The sample of ubiquitous (though well massaged here for tenderness) kale salad was not unique.
The Falafel Waffle served with a frisee salad was dry; we were encouraged to use the yogurt dressing on it.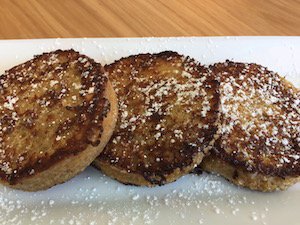 French Toast arrived as three discs made with (Rockenwagner) brioche that lacked the expected pillowy texture, and with authentic maple syrup.  My dining companion ate every bite.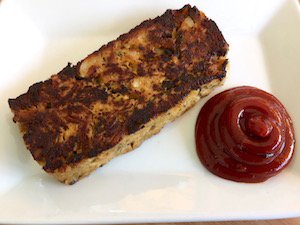 The Turkey Meatloaf with jalapeño had a delightful kick to it. This is a  dish to be ordered another time.   The ribs in the counter could be added to this list.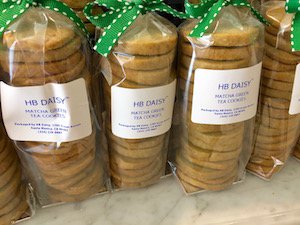 Matcha Tea shortbread appealingly stacked in packages.  The good: generous, delightful samples and the bad: The cookies have just enough bite and sweetness to them so that they are hard to stop eating.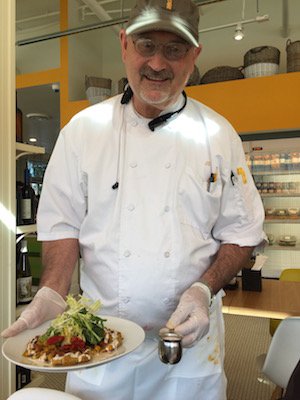 Breakfast, brunch, lunch and dinner all have extraordinary choices. Every dish is familiar but elevated to its best version.  The service is welcoming, courteous and intelligent.  Parking on the street and 90 minutes free underground (totally different than north of Pico).
The couple  next to us from the court house said they ate there every day for two weeks — if I were closer, I would be there too! This is easily solved with the take-away options for so many of the menu items.
Chef John Schenk was born in 1957 in the city of Buffalo, NY, US John's father, a native of Galveston, a small town in Texas, was his first teacher in the culinary arts, with food filled with deep, resonating southern flavors.   From then on he paid attention not only to how food tastes interplay but how all the senses are affected.
The long road to Honey Bear Daisy was filled with vital connections at every stage.  When John started his career in the '80s in San Francisco at Patty Underman's popular Hayes Street Grill, he became acquainted with the likes of legendary Mediterranean food expert, Paula Wolfert, and Barbara Tropp, the maven of Chinese food.  We only found out when he laughingly told us he learned how to cook fish.  While cooking at Paula Wolfert's home, he "mistakingly took the fish off the grill after a few minutes.  It was the hit of the party.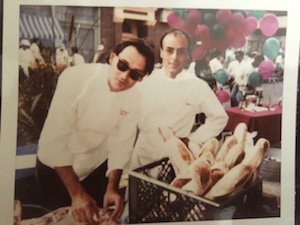 Afterward came trips to France and Kenya and then a stint in 1987 at the outlandishly trendy Gotham Bar and Grill in Manhattan with celebrity chef, Alfred Portale.  The Monkey Bar followed, which earned him notice in the pages of Food & Wine as "one of the 10 best chefs in America."
Every food writer and fan remembers when the dark, clubby Gotham Bar and Grill arrived in Santa Monica (north of the freeway) to great fanfare and it was the talk of the town – for a few months before it disappeared.  At the time, al fresco dining was just becoming popular. Almost reading my mind, and possibly because of his San Francisco job experience, Chef John announced, "you can't just come out here from New York and expect to succeed with east coast ideas."
 The
New-York Times
gave his restaurant work a rating of "Star" and  "The Miracle of the year, or the most rapid transformation of the restaurant in 1992 ". A menu of this institution, which developed the John Schenk, the newspaper said the words "almost all of his dishes taste just detonate."  
Two years later
, in 1997, John opened his first successful restaurant Clementine) in Greenwich Village, and he was off and running.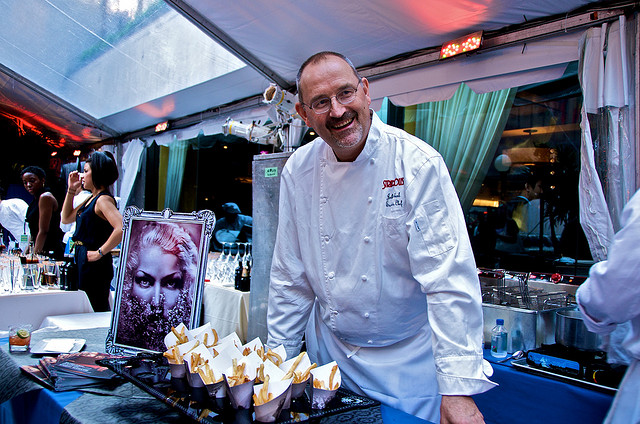 Armed with the knowledge of restaurant organization and imaginative, practical food back of the house, he moved on to multiple unit restaurant, and subsequently earned public recognition and financial success as Corporate Executive Chef with the corporation of the Strip House – a network of snack bars and restaurants located in New York, New Jersey, Florida, Las Vegas and Texas.
(www.honeybeardaisy.com), Honey Bear Daisy, 1705 Ocean Avenue (at Olympic), (424) 229-9669.