Indian as Apple Pie Spices up Thanksgiving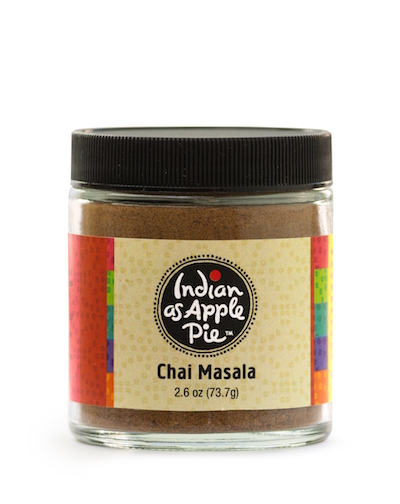 Cinnamon, ginger and cloves are flavors sure to be found in every pumpkin pie spice combination. This fall, liven up the flavor by exchanging pumpkin or apple pie spice for Chai Masala from Indian As Apple Pie . This classic Indian spice blend still has hints of cinnamon and ginger, but will bring a bold new flavor to every Thanksgiving treat.
Here are a few suggestions of recipes you can zest up for this year's Thanksgiving meal:
•   Pies. From pumpkin to apple, the Chai Masala blend enhances many pie fillings and adds new flavor to the traditional desserts. The strong spice contrasts with the sweet fruit, creating a blast of flavor with each bite.

•   Ciders and eggnogs. Break out the holiday beverages early and add a new twist. Kick up your mulled cider or creamy eggnog a notch with a peppery boost from the Chai Masala. Either drink will have guests sipping until the last drop.

•   Stuffing. Chai isn't just for sweet recipes; it can be used in savory dishes as well. No matter what kind of stuffing you make, Chai Masala is an excellent addition. Try it in a traditional sourdough stuffing or in cornbread stuffing studded with cranberries and tart apples.

A pinch of Chai Masala can bring new flavor to all parts of this Thanksgiving's menu. For recipes using Chai Masala and other Indian As Apple Pie spice blends, visit the Indian As Apple Pie blog or check out Indian For Everyone by former journalist and best-selling cookbook author, Anupy Singla

Anupy Singla is a former journalist turned cookbook author and entrepreneur. Born in India but raised outside Philadelphia, Singla is the co-founder of Indian As Apple Pie ( www.IndianAsApplePie.com), a company with a variety of recipes, custom spice blends and unique home goods designed to make Indian cuisine accessible to every type of home cook. Singla's commitment to healthful recipes and family-oriented cooking is inspired by her dedication to bring good, authentic food to her two daughters. Since her first book appeared four years ago, Singla's The Indian Slow Cooker and Vegan Indian Cooking have sold more than 100,000 copies and perennially topped Amazon's list of bestselling Indian cookbooks. Her latest addition, Indian for Everyone: The Home Cook's Guide to Traditional Favorites, mirrors her company in that it aims to make traditional Indian dishes accessible to all types of cooks and diets.