THE INDiAN KITCHEN in WEHO: A Class in Food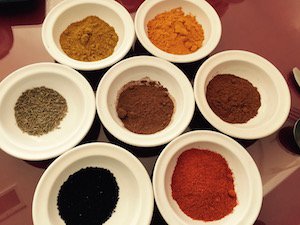 It takes only one step inside of indistinguishable  The Indian Kitchen in West Hollywood to find discover an inviting room with pillows on the wall and a special, warm, information introduction on the menu to customers by the dedicated owner, Ali. "Thousands year ago, the Himalayan sages conceived the use of spices and herbs as a natural means to balance the metabolism of the body. This knowledge became the main pillar of the Ayurvedic 'Science of life'.  It is the variety and combination of these spices that nourishes both the body and soul – an experience to cherish."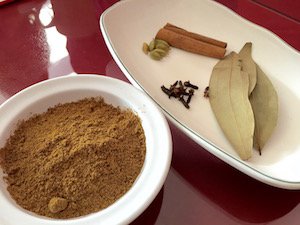 So here is the essence of the experience, along with the notice that this is a Halel eatery signifying extra attention paid to the origin and processing of the meat served here.   Owner-chef Ali who also operates Agra in Venice, more than fulfills the promise of high standards by ushering us into the heart of The Indian Kitchen a generous and rare visit to the back kitchen.  Here he proudly shows his  oversized cooking pots and special tandoor oven.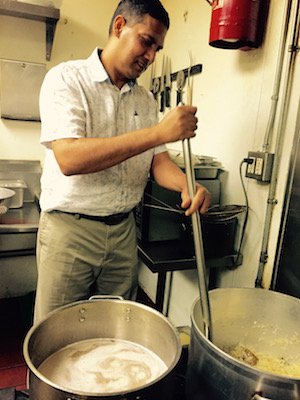 Chef Ali first points out how his food is light and refined, with every consideration to present the highest quality and to take into consideration the warm climate and pleasing the health-conscious West Hollywood palate.   For example, the kitchen prepares Korma with 25% heavy cream and 75% coconut milk to give it a rich but light texture.  Fresh ginger, onion gravy, chopped onion, freshly ground spices, turmeric, curry powder, cumin, coriander, fresh tomatoes and salt to season are what make it outstanding.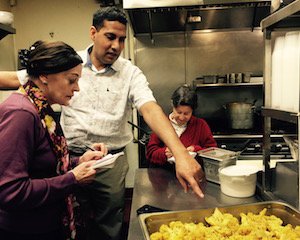 Noted food writers Barbara Hansen of the LA TIMES and LA WEEKLY (left) and syndicated columnist/ cookbook writer, Faye Levy are quick to take notes on preparation, and on Ali, who arrived in the US at the age of 22 from a town on the border of Bangladesh and India and uses the best versions from each.  He told us, "we'll prepare Balti for customers with advance notice because the chicken is cooked separately in a sauce of tomato puree, nutmeg, cumin and mace in an onion base (somewhat like a salsa), and then put together with fresh bell pepper, onions.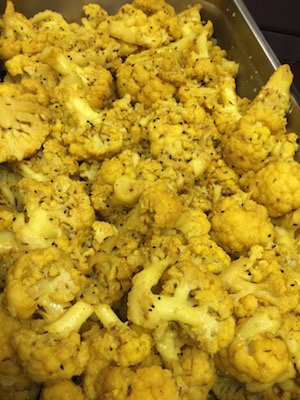 Gobi Bhajee or Fresh Cauliflower is one of his popular dishes.  Prepared with classic whole roasted cumin, salt, turmeric and olive oil, it is healthier than most because it is baked in a 450 degree oven.  It is then lightly sautéed  with bell pepper, tomato, onion and herbs.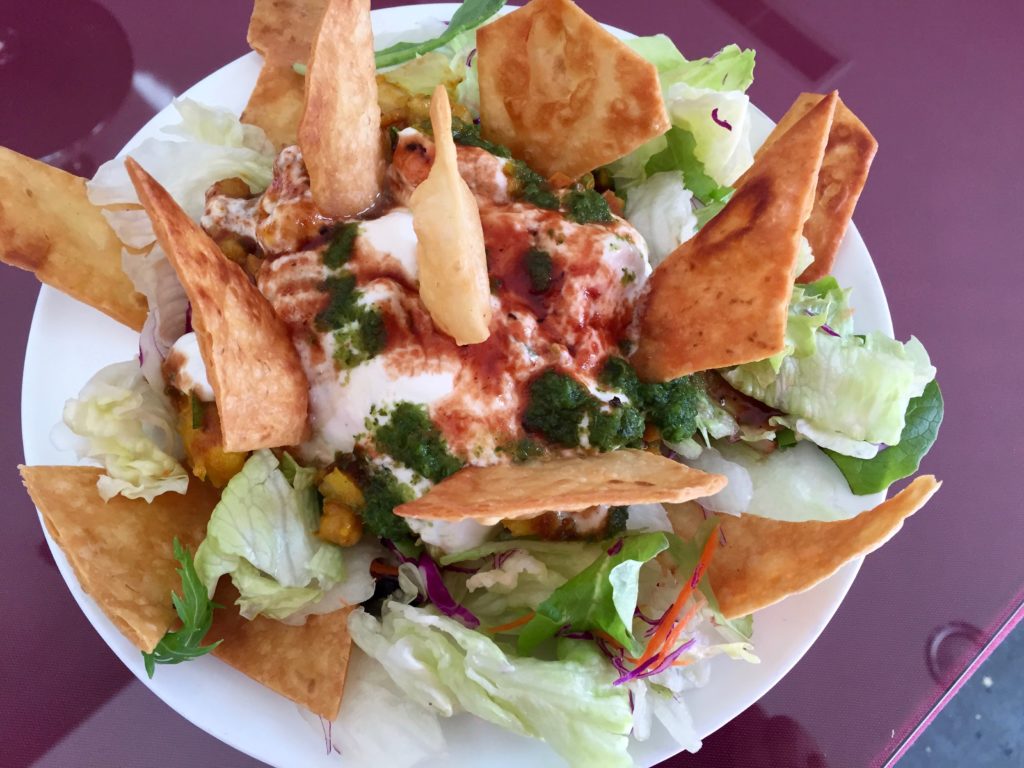 A more Americanized and still-in-progress dish is the Chana Chat Salad: iceberg lettuce and micro-greens with the traditional Indian Chana Chat, a combination of chickpeas, potato cubes, and flour roti chips with a yogurt dressing, served with tamarind and mint chutney.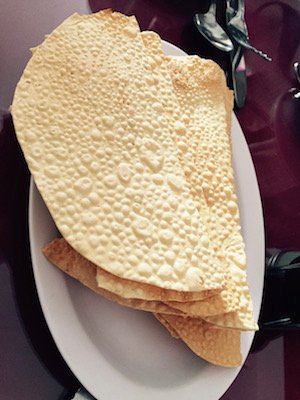 Ali prepares his Pappadum  with chickpea flour and bakes it in the oven for a crisp, bright taste instead of frying it.  To add a rich contrasting taste, little pots of Green Chutney made of mint, cilantro, green chilies, salt and a little vinegar are served with it along with Tamarind Chutney, flavored with hot chili powder, roasted cumin, roasted garlic, salt and a little ketchup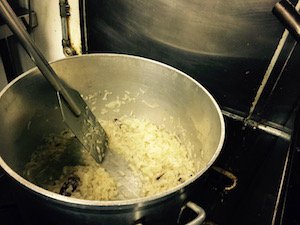 Sheekh kebab is prepared with ground lamb and chicken seasoned with paprika, mint, ginger, chopped onion, turmeric, and green chilies. It is  grilled on skewers and served on a bed of grilled onions and cilantro.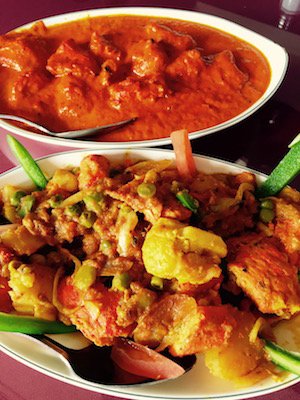 Stand-out Tandoor Chicken comes in three versions including boneless Ginger that is medium spiced. Ali reports that it the ratio of more ginger and much less garlic makes it different than the usual version. Chicken Tikka is marinated in yogurt and spices.  There is also a "bone in" for flavor, half- chicken in Ali's own "exotic" spices and herbs.
Chicken Tikka Masala – Chicken tikka (boneless chicken breast marinated with spices and yogurt, then roasted in the clay oven) is simmered in a creamy tomato herb sauce before serving.  Chicken (and Lamb Shish Kabob) is prepared with paprika, fresh mint and ginger, chopped onion, turmeric, green chilies, fresh spices and served on a bed of grilled onion, cilantro and green peppers.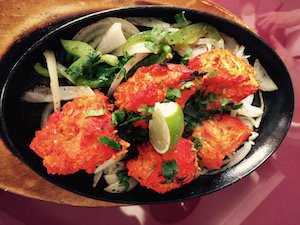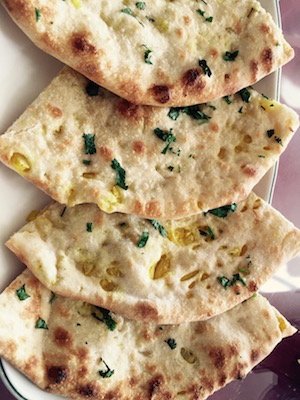 Onion Kulcha Naan is topped with spiced onions that are first fried, and fresh herbs before baking.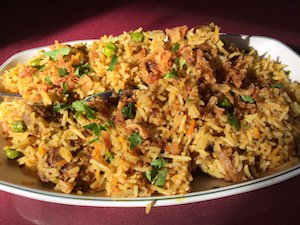 Biriyani dishes are seasoned in herbs and spices, cooked with basmati rice, green peas, raisins and cashew nuts.  Rosewater makes gives it a unique taste.
Chicken, lamb, shrimp, mixed vegetable and mushroom versions are offered.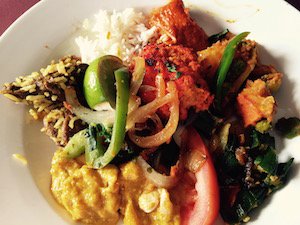 A sample plate might include Onion kulcha, chicken tikka masala, Chicken Korma, Kkra cooked with tomatoes and herbs, Ginger Chicken, Lamb Biryani, Basmati Rice with cumin seeds, and Chicken Pasanda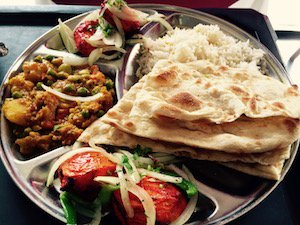 Four Thalis, or popular lunch sampler plates are on the lunch menu for dine-in only.  Royal, Tandoori, Vegetarian and Seafood Thalis contain soup, two stew dishes, vegetable, rice and naan.
There's something about a place with pillows on the wall that is inviting and practical at the same time.  Q Sushi downtown has a Japanese version.  Both places turned out to be not only inviting but a first class educational experience in and of itself.
The Indian Kitchen, 8165 Santa Monica Blvd., W. Hollywood, CA  90046 (323)656-9000 (www.theIndianKitchenCA.Com).