Ancient Samosa Makes News at India's Tandoori Brentwood's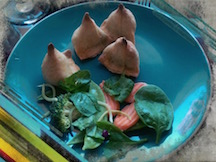 (Gerry Furth-Sides) So many food items and dishes get discovered over and over again down through the ages as though they were just invented, and lately this happens to be true with the baked samosa (rather than fried). And no wonder there is all the attention. The samosa is a fun food, street or inside dining, a little package of a meal in and of itself that changes even more with condiments.
India's Tandoori Brentwood, host extraordinare, Martin Shah, laughs that his customers in this Westside location are very health-conscious, and they look forward to ordering the baked samosas. "We just have to be sure to have enough," he points out.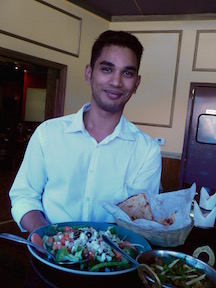 Shah is a one of three partners who own the inviting, spacious restaurant (with free 90 minute parking lot underneath).   Because of the quality Northern Indian dishes and the almost exuberant staff headed by Shah, India's Tandoori Brentwood has been filled almost from its opening- including high profile celebrities, who are made right at home without fuss. The management is also so community minded it welcomes groups during the day in the friendly front private party room that otherwise opens onto the main dining area.
The little filled-dough triangles are well known to be a South Asian favorite and a staple of Indian cuisine – along with a number of other ethnic cuisines. But as it turns out they arrived all the way from Central Asia centuries ago.  The adaptability of the dough allows it to serve as a backdrop to a variety of fillings that reflect local taste of the cooks preparing them, and the dough itself also comes in variations. And its appealing shape has influenced cuisine and the appealing shape and variety of fillings made them friends all along the way.
The name was originally samsa, influenced by their shape that mirrored the pyramids in Central Asia. Derived from the Persian word, sanbosag, it was also known as sanbusak, sanbusaq or even sanbusaj. After centuries, the stuffed fried dough side dish and snack was known from Egypt to Libya and from Central Asia to India, all with similar but different names.
Some accounts say that the samosa was introduced to South Asia by Middle Eastern chefs during the Delhi Sultanate rule. Other culinary historians credit traders for bringing the treat to this part of the world. Nevertheless, from its humble beginnings—in older days, people would cook the mince-filled triangles over campfire and eat them as snacks during travel—samosa has come a long way. And after having earned the blessings of the Indian royalty, the snack soon became food fit for the king.
Samosas are such a popular and well snack in many parts of the world that restaurants have used name itself (e.g., "Samosa House" in many major cities). Indian samosas in particular have not only a variety of wonderful crunchy spices, hints of herbs and a variety of meat/vegetable fillings, coriander seed crunch and sometimes the healthy ginger-garlic taste.
A somsa in Kazakhstan is typically baked and has a thicker, crumblier crust. Fillings generally range from minced lamb and onions, meat, and even pumpkin. The Hyderabadi luqmi, on the other hand, is strictly meat-filled and far crustier than the regular samosa consumed elsewhere in India and Pakistan. In the Middle East, the semicircular sambusak is stuffed with feta cheese, onions, minced chicken and meat, spinach. In Jewish cuisine, the "dumpling" filling is often mashed chickpeas.
Taking its lead from the somsa, the special non-fried samosas at Tandoori Oven in Brentwood are baked in the oven in limited numbers – which means a planned number decided ahead of time. India's Tandoori Brentwood's samosas are usually fried in a karahi, similar to a wok but with flat bottom that sits right on the stove burner.   These can be prepared to order for each customer in unlimited numbers. And the orders are coming in fast for baking day!  They are the perfect opening to any meal.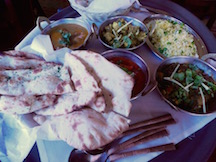 www.indiatandoorila.com. India's Tandoori Brentwood, 11819 Wilshire Blvd, Ste 206, Los Angeles, CA 90025. (310) 268-9100. Order online for pickup or delivery below.