Inotheke Refines Cypriot Greek Home Cooking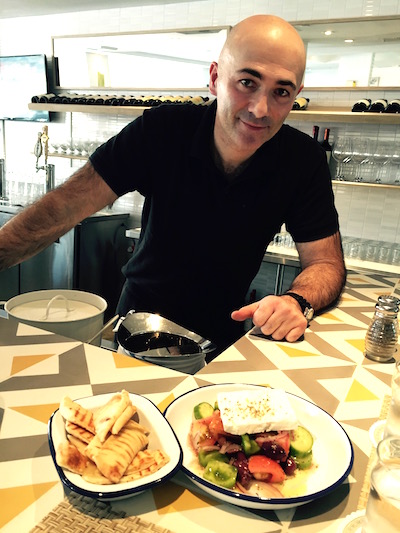 (Gerry Furth-Sides) Ask almost any Greek where to find the Greek cuisine, and they will almost invariable answer, "at home."  Carlos Tomazos is no exception although he prefers to share what he – or his mother when he was growing up on the island of Cyprus – prepared at home in his new contemporary, casual restaurant, Inotheke, in Santa Monica, now open for lunch (see http://localfoodeater.com/inotheke-modern-greek-cuisine-comes-to-santa-monica).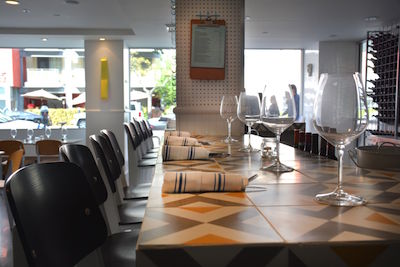 Hints of the Mediterranean Island, Cyprus, (Tomazos' homeland) shine through each dish with bright olive oils, global spices and fresh herbs.  Inotheke menu dishes are meant for sharing. "I learned from the best, from my mother, laughs Tomazos. She also cooked at some of the finest resorts in the area.  But this is the kind of food that I would want to eat in my own home," he laughs.  They are served on wonderful, homey enamel dishes, white rimmed blue, the colors of the Greek flag, with a cloth napkin matching to add a little bit of a plus feel.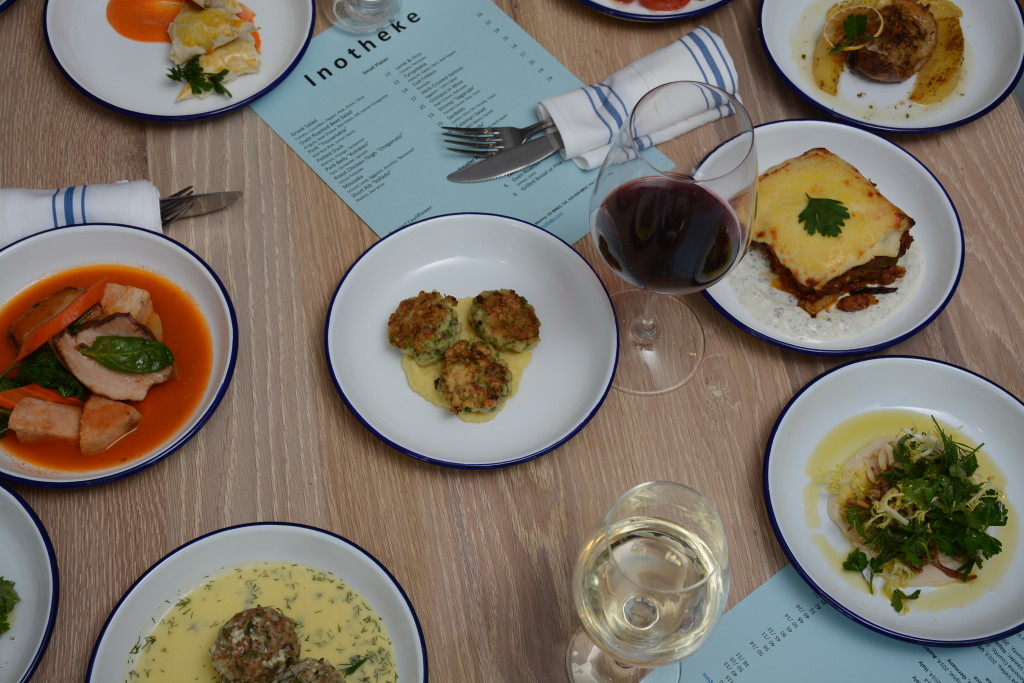 The Inotheke menu includes crisp salads; succulent meats and intricate seafood offerings plus updated traditional Greek dishes, shown above in a photo by Acura-Hansen.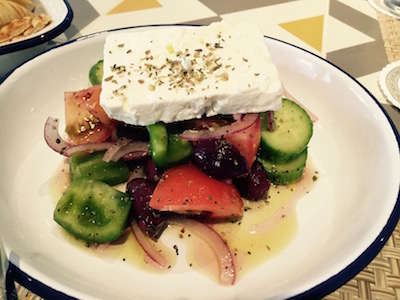 The traditional  Greek Salad is an excellent introduction to a cook's hand.  My Greek foodie dining companion, and art professor, was more than pleased to see a full piece of cheese atop the Tomato, cucumber, Onion and Olives, even more so when it arrived in the shape of a rectangle.  "You see in Greece there is such scarcity that restaurants much present a full piece to fulfill the size requirements," she chuckled.  "Of course you crumble it up after it is served.

A natural cornerstone of Cyprus cooking, seafood at Inotheke  shines through in dishes such as the Pickled Octopus with mushrooms, celery and coriander, so tender and so filled with contrasting flavors and textures it immediately a favorite way to prepare octopus.  In fact, at first we thought that the octopus was marinated because it was so smooth, without the usual tartness of vinegar.  We learned the octopus was indeed pickled in white wine with fennel, bay leaves added to the coriander.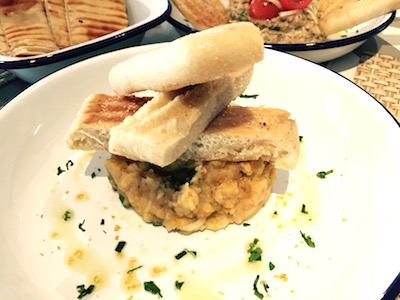 Fresh vegetables and earthy legumes star in many of the Inotheke plates, prepared with aromatic herbs and freshly ground spices,  Fava Dip Bottarga, a long-time Greek-specialty-influenced dish made with caviar roe that has become a mainstream specialty.  Here the spread is served with yellow split peas, thyme and scallions.  Dense, light Ciabatta bread sits atop the spread and soaks in the flavors of the spread.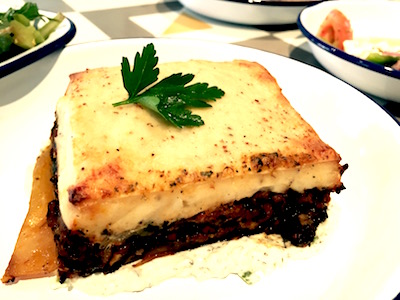 Moussaka is listed a Chick Pea "Moussaka" for the health-conscious vegetarians in the area.  Ask for the Classic Moussaka and it contained the ground beef, Eggplant, Zucchini and "Béchamel" in quotes because it is made with egg yolks instead of the more usual flour.  It also sits on a bed of Tzatziki (yogurt-Cucumber Salad).  It is served with a side salad, rich in color and feel with red onions, radicchio, with celery providing a crunch.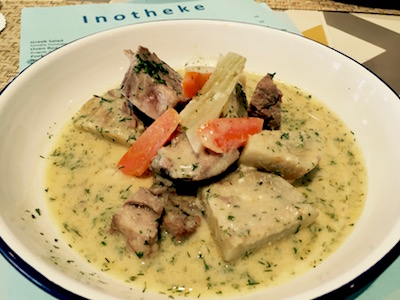 We also had a play on the famous lemon soup, Lamb & Artichoke "Avgolemono."  Made with Fennel, Carrots and Dill, proved to be both refreshing with creamy substantance, possibly the favorite of any artichoke dish I've ever eaten.  And the bit of leftovers turned out to be even more when the flavors settled in even more.  It seems that Lamb with artichokes (with dill) is a very popular dish in Greece, going in another sharper route with finely chopped white onion and ground white pepper.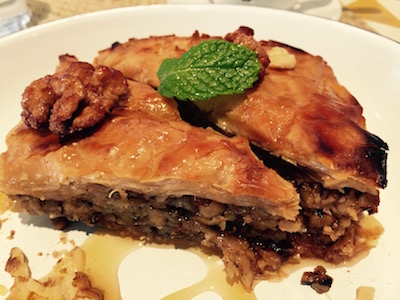 Desserts rotate almost daily with Galactoboureko, Karidopita and Baklava on the list, which was offered today.  It was, to my Greek companion, happily prepared in the classic Greek style, studded abundantly  with walnuts.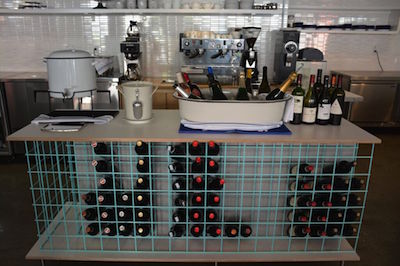 The name Inotheke, translates to "wine case," and  Tomazos will offer over 20 varietals by the glass, including whites like the Robert Cantin, "Les Pier Blancs," Sancerre from France, and reds like the Salentein Reserve Malbec from Argentina, and a Wine List of with over 60 eclectic selections by the bottle, along with four rotating draft beers and 12 bottled beers.

Tomazos career prepared him well for his current position of representing Greek cuisine (see
 Inotheke is open daily for Lunch from 11:30 am to 3:00 pm and for Dinner from 5:30 pm to 10:00 pm. For more information or reservations, please visit www.inotheke.com or call Inotheke directly at 310.458.3366.