International Eco-Friendly Kid "Funkins" Napkin-Placemats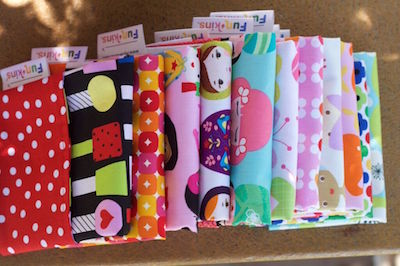 The need for global responsibility is at an all time high. A young company making "Funkins" have as their goal a way families and schools think about packing lunches and the waste created from a single meal on the go.   With over 3.5 million tons of paper towels and napkins ending up in landfills, the eco-friendly and CPSIA Compliant Funkins are a smart alternative to throwaway paper napkins in what is currently termed, a Waste Free Lunch.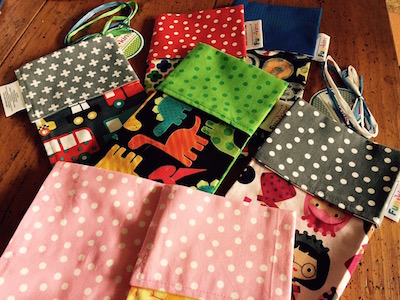 The napkin-placement provides environmentally-conscious families and schools in European countries, China, Africa, Australia Canada and more as well as the USA, to reduce the impact of trash and help preserve the state of our globe for future generations, practice waste-free lunch programs with a durable, easy solution.   Reusable Funkins are  soft, appealing and "fun"  napkins with a reversible design made for children in whimsical patterns.  Polka dots are on the reverse side of what look like hand drawn little animals, cars and busses and taxis, lively kids, and soccer balls.  With the fold that is in place with the placements (see below) it would be easy to sew down the folded half to hold silverware.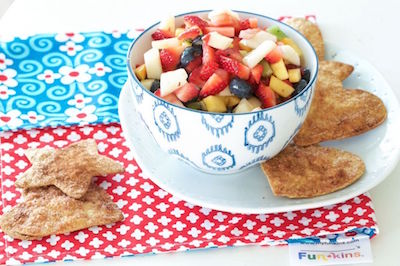 The fashionable Funkins are durable and washable napkins that fit perfectly into little laps. Such was not always the case in napkin "history." Ancient Greeks were the first to supply themselves with a sort of organic form when they used the inside of a bread loaf to wipe their hands, known as apomagdalia.  Napkins were later known in ancient Roman times, and the first mention of napkins in English came in the late 14th century.
But leave it to the Chinese, who invented paper in the 2nd century BC, who also used paper napkins folded into squares, known as chic pha for tea service.
These days, in what is considered the  traditional style, the (cloth) napkin is folded and placed to the left of the place setting, outside the outermost utensil, which would most likely be a little fork.  Restaurants and caterers often fold napkins into  elaborate and inviting shapes.  Origami techniques can be used to create a three-dimensional design.  Here a pink cotton napkin in a classic Thai "flower" shape sits on a table at Chao Krung Restaurant in Los Angeles.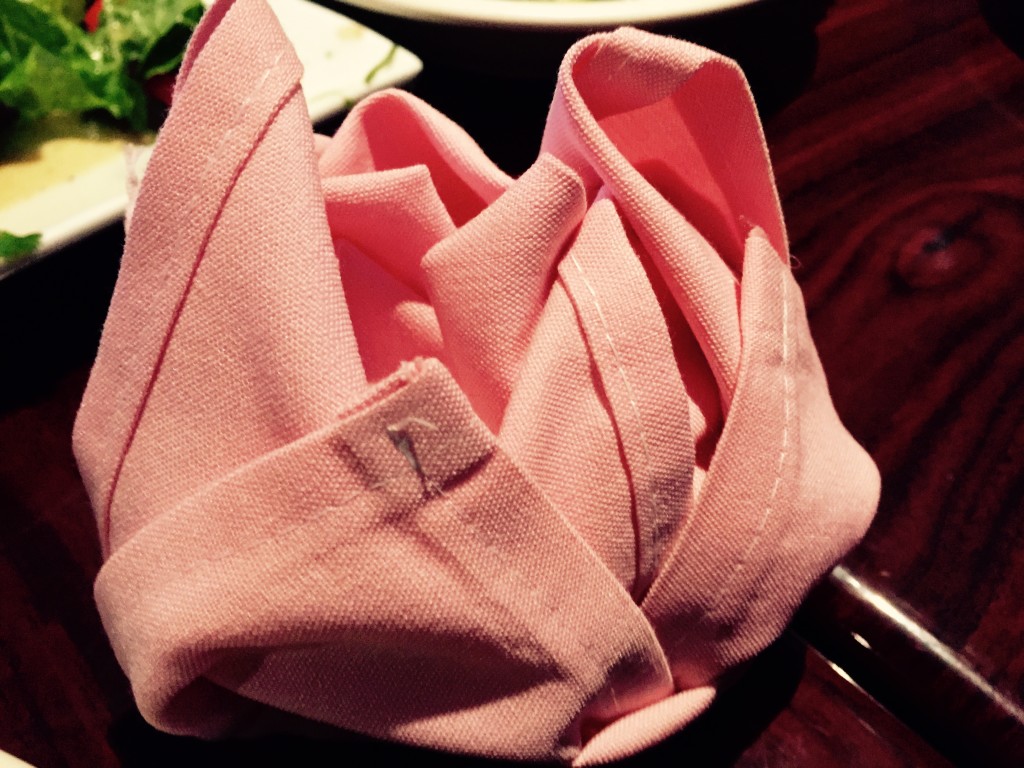 A napkin may also be held together in a bundle with cutlery by a napkin ring.  The history of napkins mentions the use of a napkin holder as one development of the paper napkin.  My European mom was so pleased to have a little wooden holder that sat in a place of honor on our (I never realized till later, trendy American, formica counter top) with NAPKINS written on its side.  But of course, we used one of her many sets of rich damask napkins on her European linen tablecloths, all monogrammed,  from one of her many sets for "company."
Napkins in general were the standard bearer of childhood behavior in our household;  my dad's light tap on the forehead if we forgot to put it on our laps was enough to bring tears of humiliation, especially since it was the one and only form of non-verbal "punishment" in all of our childhood.
So it took watching my college friend's family using cloth napkins –so casual and yet elegant, each family member using their own pattern  –to hook me into using cloth napkins forever.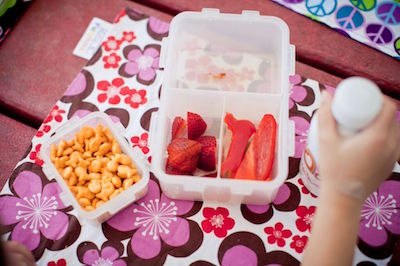 The Funkins double up as placemats and do good duty for meals on the run. The 100% cotton Funkins are soft to the touch and come a variety of fun colors, patterns and styles. They are, as it were, "seamless" and I sew; I could not find space where the two sides sown right sides together left room to be turned right side out. And I looked!  However, instructions say, "wash with like colors" and there are a myriad of colors in each napkin. So I'd recommend using vinegar to hold the vibrant hues.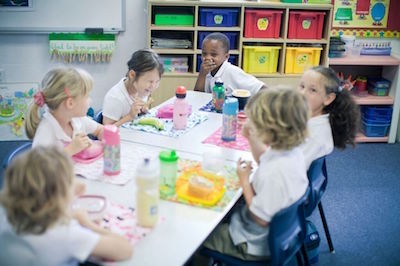 Funkins are Parent Tested Parent Approved (PTPA) since they hit the market in 2012.  For more information please see, myfunkins.com