Invite to New SpireWorks™ in Westwood, Nov 16
---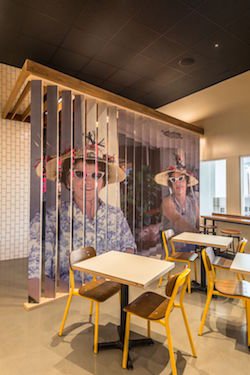 (all photos are courtesy of Alan Lin and SpireWorks™)
SpireWorks™ takes a  favorite recipe for vertically spit roasted meat and pairs it with unique flavors from around the world.The idea, in the worlds of the owners, is to "Come have fun, try new things and prepare to enjoy yourself."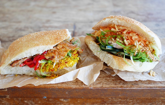 SpireWorks™ is generously inviting everyone  to explore the new concept at a special Grand Opening at 1061 Broxton in Westwood Village onWednesday, November 16th, 2016.  Each will be offered a FREE SpireWorks™ Destination (served on a choice of bread, rice or salad), SpireCake and Beverage (choice of Soda or Ice Tea) from 11:00 am to 2:00 pm and 6:00 pm to 9:00 pm!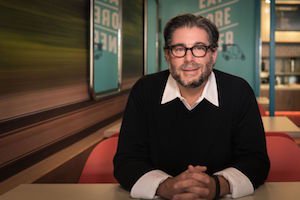 "Döner is arguably the number one street food in Europe, and in variations all over the world," explains  SpireWorks™ Founder and CEO Bob Kaufman.
As with most döner outside of Turkey, SpireWorks™ adapts its own variations – in this case an array of international tastes-  and steers away from being pigeon-holed as strictly Turkish.
Kaufman made a name for himself in business development for big brands, most notably Tower Records and The Coffee Bean & Tea Leaf, always dreaming of developing a project  from scratch.   His inspiration came during one of his regular trips to Turkey, where the strong national love for diner is infectious.  He then partnered up with legendary Levy Restaurants, where he worked with Jeff Rosenthal to realize the SpireWorks™ concept. 
First came the proverbial "food odyssey," across Europe to secure a recipe for the best  döner  they had tasted deep in the heart of Istanbul. Bringing it back to the states, their first attempt to capture the authentic flavors of Turkish döner wound up a crash course in how agriculture affects the food on our plates; the meat in the USA has a scant kinship to the meat in Turkey. "Different meat rearing methods will garner different results," explains Kaufman. "Next we had to figure out how to create it."
They also found a crusty, chewy bread they thought the best to use and had Drago subsequently bake it for them here in the city.  It is a cross between a pita and a focaccia.
The answer: Pilot R+D accompanied them on a second trip to Turkey, next came the help of Glen Rose Meats to crack the diner code recipe for SpireWorks™. Pilot R+D also developed a mouth-watering spit-roasted chicken, and a vegetarian köfte, meatless meatballs made of cubed vegetables held together by chickpea flour and Urfa biber (dried Turkish Chili pepper).  To present their creation on the perfect palette, they created their own SpireWorks™ Signature Bread.
Next, Kaufman hired longtime friend and critically lauded, meticulous Chef Kuniko Yagi  as Consulting Chef.  Chef Kuniko transported the SpireWorks™ philosophy from concept to fruition, developing every flavor profile within the SpireWorks™menu, including the creation of all seven Destinations, every component of the Departures, the Twice-Cooked Potatoes, and the five crazy-delicious mouthwatering proprietary Shakers.
The cultural melting pot experience begins under Arrivals, where guests begin their journey choosing a Spire of beef, chicken, or köfte, and a Base of either SpireWorks™ signature bread, fresh greens or exotic wild rice, before settling on a Destination.
The Destinations include: 
Baja California, featuring cabernet tomatoes, tomatillo sauce, cotija cheese, baked tortilla strips, pickled onions, and green onion shreds.
Bangkok, with tamarind chutney, yellow curry aioli, green onion shreds, Thai coconut curry crumble, and pickled red peppers with sambal.
Carolina, comprised of Smokey The BBQ sauce, cabernet tomatoes, angel hair carrots, collard green coleslaw, pickled cauliflower, and BBQ Shaker.
Istanbul, with cabernet tomatoes, cucumber spirals, Zaatar Labneh, pickled red onions, and Zaatar Shaker.
Little Italy, starring fresh basil leaf, cabernet tomatoes, yellow squash spirals, tomato jam, pesto panko crunch, and shaved parmesan.
New York, comprised of Russian dressing, sauerkraut, shaved parmesan, cucumber spirals, angel hair beets, and New York Shaker.
Peking, with hoisin sauce, green onion shreds, crispy onions, angel hair carrots, cucumber spirals, and Rayu Shaker.
SpireWorks™ next moves to  The Big Finish broken up into six categories:  Sauces N' Dressings, Pickled Vittles, Fresh Produce, Cheeses, Crunchy Stuff, and (Movers N') Shakers to their very own SpireWorks™. 
Hoisin Sauce, Russian Dressing, Tamarind Chutney, Tomato Jam, Yellow Curry Aioli, and Zaatar Labneh make up just a few of the Sauces N' Dressing selection, while guests can also add Pickled Vittles like Pickled Cauliflower, Pickled Red Onions, Pickled Red Peppers with Sambal, and Sauerkraut. 
Fresh Produce options include Angel Hair Beets, Angel Hair Carrots, Cabernet Tomatoes, Collard Green Coleslaw, Green Onion Shreds, and Yellow Squash Spirals. 
Cheese choices include Cotija, Feta, and Shaved Parmesan. Crunchy Stuff an be added with Baked Tortilla Strips, Crispy Onions, Pesto Panko Crunch, Thai Coconut Curry Crumble, and Toasted Sunflower Seeds.
(Movers N') Shakers come in  BBQ, Furikake, New York, Rayu, and Zaatar.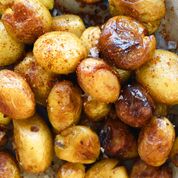 Each batch of Twice Cooked Baby Dutch Yellow Potatoes are boiled, smashed, and flash fried to golden perfection and entreat guests to create their own layover flavor with five available Shakers. These proprietary seasoning mixtures developed by Chef Kuniko were inspired by the Japanese shaker (Furikake), the ubiquitous rice flavoring from her native Japan.
An elevated flavor profile unto themselves, the ideas behind the Shakers is to  transport guests to their namesake destination with every bite: The NY Shaker is reminiscent of the quintessential New York Deli, while the Zaatar Shaker will take you on a stroll through a Turkish spice bazaar. The BBQ Shaker has guests at a backyard barbecue in the heart of the Carolinas, while the Furikake Shakertransports guests to Japan, and the Rayu Shaker is every aroma and flavor of a Beijing Night Market.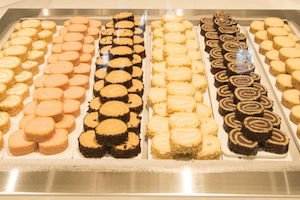 Traditionally desserts are an afterthought on the fast-casual scene, but Pilot R+D created  SpireCakes. These Asian-inspired are rolled, cut and include fabulous flavors like the Banana Cream Pie, Italian favorite Tiramisu, a decadent Chocolate Ganache, creamy Dulce de Leche, Honey Mascarpone, and Strawberry Shortcake.
SpireWorks™ offers an impressive selection of Drinks, boasting a variety of Stubborn Fair Trade Certified Cane Sugar Sodas with flavors like Caleb's Kola, Classic Root Beer, Black Cherry with Tarragon, Lemon Berry Acai, and Agave Vanilla Cream Soda, Freshly Brewed Rishi Iced Tea and other Assorted Bottled Beverages.
The renowned Stumptown Coffee Roasters is represented with Nitro Brew Coffee and the highly addictive Okinawa Raw Sugar Sea Salt Nitro Latte exclusively developed by Chef Kuniko for SpireWorks™.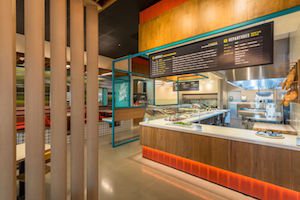 Travel plays a substantial role within the menu and the design of the SpireWorks™ Westwood Village location.  The SpireWorks™ interior designed by Studio Unltd is a playful take on an urban transit center with warm and simple colors, and lighting.
SpireWorks™    1061 Broxton Avenue, Los Angeles, CA 90024 T: 424.220.6299  www.SpireWorks.com c
SpireWorks™ will be open daily from 11:00 am to 10:00 pm. For more information about SpireWorks™, please visit www.SpireWorks.com.