The Italian Diabetes Cookbook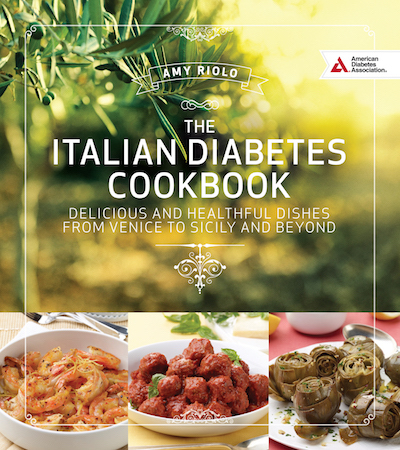 We always knew that Italian food is healthy, even if it sometimes has a bit of sugar in it. And classic dishes are so well balanced that it doesn't matter because "a very little bit goes a long way" to satisfy. Award-winning author, chef, Amy Riolo, proves this in a delightful in her new The Italian Diabetes Cookbook. The spirit of southern Italy seems to call out from the colorful hard paperback cover itself and the tempting clear recipes inside. And proves why Italian cuisine is about the most popular in the world. Riolo labels it, "the perfect cuisine for those looking for heart healthy and diabetes-friendly dishes.
At its core, classic Italian cuisine is all about preparing fresh ingredients like fruits and vegetables, whole grains, beans, legumes, dairy, seafood, and poultry in time-honored techniques that preserve both tradition and flavor. Riolo honors this tradition with 150 easy-to-prepare robust Italian dishes that satisfy any palate. Two color insertions are more than motivating with their "lick-the-page appeal."
The substitutions for rich, heavy, calorie or sugar-laden items make sense and sound just as tempting. For example, we couldn't wait to try the Espresso Panna Cotta, Italian for "cooked cream," a specialty of northern Italy's Piedmont region known for its superior dairy products.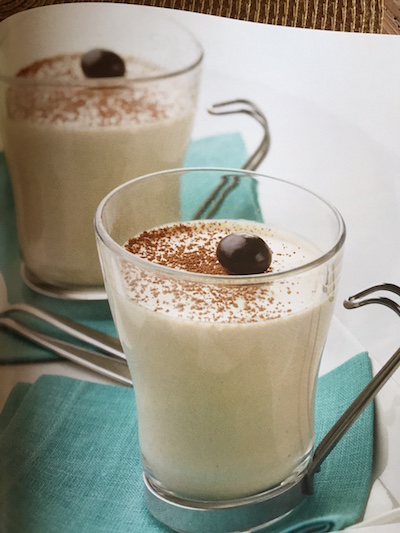 Whether it's the silky texture or the lightness of the dish, "some version of Panna Cotta has long been popular throughout most of Europe and in other countries along the Mediterranean," according to Riolo. It is also practical. "This creamy, espresso-laced panna cotta is light enough to eat every day but impressive enough to serve to guests," she notes. "I use yogurt instead of the traditional cream to make the dish lighter."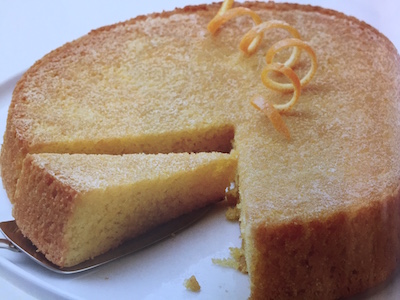 You can't really taste the difference in terms of substance with the or other totally understandable and laudable substitutions in the book.
The same is true for the beauty of a cake, Ivrea's Polenta Cake (Polentina Di Ivrea) from a town in the province of Torin, home of the famous cake created in 1922. It is traditionally covered with a drizzle of honey and orange juice. Chef Riolo created the recipe as a healthier alternative to the original and was pleased that "fortunately everyone who tries it loves it and is surprised to learn that it is diabetes friendly – and naturally gluten-free."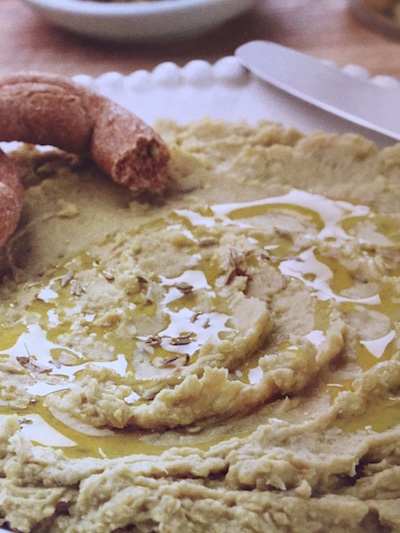 Savory dishes are as appealing with the South coming into prominence in a Fava Bean Puree (pictured above) and a a Whole-Wheat Ziti with Ragu of Goat!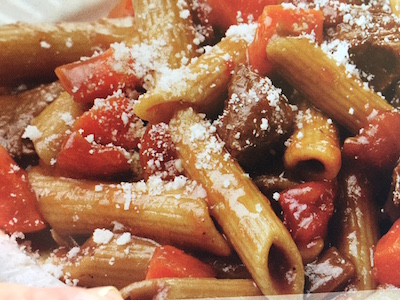 (shown here) Even the more obviously health-conscious dishes, such as the Spaghetti Squash "Pasta" with Shrimp, tomatoes and Basil are appealing. For a more elegant, classic version, the Tuscan Seafood Stew and the Lemon Scented Shrimp are included.
Inspiration for this book came to Amy when she visited her ancestral hometown of Crotone, Italy, for the first time. Each recipe includes notes on the history and cultural importance of each dish, and most contain wine pairings. This usually is an essential part of any authentic Italian meal! Highlights include: Ricotta, Grilled Eggplant, and Fresh Mint Bruschetta; Whole-Wheat Ziti with Goat Ragu; Swordfish with Olives, Capers, Herbs, and Tomatoes; Red Pepper, Yellow Tomato, and Artichoke Salad; Espresso Panna Cotta.
THE ITALIAN DIABETES COOKBOOK [18.95 US / $23.50 CAN]is available at ShopDiabetes.org, in bookstores nationwide, or by calling 1-800-232-6733.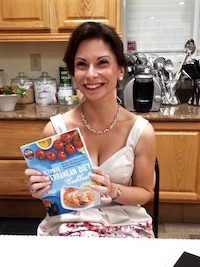 Amy's bestselling cookbooks include The Ultimate Mediterranean Diet Cookbook, Nile Style (Gourmand Award for Best Arab Cuisine), and The Mediterranean Diabetes Cookbook (2011 Nautilus Silver Award Winner). Inspiration for THE ITALIAN DIABETES COOKBOOK came to Amy when she visited her ancestral hometown of Crotone, Italy, for the first time. Most recipes contain wine pairings—considered an essential part of any authentic Italian meal—as well as notes on the history and cultural importance of each dish, providing readers with an amazing meal AND a cultural experience.
 Amy  is an award-winning author, chef, cooking show host, cooking instructor, and Mediterranean expert. Her frequent appearances on television and radio programs include Fox TV, CBS, Montgomery and Fairfax County TV, Nile TV, The Travel Channel, Martha Stewart Living Radio, WHYY, and Abu Dhabi Television. She appears weekly in ninety-second cooking videos titled "Culture of Cuisine," which air on nationally syndicated news shows on 28 different channels across the United States, reaching a total of over 223 million people. Her work has also appeared in numerous print media, including USA Today, Cooking Light magazine, The Washington Post, CNN.com, The Wall Street Journal, Gulf News, Popular Anthropology Magazine, The UAE National, and international newspapers and hundreds of blogs. She is also the author of noted culinary/cultural blog Amyriolo.blogspot.com. She currently teaches approximately 80 hands-on cooking classes per year, with more than 3,500 students annually at annually at Living Social, Sur la Table, and Open Kitchen in Washington, D.C., and internationally in Italy, Egypt, the UAE, Greece, and Turkey.
DIABETES® and its deadly consequences for those affected by diabetes. The Association funds research to prevent, cure, and manage diabetes; delivers services to hundreds of communities; provides objective and credible information; and gives voice to those denied their rights because of diabetes. Founded in 1940, its mission is to prevent and cure diabetes and to improve the lives of all people affected by diabetes. For more information please call the American Diabetes Association at 1-800-DIABETES (1-800-342-2383) or
visit www.diabetes.org.
THE ITALIAN DIABETES COOKBOOK
Delicious and Healthful Dishes from Venice to Sicily and Beyond
by Amy Riolo
January 2016
American Diabetes Association
$18.95 US / $23.50 CAN Original Trade Paperback ISBN: 978-1-58040-565-2