Italian Pizza Maven Moves to the Suburbs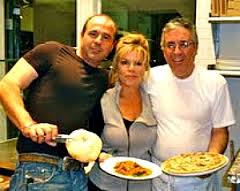 Allow me to introduce you to pizza maven, Tonino Morra Is being honored by GOURMET magazine as "making the best crust in America" enough of an recommendation?Now Toto's magnificent pies are at Tonino's Place in Calabasas and in Westlake Village.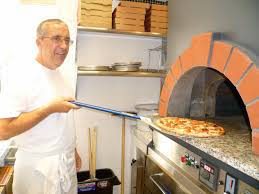 He's partnered with Tonino "Tony" Boniovanni, who adds his own family's Roman-style dishes recipes to the menu.   With wife Linda, Tonino's Place combines the  very best of Italian food in authentic surroundings.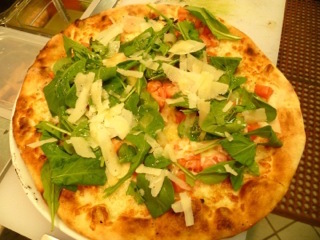 Here is the story: A primal eater by choice, I would have had to live under a rock (or east of Lincoln) to ignore the culinary history being made by Ed LaDou at Spago in the early '80s. Ed, ever the intellectual, took pizza making very seriously. His pizza was authentic thin-crust Neapolitan style with scattered toppings, minus heavy sauce. Then Ed established his own fun twist of esoteric, contemporary toppings. I was hooked.

Why? I've learned to recognize, in this "best pie" accounting, the elements that make the crust softly spongy yet crisply charred, ever so faintly sweet, even more faintly sour. Not to mention that is requires a superlative and intuitive talent to prepare the handmade dough that involves secret ratios and rising times, maybe a special kind of flour and usually a searing hot oven.
With authentic Neapolitan pizza, the crust is thin and hand-tossed cooked in a wood-burning oven instead of gas or electric, so the taste is simpler and the pizza is healthier, even more so because toppings are sprinkled about, not "piled on."
Years later I met Ed's esteemed colleague, the low key, congenial master, Tonino "Toto" Morra.  His is also the stuff of authentic thin-crust pizza, with homemade dough, hand tossed Napolitana style.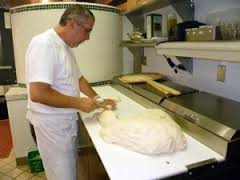 Tonino's Place is a plain wrap, food-driven place with practical prices and generous portions. Wife, Linda Boniovanni, is such a firecracker at hospitality that when you telephone Tonino's, you think it's a major dining establishment. Actually there's just enough seating inside and plenty of outdoor seating for those who "want to eat it hot."
Also on the menu: a Soup of the Day, Salads, Calzones, Pastas, Entrees, Paninis and a Kids Menu. Traditional Pizzas include the Traditional Cheese (18" for $16.95). The Gourmet Specials list starts with Tonino's Pizza with Mozzarella, olive oil, fresh tomato, arugula & shaved parmesan; and the standard bearer, Pizza Margherita, (each 12" for $14.95).
Representative of the "Lighter Side" low-carb menu, is a succulent Grilled Chicken Limone ($13.95) with lemon sauce, served with sautéed spinach and arugula salad. Insalata di Pollo ($8.95chock full of chicken breast, arugula, celery, carrots, chopped tomato, arrives on a bed of greens with a simple olive oil and simple balsamic vinegar dressing to tie it together.
Warning: Even when baked as a loaf, Toto's textured dough is so crispy and chewy (it has "teeth") and full of flavor it's easy to polish off an entire little loaf, especially with the irresistible authentic balsamic reduction dipping sauce. ($1.75)
Tonino's Place, El Camino Shopping Center, 23351 Mulholland Drive, Woodland Hills, CA 91364, 818-591-0600 (www.toninosplacepizzeria.com)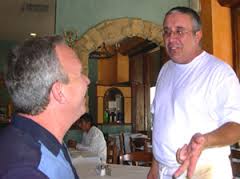 The legacy of quiet superstar Ed LaDou lives on at Caioti Pizza Café, 4346 Tujunga Avenue, Studio City, CA, (P 818-761-3588)
(www.caiotipizzacafe.com)