Japanese Soba Noodle Class at The Standard in LA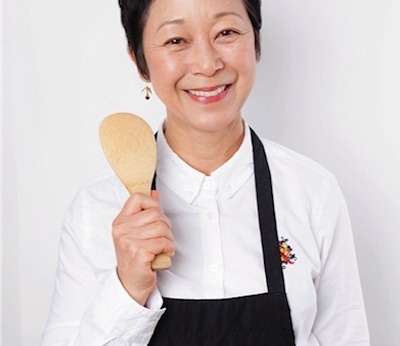 Sonoko Sakai, with her deft movements and snowy white chef coat with bandana head dress  was already  a magnet for passersby looking in on her Soba Noodle Workshop under the strong lobby lights shining down on the lobby The Standard, Downtown LA s in the dreary, rainy Sunday afternoon propelling her unique Soba Noodle workshop , moved about hone down on a unique from the bleak rainy street outside with a unique Soba Noodles workshop.Sonoko Sakai takes over the restaurant and
Chef Sakai shared ancient techniques from her own Japanese mentor and culinary on the art of creating the perfect buckwheat soba and its deliciously rich umami dashi broth.  "I came along at the right time, He was a curmudgeon and pretty much no one wanted to continue working with him, or he asked them to go away.
Us students took home three servings of noodles to recreate your own soba masterpiece at home.
The workshop and soba supper will run from 4pm to 6pm and is open to the public.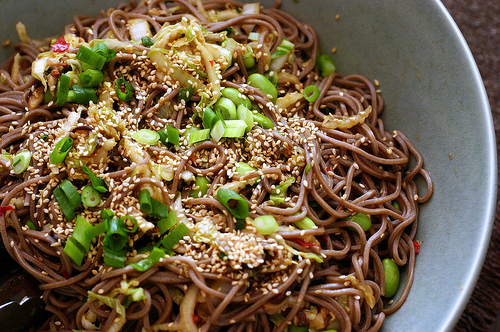 Sakai humbly describes herself as a "good home cook," but she's also a filmmaker, an author, and an amateur food historian who grew up in Japan, has lived all over the world, and is now settled in Los Angeles. She's contributed to the Los Angeles Times for over a decade, paying her own way to Japan to research historic foods and preparation methods.
"I believe in preserving Japanese culture," she says. "I grew up in the '60s in Japan, when much of our lives were very artisan-driven. People did everything by hand. It was an unbelievably artisanal world and I remember the labor, what the food tasted like when people made it by hand. I remember the fisherman. It sounds like it was a very primitive time, but of course the people were very sophisticated, yet Japan was still very traditional. Then modernism came in, and things like koji were wiped away by the advent of MSG. It's a chemical, and I just feel that people are losing touch with what is natural. I thought that I could come back to my roots and start to preserve my food culture and try to introduce that here."
Tickets are available for purchase and will include a class and soba supper. 
In case you can't make the workshop, Sonoko will be serving up dishes at the Slurp pop-up at 6pm.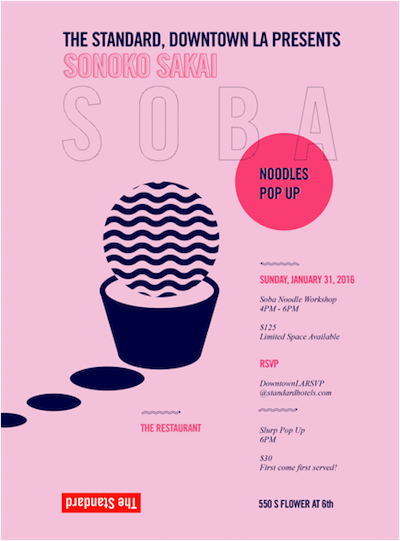 Sonoko Sakai Soba Noodles
Workshop
on
Sunday, January 31
4pm – 6pm
&
Slurp Pop – Up
begins
6pm
at
The Restaurant
The Standard, Downtown LA
550 S. Flower at 6th