Jittlada: Simply the Best Thai "Hot" or Not Dishes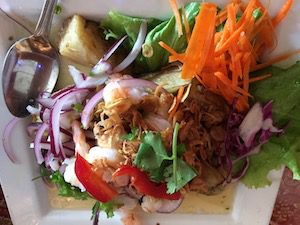 (Gerry Furth-Sides) Crispy Morning Glory Salad – Deep fried morning glory topped with fresh shrimp and Jitlada's spicy house dressing (above) may be Jitlada Retaurant's famous signature, and their reputation of offering such "extra spicy cuisine" they made it into both Jonathan Gold's "Top 101 List" in the LA TIMES and in his film, "City of Gold."
But it is the total package that makes this restaurant a star.  Hospitality, so characteristic of the Thai people – who have never been conquered as a country because they simply opened the doors to newcomers and learned from them- is at its highest here.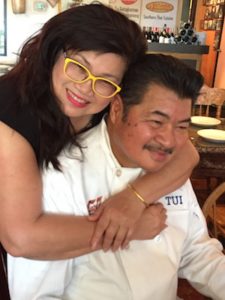 But the brother and sister chef-ownerss, Tui and Jazz Singsalong,  alone are as much of a draw.  Even the first time you meet them, they make you feel like family.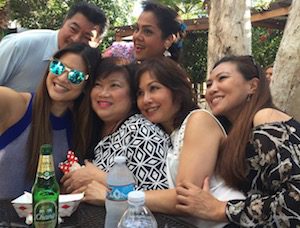 The first time I met them was as guests as the Chang Sensory Trail. They made it feel as though it was their party and you made them the happiest people on earth that you were also there.  A very memorable evening.
AND a very  memorable royal feast at Jitlada a few weeks afterward because a crew was filming and we were lucky enough to eat the dishes!  So the dishes below are the favorites of Jazz and Tui.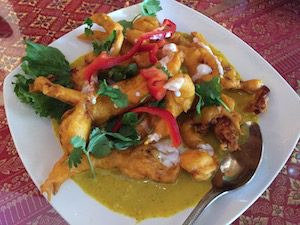 Southern Curry Soft-shell Crab  – Deep fried and topped with Jitlada's house special southern spicy curry sauce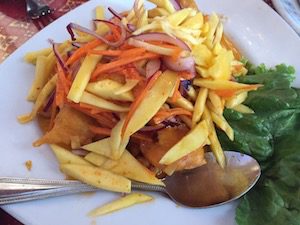 Mango Scallops start with Deep fried scallops, which are "smothered" in spicy chili mango sauce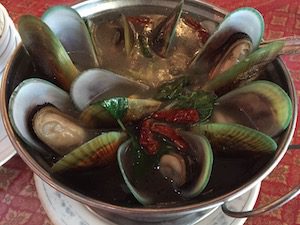 Steamed Mussels – Live New Zealand green mussels are cooked in a refined lemongrass and basil broth, and served with Jitlada's  homemade green chili sauce.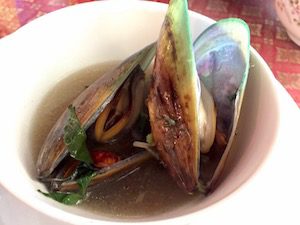 The fresh mussels are juicy, tender and taste of the sea.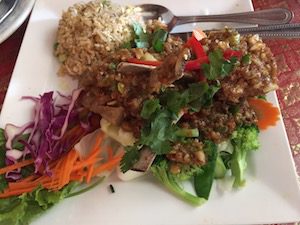 Yum Makeua Yao (Egg Plant Salad) – Grilled Chinese eggplant topped with fresh shrimp and scallop in our spicy house dressing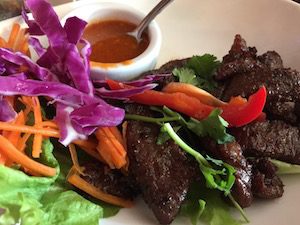 Crying Tiger Beef (pork an option) was featured on Food Network's "Best Thing I Ever Ate: Hot & Spicy" episode.  Its intriguing name surely helped it to this status!  Marinated grilled beef with spicy sauce on the side are the ingredients.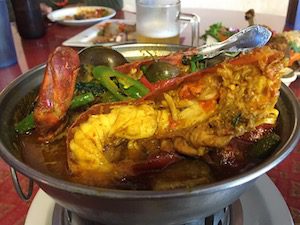 Jungle Curry Goong Nang – Steamed tiger prawns in Jitlada's  spicy house jungle curry.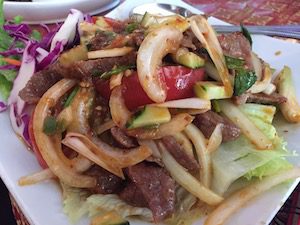 Other popular signature dishes include Pad Thai Tamarind Sauce  with shrimp and chicken is another signature dish, Garlic Lamb Rack – Tender lamb rack in spicy garlic sauce with spicy savory fried rice and steamed vegetable and Beef salad – Marinated sliced beef and vegetables in a spicy lime sauce.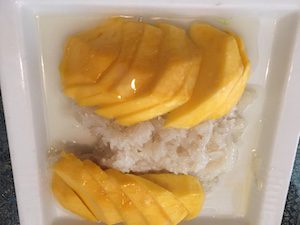 Coconut Ice Cream topped with red, yellow bean and palm seed was the light, refreshing dessert.  And Leo Beer was the drink of choice.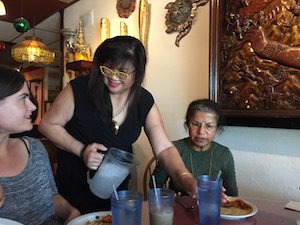 Wrote the hostess Kathy, who does the accounting for Kitlada and started working there as a server long ago, "Fun fun fun and full – topped with Gerry (me), Barbara (Hansen, food writer), her son, Spike and his girlfriend, Annie (above), and Mona (Day, writer).  Jazz takes time with Annie and Mona, above.
There are no reservations at Jitlada, and it is a long snaking line evenings to get into the double storefront space that is truly tucked into the corner of a strip mall on a non descriptive Hollywood Boulevard in East Hollywood.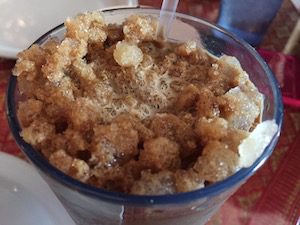 Try Jitlada's Thai Iced Coffee ice coffee while you are waiting.  The crushed ice makes the coffee flavor permeate through the drink.  It is designed to cool off anyone even in temperatures over hundred during the summer.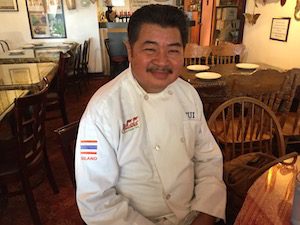 East Hollywood Certified Farmers' Market honored Popular Chef Tui as part of a celebration of their expanded days this spring, 2017.  The chef did a demo
Jitlada, 5233 1/2 West Sunset Blvd. Los Angeles, CA 90027,  (323) 667-9809. Hours are Tues-Sun: Lunch 11 am – 3 pm Dinner 5 pm – 10:30 pm. For details on the restaurant and more of the menu that includes images, please see: https://jitladala.wordpress.com