How to Create a British-Inspired High Tea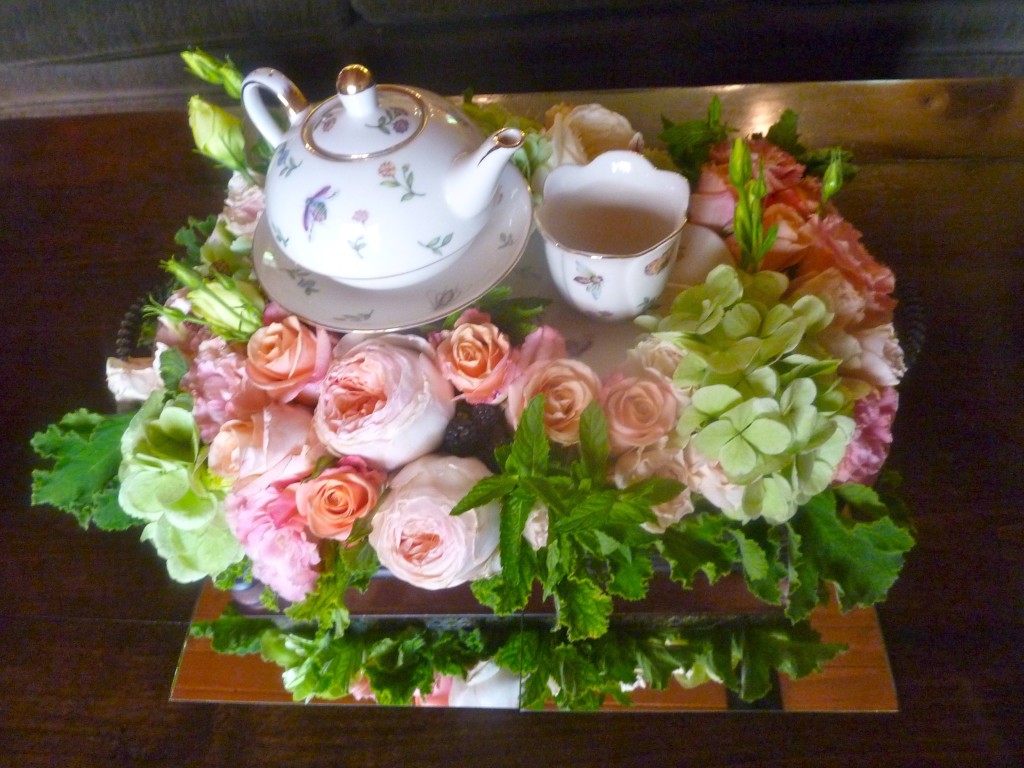 (Adréana Robbins) I believe in living a passionate life, in appreciating good friends, and celebrating joyous occasions.  Recently I had the opportunity to do both with a high tea on short notice. Drinking tea may have been first  discovered in China in 2737 BC, and later it was popularized through the Sung and Ming dynasties and throughout Japan.   However, it was Downton Abbey's versions of British high tea elegance and style, a tradition that originated in the mid 1700s, that most recently captured the imagination of  devoted viewers around the world.   Here are my personal tips to channel some serious Crawley family style and elegance with a more international theme.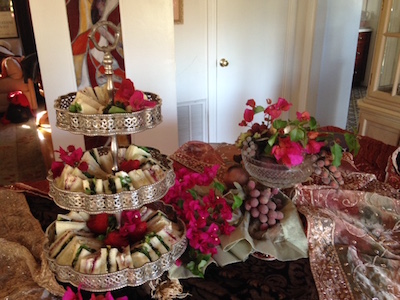 The motivation arrived on short notice when a dear friend returned from her recent trip on the Palace on Wheels: a luxury, first-class train, which travels through India (each guest has their own personal valet). It certainly seemed like a trip to commemorate. The journey featured guided tours through India's opulent palaces with a sampling of their delicious High Teas. I've always loved the beauty and art of High Tea.
Getting most of my items catered and pre-made helped save time. The list of four local vendors included Trader Joe's, Porto's Bakery and Café, Chado Tea Room, and Van Dorn Gourmets.  Ready-made orange and cranberry scones, and coconut macaroons were on the shelf at Trader Joe's. My mistake was only getting one type of dessert scone. The ones I selected were very pretty.  But I realized too late that they did not have  taste to match.  However, my guests enjoyed them, and this is what is important. Even so, our talented lady of honor saved the day. She  somehow managed to get ready in an hour and arrive looking gorgeous, bringing with her a batch freshly baked berry scones she whipped up, delicious and still warm from the oven.  I confess to having two! And the scones went perfectly with Chado's freshly made Devonshire cream. (1 pint at $8.00) cream has a light and frothy texture with the ideal amount of sweetness. My guess it might even have a dollop of plain Greek yogurt.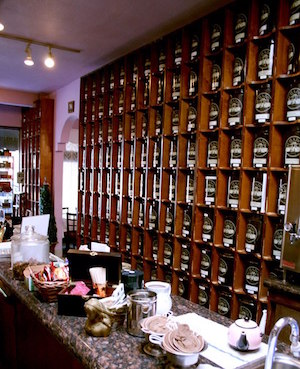 Essential to any tea party are "the" sandwiches. I ordered a large platter from Chado Tea Room in Hollywood ($69.00). Their crustless potato bread has a delicate and clean flavor that complements every flavor. I selected the Limerick: cucumbers with cream cheese and green onions; the Punjab: eggs marinated in Lapsang Souchong smoked tea; the Mediterranean: goat cheese, watercress and olive spread; and lastly, the Souchong chicken that has a cranberry and lingberry spread. The platter arrived beautifully decorated with strawberry garnishes.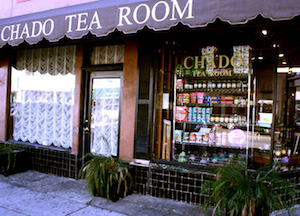 Chado Tea Room
6801 Hollywood Blvd #209
Hollywood, CA 90028
(323) 472-8111
11am – 7pm
Locations in Pasadena & Downtown L.A.
The Sweetness of Life
Even on the same table as the savory, sweets are the final memory of every tea party display.  Porto's Bakery & Café is one of my favorite places with its endless selection of cakes, cookies, breads and pastries. The Porto's themselves reveal that they "We don't buy flour bags, we buy flour by the trunkful."  I even love the trip  there to pick up the goodies and smelling all the fresh baked treats. Note of warning: The line at Porto's often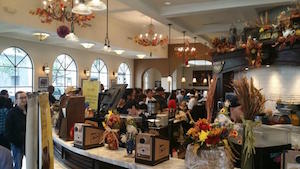 stretches out the door, but the energy and excitement are contagious, reminding me of Disneyland. Still, I recommend never going on a holiday and ordering ahead of time if you can. They  have a separate check-in area for preorder and it takes about 15 to 20 minutes on a weekend.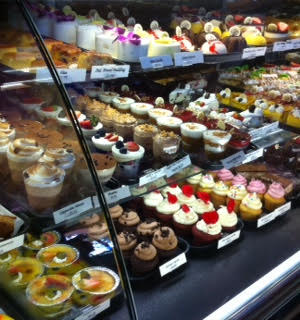 For my tea, I ordered the Large Fancy Mini Dessert Platter ($56.00). The selection resembles French petit fours with approximately 45 miniatures. The platter included: chocolate covered vanilla cream puffs; dulce de leche cream horns; fresh fruit tarts; an opera cake tastes like Tiramisu—sponge cake soaked in coffee with layers of chocolate ganache and mocha butter cream. The mango mousse – light, exotic and fruity – is such a treasure it's deservedly served with its own delicate silver spoon. My guests enjoyed the mango the most. Porto's makes several sizes (bite-size to diet derailing) of this sumptuous mousse, including a chocolate raspberry and a lemon mousse cake, (which is one of my favorites).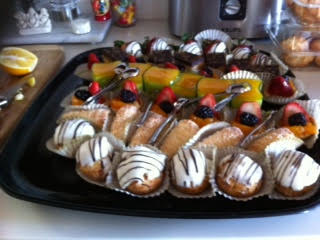 Porto's Bakery & Café
3614 West Magnolia Boulevard
Burbank, CA 91505
(818) 846-9100
Mon-Sat 6:30am-8pm
Sunday 7am-7pm
Locations in Glendale & Downey
The Spice of Life
Decorations help make a party memorable. My guest of honor, a talented designer, helped me to adorn the table with Indian fabrics, purple bougainvillea flowers, and jeweled fruits. We also used a large silver tea tray for a centerpiece. One of my guests brought a delightful gift of Indian bowls and condiments from Van Dorn Gourmets, a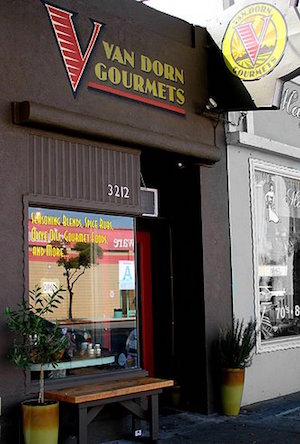 spice shop in Burbank. The colorful spices filled the kitchen with a wonderful aroma of freshly ground turmeric, Garam Masala, cumin, and fennel seed.
My tea party was great fun. It turned out to be eight ladies in total; we all sat together at my dining room table, while our guest of honor regaled us with her travel stories. Everyone concluded to reunite again for the next festive occasion with another Indian theme. Maybe a Punjabi house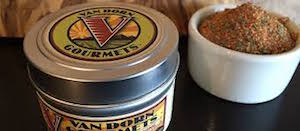 warming party and curry potluck? And the feast goes on . . .
Van Dorn Gourmets
3212 West Magnolia Blvd
Burbank, CA 91505
(818) 736-5110