KAMPAI! FOR THE LOVE OF SAKE Film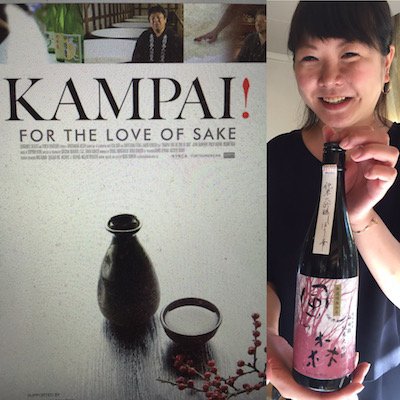 The party in its honor at the Japanese Consul's residence was more than enough to prove the affection of the Japanese community for the film,  KAMPAI! FOR THE LOVE OF SAKE and the national rice wine drink revered in the culture.  It was  thrilling to have one of the features players in the film, Marie Chiba (above) of Gem by Moto, who was flown in from Tokyo for the event, pour the famous Kampai and other brands of the clear, beautiful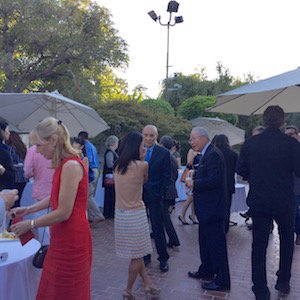 KAMPAI! brings up to date sake's place in Japan,  and how it continues to play out on the international scene.  Produced  by Chiaki Yanagimoto, Director Mirai Konishi tells this story through an engaging, jubilant fifth-generation Kuramoto (Brewery Owner) of a century-old sake brewery, Kosuke Kuji of Nanbu Bijin, and two non-Japanese influencers, fluent in Japanese.
Former Midwesterner, journalist John Gauntner is profiled.  Recognized as the world's leading non-Japanese sake expert, the prolific Gaunter wrote five books on the subject. He was the first non-Japanese to earn the title of certified Master of Sake Tasting, and has also achieved Sake Expert Assessor certification from Japan's Research Institute of Brewing.  He is well respected for his intensive Sake Professional Course, (taught in English), which has hundreds of graduates including the owners and operators of many sake-centric stores in the US, Germany and other locales.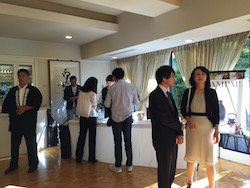 Quirky Philip Harper, the first-non-Japanese Toji (Master Brewer) raised in Cornwall County, England, earned  a degree in English Literature at Oxford University and taught  English in Osaka, Japan. There he "learned about the Japanese people from an insider's view — rather than the one they preferred to show on the outside," as well as a passion for sake.

The stories are interspersed with each other, starting with the childhood or each one, and the story concludes with the 2011 earthquake disaster which somehow provoked a decision on the part of Kuji to either end his time in the business (debts would be forgiven and he was in the red) or work many more times harder to increase sake sales.  He chose the latter.  The image of him riding in a train with a box of the precious bottles carefully wrapped in a box on his way to a dinner presentation is memorable.  And he was positively adorable as a roly-poly baby and as a moon-raced, laughing baseball playing youngster.  He transferred his endearing love of the game "the best part of playing baseball was being a part of a team" into heading his own family business team — which was not at all easy until the rigid, respected old-timer generation retired.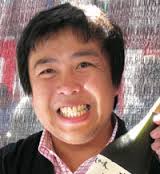 The majority of sake breweries in Japan are small and family-owned. Ever since he was little, Kosuke Kuji innately knew he was expected to follow his father succeed the family's brewery Nanbu Bijin in Iwate, Japan.  Once Kosuke Kuji set his sights on heading the brewery, he found he could satisfy both his love of academic education and also teaching by earning an advanced degree in agriculture by engaging in the mission of taking sake to the next level.  Simple? Not at all.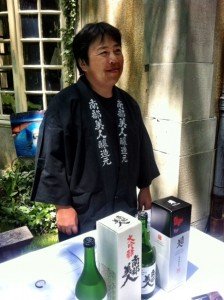 The intriguing sake making process and this story alone would have represented the best of Japanese tradition. Kosuke made the decision to join the family business when he saw his father ill, and his father knew and candidly appreciated it.  But Kosuke had to overc0me his father's skepticism, as well as the rigid ways of the elders at the brewery.  Still, he waited it out until the revered Toji (Master Brewer)  left the company.  Then was also forced to greeted with his jolly demeanor the numerous rejections by overseas restaurants.  Equally telling is that now that Kosuke has become the president of Nanbu Bijin, he's not giving any pressure to his young (baseball playing!) son.
At that time, new generations of Kuramoto (brewery owner) and Toji (master brewer) were making drastic changes in a diminishing sake business process, unchanged since its creation in the 15th century.  Kosuke was a member of the enthusiastic young generation working in the sake industry re-examined the sake process and applied the latest knowledge and science to create better sake. Kosuke joined the revolution, trading in his baseball uniform for Japanese garb and never looked back – until the earthquake.
In 2013, Kosuke became the president of Nanbu Bijin, succeeding his father.  After re-examining the brewing process using his new knowledge, he earned gold awards for his efforts at the same time he took on the challenge of expanding his brewery's distribution beyond the sea.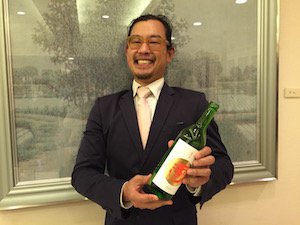 Director, Mirai Konishi, a journalist and filmmaker, gave this description of his work.  "Let's be honest. Sake is not an easy subject for a documentary. It's colorless, and its activity during fermentation period is too tiny to capture. More importantly, the film cannot deliver the best part of sake:  its rich aroma and delicate taste. Sake is a lousy subject I have to say. So I decided to capture the people around it for this sake documentary, KAMPAI.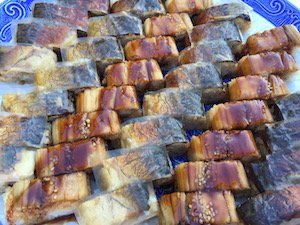 The people who fell in love with sake, decided to pursue their dream, overcame the hardships, and absolutely enjoy what they do. It's a love story with sake, and as our documentary's subject, we have not one, but three great stories to tell. KAMPAI will explore the world of sake from three distinct perspectives and through the amazing journeys they have taken. By interlacing these three parallel stories, KAMPAI will offer the insight of the mysterious world of sake in an exciting way, and leave the audience thirsty for sake."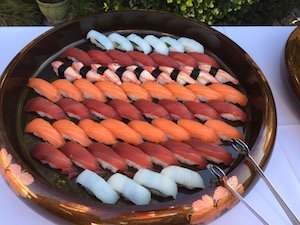 Production notes report that Konishi grew up in Japan on a steady fare of Steven Spielberg films throughout the 80s. Hugely inspired, Konishi moved to Los Angeles and studied filmmaking at University of Southern California (USC) School of Cinematic Arts. His directing works vary from short films to a making-of-featurette to a lifestyle video. His short films screened at several film festivals include   "BLIND" (1999) and "CLOSE TO YOU" (2003).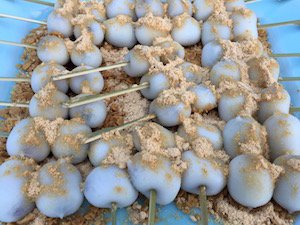 While studying at USC, he started writing movie articles for a Japanese film magazine ROADSHOW, which let him to become a Los Angeles correspondent to CUT, one of the leading film magazines in Japan. In 2012, Konishi was invited to join the prestigious Hollywood Foreign Press Association.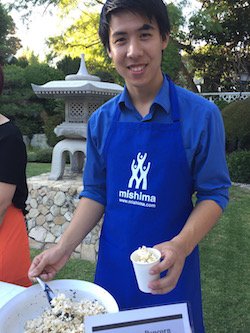 Eitetsu Edward Terakado representsMishima Foods.  Here he offers Asian-inspired popcorn, a perfect pairing with sake.   Below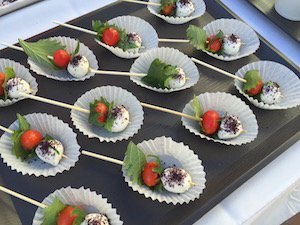 Sake, often called "Japanese rice wine," is an alcoholic beverage made from fermented rice and has a wide range of flavor, consistency and price.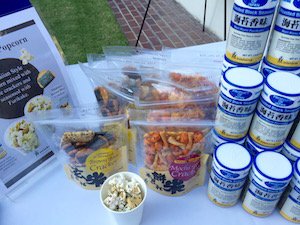 Sake, Japan's national beverage with a long, deep history rooted in centuries of tradition, has been gaining in global popularity in recent years. Brewed from rice and water with the help of Koji mold and yeast — its elegance is bound by a complexity of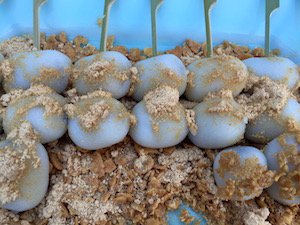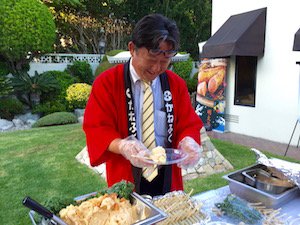 Above and below, Yoshihiro "Hilo" Araki of Kanefuku USA, INC serves up sumptuous Japanese Spicy Caviar for the occasion.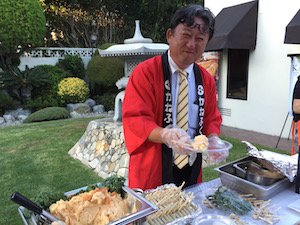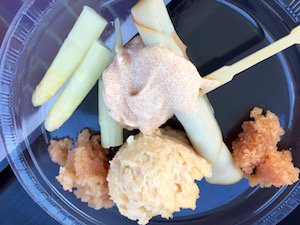 93 MINUTES JAPAN / COLOR / 2016 / ENGLISH + JAPANESE
A FILM BY MIRAI KONISHI
Official Selection- SAN SEBASTIAN FILM FESTIVAL
Official Selection- TOKYO INTERNATIONAL FILM FESTIVAL
Official Selection- HAWAII FILM FESTIVAL
Official Selection- BUENOS AIRES FILM FESTIVAL
Official Selection- INDEPENDENT FILM FESTIVAL OF BOSTON
In Cooperation with BERLIN FILM FESTIVAL