Kids Cook International food at Pali Adventures Overnight Camp
(Daniel Hammond with Gerry Furth-Sides) Travel the World. Food is a way for children to experience their world through different cuisines. And camp is one of the most fun ways to experience this adventure. According to Daniel Hammond, Director of Pali Adventures, "we try to include recipes from all over the world and have themed days based on where the cuisine comes from (Mexican, Italian, Chinese)."
The camp Culinary program also includes Baking, Desserts, and BBQ, and each week ends with an Iron Chef inspired cooking challenge that allows campers to compete against each other and put the skills they have learned to the test.
Adds Hammond, " the bottom line is that we hope to inspire a love of food and cooking in our camper. Our goal is that having our campers become  familiar with different types of food and cooking techniques.  this makes them better prepared to make informed decisions when it comes to their own dietary choices.
The Pali Adventures camp speciality came about to attract more sophisticated kids who have a constant need to raise the bar on unique activities.  The camp is located in the Los Angeles area.   Parents and children are invited to join the staff for one of their annual Open Houses at Pali Mountain on May 21 or June 4.  Information is on the website.
Pali is different from other specialty camps because their programs are encouraging and supportive of all ability levels  – with no pressure to already be good at it.   Explains Hammond, "meeting each individual where they are, we tailor an experience to each camper. We have loosely organized our specialties into four broad categories to help introduce them to you – Adventure, Creativity, Performance and Leadership. Kids are encouraged to, 'Go ahead – try something new!'"
With the rise in popularity of Food Network shows featuring kids as chefs and the availability of global foods for young palates, Hammond reports that youngsters are now clamoring to be in the kitchen and do the same activities as the chefs they see having so much fun on TV. In this case for  summer 2017 camp, the specialty in highest demand turns out to be Culinary.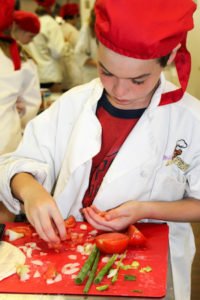 Cooking being a hands-on experience, the benefits for the campers are lifelong.  Cooking also involves so much basic learning skills. It is a great way for children to watch math in action: measuring and counting involves basic math skills. Recipes introduce vocabulary not found on spelling tests. And working through the steps of a recipe involves logic and sequencing skills.
Every child can find success through Culinary Arts at Pali Adventures.  And success encourages enthusiasm for a practical skill.
From young children through teenagers, everyone can participate in cooking through age appropriate tasks. Simple mixing, washing, and adding ingredients for the youngest cooks; measuring and following a recipe for elementary aged chefs; independent menu preparation and knife skills for teens. Every child can feel a sense of accomplishment and gain confidence through cooking. And every masterpiece – even if not picture perfect – can be celebrated and showcased.
"Basically, we want to make sure that each recipe is simple enough for most children to be able to follow, "explains Hammond. "And the dishes are delicious enough for children to sample, and containing ingredients that are likely to be found in a typical household pantry.
"Try Something New" is one of the mottos. Even picky eaters are more willing to try new foods when they participate in meal preparation. The Chez Panisse Foundation reports that youngsters are more willing to eat foods that they grow or cook themselves.  And opportunities to expose children to the cooking process expands their palate and exposes their senses to the touch, taste and smell of ingredients that might otherwise not be tasted if they don't participate in their preparation.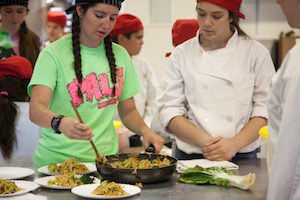 A favorite global recipe for Pali Campers include the Asian Beef & Broccoli Bowl.
1 (3 1/2-ounce) bag boil-in-bag long-grain rice
1/4 cup lower-sodium soy sauce
1 tablespoon cornstarch
1 tablespoon hoisin sauce
1 (12-ounce) boneless sirloin steak, cut into thin strips
2 teaspoons canola oil
2 cups broccoli florets
1 cup vertically sliced red onion
1 cup chopped carrot
1/2 cup water
2 teaspoons dark sesame oil
1/3 cup sliced green onions
Cook rice according to the package directions.
Combine soy sauce, cornstarch, and hoisin in a medium bowl.
Add beef; toss to coat.
Heat a large skillet over high heat.
Add oil to pan; swirl to coat.
Remove beef, reserving marinade.
Add beef to pan; cook 2 minutes or until browned, stirring occasionally. Remove beef from pan.
Add broccoli and next 4 ingredients (through sesame oil) to pan; cook 4 minutes or until broccoli is crisp-tender, stirring occasionally.
Add reserved marinade to pan; bring to a boil.
Cook 1 minute.
Add beef to pan; cook 1 minute or until thoroughly heated.
Sprinkle with green onions.
Serve over rice.
Daniel Hammond is the Director of Pali Adventures. Pali Adventures provides a unique overnight summer camp experience for kids ages 8-16. Campers choose from one of 22 specialties and over 70 electives to design a personalized adventure. Our campers follow their dreams, try incredible new things, and gain lifelong friends in a safe and supportive environment. For more information visit www.paliadventures.com.