"Kisses from Spain": Best New Artisan Products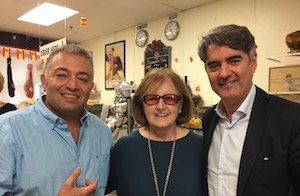 The owners of the La Española Meats  Inc. in Harbor City welcome Jordi Borda, representative of Andalusia in Southern, Spain, here to introduce eight food producers from this southernmost region of the country.  The products, all natural and gourmet and kosher, can also be produced private label.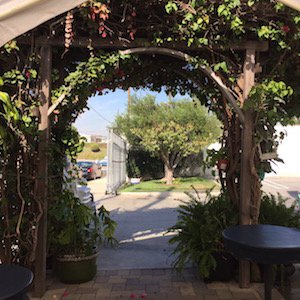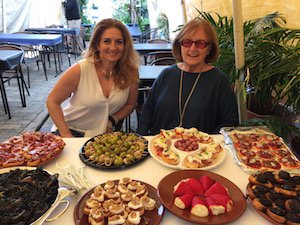 Outside in the magical garden dining area, founder-owner Juana Gimeno Farone, and her daughter prepared a table of tapas highlighting the products.  In Spain the small, perfect bites are salty and served with complementary wines and beers.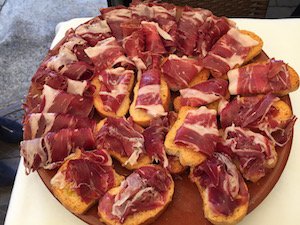 Jamon iberico de bellota or  Iberico ham on toasted Spanish bread highlights the unique flavor of  the special black-hoof  pigs in the region (Iberico) and from the long curing time.   Oscar Lerena emphasized that these black-hoof pigs  are also fed acorns for 4 or 5 months, which makes the ham high in mono-unsatured fat or oleic acid.  He laughs, "You could think of it as an "olive tree with legs."
Iberia Ham inspires the mini pizzas that are also capped with Spanish fried tomatoes, cheese and baby fava beans
Paella Negra, rich with clams, squid and mussels, is prepared with the famous short-grain bomba rice from Valencia and squid ink turns it into Black.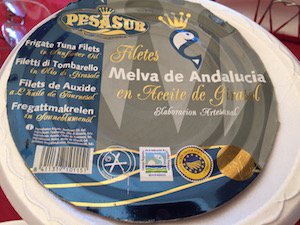 Filippo Orlando presented his family's brand of Melva tuna, which owns a Protected Geographic Indication.  Both because of the protected location and the way it is processed, the tuna has little chance to accumulate mercury.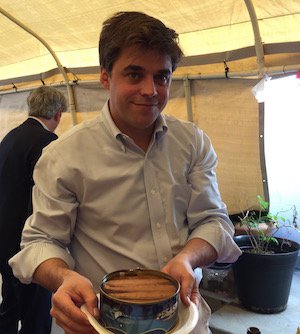 In order to honor the purity of flavor, the tuna is canned in sunflower oil not  olive oil.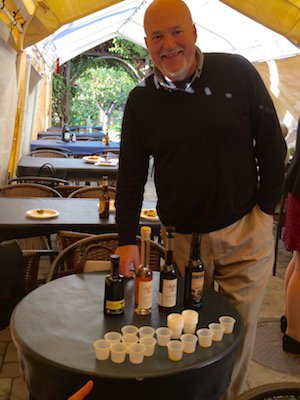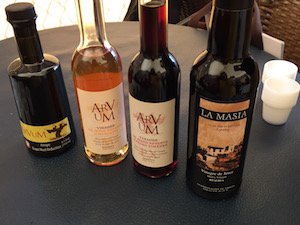 Eric Davis presented Arrope, reduced grape must, made from Palomino and Muscatel grapes, which imparts a sweeter and milder flavor so that it can be used like balsamic vinegar.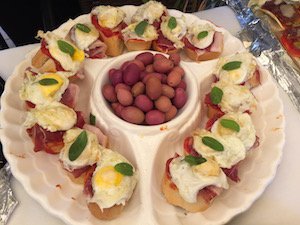 Toast topped with Spanish fried tomatoes, ham and quail egg, accompanied by olives from Andalusia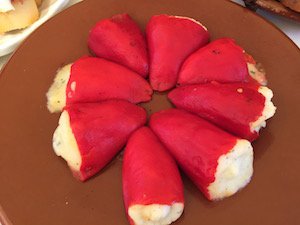 Pequillo peppers filled with brandada, well known as bacalao, a puree of rehydrated salted cod, potato and olive oil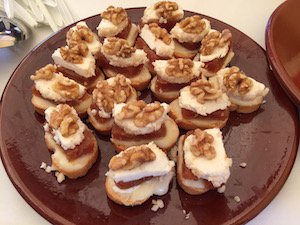 Toast topped with quince paste, goat cheese and a soft cheese topped with walnuts.   The "Tronchon" cheese is the famed sheep and goat's milk cheese from Teruel, made famous by Sanco Panza eating it  in Don Quixote. With a unique and beautiful shape, its flavor is smooth and buttery and  develope, with an aroma of butter and hay.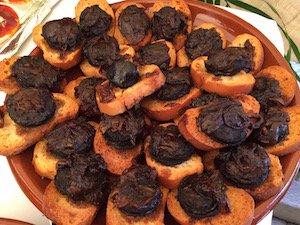 Absolutely unctuous Black sausage (black pudding) on toast with caramelized onions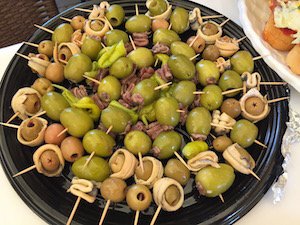 Here Two kinds of olives are skewered with anchovies from the Cantabrian Sea (cured in salt and put into olive oil) and with boquerones (white anchovies marinated in vinegar)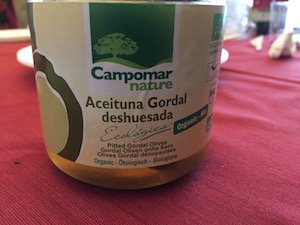 Gordal olives, or queen olives introduced by Miriam Vidal Barcenilla.  – large green olives cured in only water and salt. It takes one or sometimes two years to cure them, said They were delicate in flavor– not very salty or bitter.
Alex served a Torres Altos Ibéricos Crianza 2012, a Rioja wine made with tempranillo grapes.
"The Denominacion de Origen" or "D.O." is a strictly regulated designation that certifies the authenticity of the product it represents. It is carefully defined by geographic region for cheeses, and dictates the ingredients, production techniques, aging conditions and other aspects of the manufacturing and aging process. All products within its domain must be accompanied by the logo as proof of origin, with an individual number stamped on it.
For more information, visit www.cheesefromspain.com.