(Gerry Furth-Sides ) Already at the age of seven, after the kids at school assumed my mother, who arrived in this country on a luxury liner, was "a gypsy" because she had dark hair, some sort of an accent and was wearing a beret, I knew there had to be a better word for "foreign-born American resident."
"Gypsy" was meant as a compliment to my tall, sweet, slender mom with her great cheekbones, but was an insult to her. In her family's experience in Czechoslovakia, gypsies were anathema, and not very clean anathema at that from her vivid descriptions.
The terms "émigré," "immigrant" and "refugee" are just as tricky. Not only are their meanings similar, but the implications of all foreign-born Americans as being of "the wretched and the poor" Statue of Liberty inscription variety can be far from the truth as well.
And I've learned that in terms of newcomers to the United States, it's not a bad idea to be aware not only of social background but of the native country's political history. Here is my story about why:
Blonde "Sofi" was my dynamic, driven Athenian friend, the force behind the restaurant of the same name in L.A., her childhood dream come true, and who  spent a lot of time launching my restaurant media career.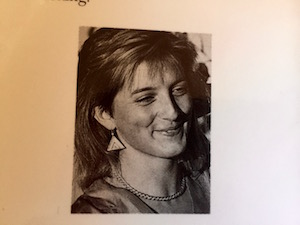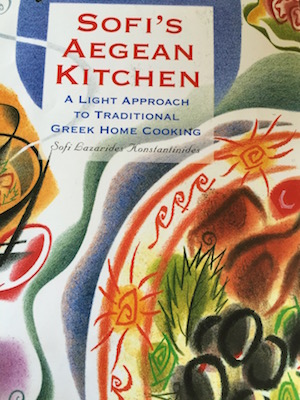 "Defne" was my friend from Turkey.  Defne's name nevertheless is a very popular one in Greece and means "Laurel," the very same wreath made famous by the ancient Olympic wreath used to crown winners. A calm redhead with a definite sense of herself, she had always loved things American growing up. Def was a TV producer who oversaw my cooking segments on her show.
So, I cleverly thought, here is a networking match: two young, engaging, food-involved, generous young women from the same part of the world.  Both successful in their careers, well-educated, world-traveled and independent. Let's have dinner together!
And so we wound up at the rustic, dimly lit Four Oaks Restaurant in Beverly Glen one quiet Sunday evening. After pulling me by the sleeve to her side of the table, Sofi ate nothing and stiffly answered questions while Defne and I valiantly made an attempt at small talk and eating. Then the two fought for the check.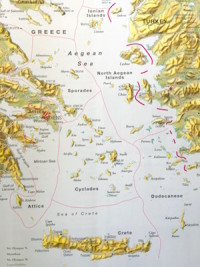 Duh! If I forgot 400 years of bloody Turkish rule in Greece, a tour that following summer of Greek island churches with glass display cases piled high with the bones of adult and young victims massacred by Turkish invaders, was all the reminder I needed.
Well, eventually Sofi and Defne became friendlier after Defne, always entertaining friends or visiting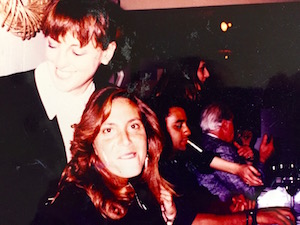 family, began frequenting Sofi's, often hosting large parties and sending flowers afterward. After all, most refined Greek cuisine has Turkish roots, a fact I continually have to ignore with my Greek friends.
And that's lesson number two: in addition to acknowledging what country beat the other in war, it is important to ignore how an oppressed culture incorporates the cuisine of their oppressor. Psychologists, of course, find that victim-oppressor characteristic quite common but it isn't exactly polite to point that out, and especially not at a dining table.
For example, one of the most representative Greek dishes is "moussaka," actually an Arabic word. "Musakka" in Turkish cuisine falls into the category of the "Basti" dishes that made their way into Greek cuisine. "Basti" from the verb, "to press," refers to the tightly layered vegetables and meat.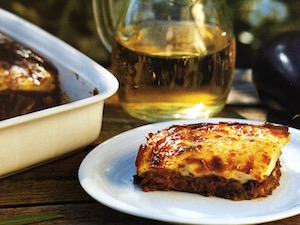 Both Turks and Greeks claim "Dolmas." The name is derived from a term referring to the culinary process of hollowing out and stuffing, according to culinary historian, Charles Perry. Since the Turkish version was developed as a part of an elaborate, labor intensive "court cuisine" documented among the lavish banquets of the Ottoman Empire, it seems most likely that the dish originated in the east and traveled west to Greece.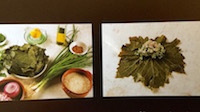 At least 15 of the 25 commonly used vegetables familiar to Turkish cuisine are used to fill "dolmas," especially artichoke hearts, mushrooms, peppers and leaf vegetables.  Turkish chefs even use vine leaf wrappers around dishes other than dolmas.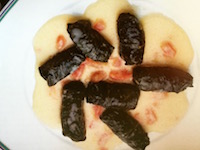 Greek cooks prefer rice and minced meat to fill their "Dolmades" since in the vegetable department Greeks seem to rather reluctantly eat green beans, aubergine (eggplant), and courgettes (zucchini) or even their own cultivated or wild field greens or "horta." Tomatoes, really a fruit, are actually enough of a vegetable for any Greek it seems. If there is one characteristic that separates Turkish and Greek cuisine it is this love (or distaste) for vegetables.
Charles added that another distinction of Turkish and Greek cuisine is the more precise measurements of Turkish culinary preparation, as well serving dishes hot or cold, as opposed to the "more common room temperature of Greek dishes." It is explained in Timeless Tastes, the beautiful, comprehensive book given to me by Layla, Defne's sister. The photos of the Turkish dishes are from this book.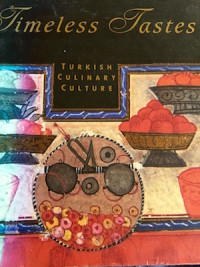 And beloved to both cuisines are fried meatballs, "keftedes," in Greek and "Kofte" in Turkey. Prepared with breadcrumbs and salt/pepper seasonings, zealous critics in both countries judge dishes by the proportions of meat to bread for just the right texture and taste. Kebabs also have a Turkish origin, where they are not only grilled but also often stewed and baked as well.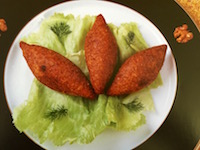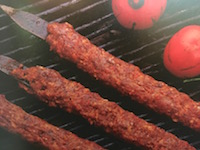 Indeed, as a result of another war, Turkish "kofte" traveled as far away as Sweden. There meatballs have been adopted as a national dish called, "Kaldolma."   Charles XII of Sweden introduced the dish after spending some years in Turkey early in the 18th century while recovering from a defeat by Peter the Great at the battle of Poltana in Russia.
Enormously popular Turkish desserts in Greek cuisine are the varieties of luscious baklava and rice pudding, the Turkish versions being much sweeter in adherence to their principle of "eat sweet, talk sweet."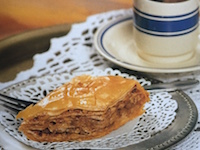 Both cultures, however, have made an art form of drinking their coffee strong. Leyla, Defne's sister who owned the luxurious restaurant, "S" in Istanbul's Bebek area reminded us, "in Turkey we have a saying that, "A coffee has a thousand years of remembrance."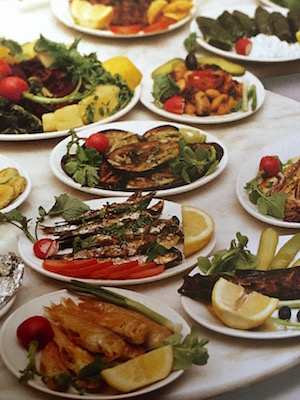 Along with the tradition of dining on an entire meal of "mezes" (small plate appetizers), another commonality is their love of honey, with markets in Turkey offering dozens of different varieties of honey labeled according to the village of origination.
And both Greeks and Turks pay particular attention to where their water "springs" from, specifically the location of the body of water. Perry reports that the Greek penchant dates back to classical times and precedes the Turkish association by centuries!
The list is endless and changing.
But one final note: because they were both in show business and foodies and single, another bright idea of mine was to introduce Defne (Muslim) to Michael (Jewish with Israeli ties). Well, aren't the Israelis and the Turks friends?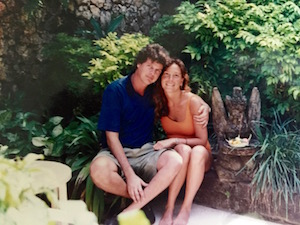 It took Michael a couple of years to appreciate this match but they were subsequently married and became the proud parents of a gorgeous baby boy. And wouldn't you know? At the "bris" (circumcision ceremony) they served Jewish-American mini hot dogs and handed out Turkish charms to ward off the "evil eye."