Korean Father-Son Perfect Japanese Sushi at KURA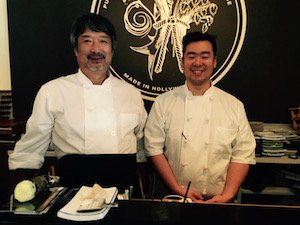 (Roberta Deen and Gerry Furth-Sides) Virtually  "hidden in broad daylight" in a sprawling Sunset Boulevard strip mall, the spacious, subdued interior of Kura Sushi Restaurant becomes the realm of a sophisticated Korean father-son team (Sunny and Daniel) offering the finest of seasonal and omakase dinners prepared in true traditional Japanese style.  Its name is accurate:  In Japan the "kura" was historically a village storehouse holding precious heirlooms and provisions to support the local community.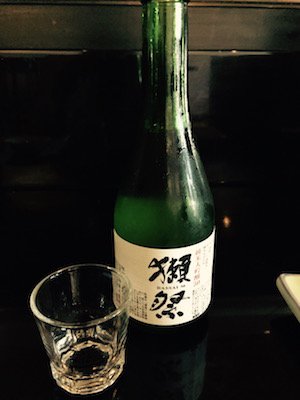 We were served the Kaiseki, a time-honored, very classic, formally organized Japanese meal with a set course of menu dishes.  The dishes are prepared with the five basic cooking methods: raw, steamed, simmer, fried, grilled. It also refers to the elaborate collection of chef skills and techniques that go into the preparation.
The thoughtful, series of small-plate summer  omakase (oh-ma-kha-say) or chef's choice  arrives in the traditional manner of light to dense fish, as well as  a progression in the manner of cooking, under the sure hand of Executive Chef Daniel Son.  Chef Son does show his Korean influence in bolder and often dazzling presentations.  We were especially lucky to be at Kura on a Thursday, when Chef Son receives from the famed Tsukiji Fish Market in Tokyo a "mystery box" of seasonal fish and seafood, usually wild, to challenge him.
A small glass of Dassai 50 Sake smoothed out all frustrated feelings about the blazing heat and traffic outdoors.  We already were impressed by Chef Son's Corn Soup Recipe and background when we introduced him to LocalFoodEater this past spring.  http://localfoodeater.com/kura-chefs-favorite-japanese-summer-corn-recipe/)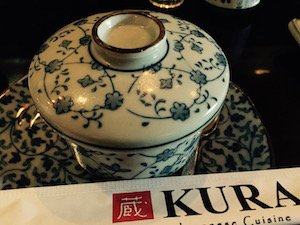 First to arrive was a small porcelain bowl decorated with a tangle of summer flowers.  This traditional  first course to introduce the meal, Chowwon Mushi, is usually served hot, this one touched with snow crab and egg custard and carrots in a delicate yet rich dashi.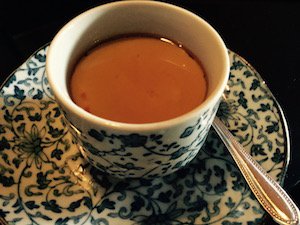 At first glance, it is looks to be a tomato broth but underneath the golden-tinged film is another layer to be explored.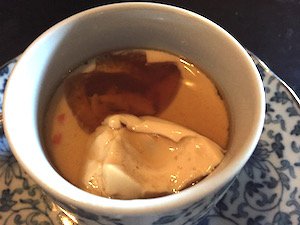 Once stirred, the slightly chewy texture of the snow crab, the bite of carrot and the silky egg custard in the gossamer dashi broth combine into a heavenly nectar fit for the Gods.  With all due respect and apologies, "Chef Daniel  had us" with this first course.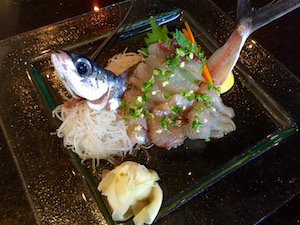 While we were still trying to catch out breath, the Kyushu Sashimi Flying Fish from Japan placed in front us that Chef Daniel had been working on behind the counter took it away again. Perched on a shredded daikon radish nest, the ponzu, scallion and ginger provided the exact amount of sweet, tart and texture to enhance and balance the fish.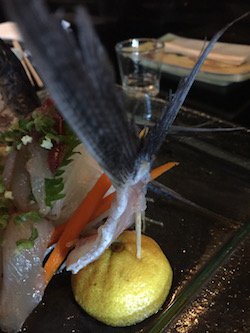 "Summertime is the season of the flying fish," Chef Daniel reported.  "It is especially prized because of its roe.  The box arriving from the famous Tsukjii Fish Market in Tokyo specializes in fish for Edomae. This at one time referred to fish caught in Tokyo Bay and now includes surrounding waters from the southernmost island of Kyushu to Hokkaido – plus the best in the world that is practically attainable.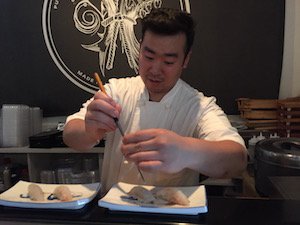 The "behind-the-scene" props that held the fish aloft added to the fun and "insider" feeling. It is fitting that Chef Daniel, who started working at the restaurant when he was 15, has experience in the world's top kitchens from the venerated Spago (under Chef Tenzu) to one Michelin star, Sushi Yoshizumi under Master Akira Yoshizumi, and Noma (rated best in the world). He shared, "a lot of preparation goes on for a single night.  It's like being a part of a creative Cirque du Soleil performance where you prepare and are in sync – and the reward is in the reaction of the people you are serving."
The cloud-like delicacy of Hotardo Ika (baby squid) and cubed Monk fish Liver in a sauce of yuzu (citrus) and ponzu is belied by its pedestrian, brownish color.  Poached, then cooled down and flambeed with sake, ginger is added to the monk fish liver along with soy sauce and kombu.  The cleanness, the softness, the unique pairing in this initial course define everything embodied in the Kaiseki style.  "and I was born to preserve the Kaiseki style," Executive Chef, Daniel Son, tells us as he works his art.
Chef Daniel puts the finishing touch on Nigari Sushi (with rice) which is presented next in the progression of light to dense.  Nigari referred to "hand-pressed sushi" presented on an oblong mound of sushi rice.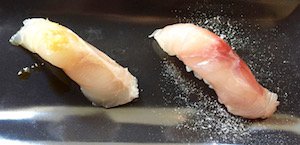 First, the  leanest, pale white Sweet Lip  Emperor Fish  is embellished only with lemon juice and Himalayan Pink Salt.  Also known as the Sweetlip Swooze, this fish ranging in lively  red to light grey colors, lives in reefs and are prized for their lovely taste.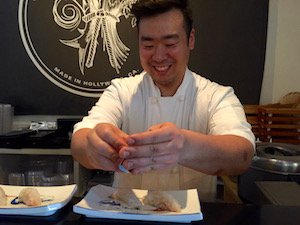 Chef Daniel adds a touch of  Oroshi Ponzu, ponzu with a bit of  horseradish, to the Japanese Green Fish that pairs with it.  Chef Daniel told us that the very small portion of Tokyo-style rice,  a very sweet Osaka rice best balances out the flavors of the fish.  Osaka cuisine is known for being light and the rice for enhancing, rather than interfering, with the individual flavors of the fish.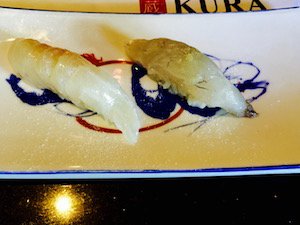 A bit meatier, a bit firmer and a bit fattier and served with lemon and Himalayan Pink salt is "Bar-Tailed Flathead" or Magochi, paired with Madai, Japanese Sea Bream, here served with a touch of lime and Himalayan Pink Salt.  It is properly prepared with Sudashi, a rare citrus fruit.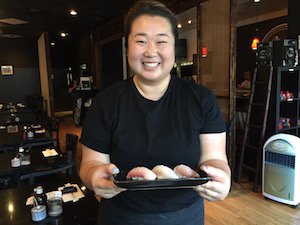 The effervescent, intelligent server/manager, Annie, turns out to be Chef Daniel's sister!  She presents the next course, a step up in a rich and fattier fish, with a touch stronger flavor as well.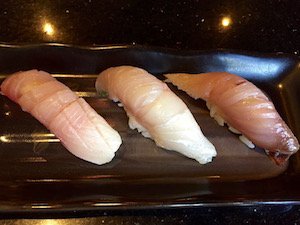 Inada (Young Yellowtail); Konpachi, brings with it a subtle but surprisingly different flavor and texture; and Bari, an Australian mature Yellowtail, is here served with Wasabi and a house-made soy sauce, which Daniel prepares with sake.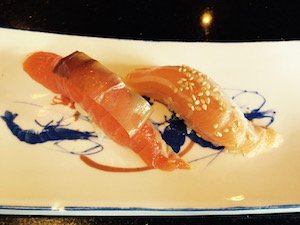 Deeper in color, the Norwegian Salmon Belly lends a soft, satiny, stronger flavor. It is garnished simply with ground toasted sesame seed.  Shiroito, the Ocean trout paired with it, is dressed with Kombu, a refreshing white sea kelp with a flavor reminiscent of the ocean.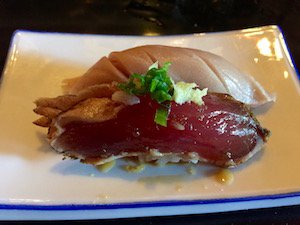 To enhance the progression of the fish, from raw to cooked,  roasted and seared Katsuo (Skip Jack Tuna), is paired with the deeply colored Toro, medium fatty tuna, that is seared to tenderize it. Toro is a huge fish with the most belly tender for sashimi.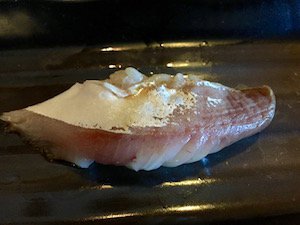 I had mentioned how much I was intrigued with Hokkaido and Chef Daniel beamed when as he presented a Hokkaido Scallop from this rugged, northernmost island of Japan, renowned for its wild fish and seafood.  He enhanced it only with pickled daikon red radish and seared sesame Nori.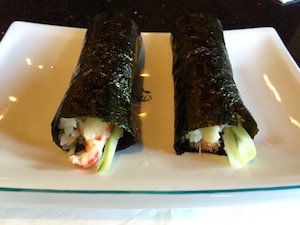 Chef Daniel was quick to let us know that in addition to the Kaiseki concept, "we have rolls and sashimi, too!"  to prove it, he brought out a crab, cucumber and Japanese mayo wrapped in Nori as the last though of the meal before dessert.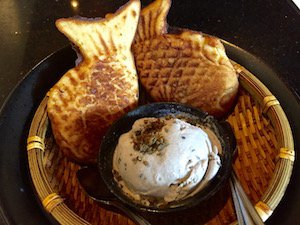 Dessert was a meal unto itself as well – and shows the best of Daniel's  playful Korean influence, along with his work at world famous restaurant. Chef Daniel has taken the street food, Taiyaki, the little red bean paste and custard-filled fish batter mold cookies.  The chef  added to it house made Black Sesame ice cream with a black sesame crumble.  A whimsical abundance of riches after a spectacular meal.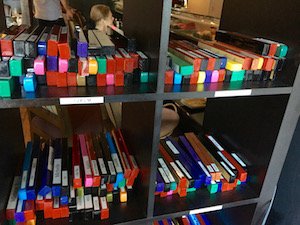 Colorful rows of chopsticks on a divided wall shelf welcome KURA "regulars" into the restaurant with a friendly-community manner.  The chopsticks are used to eat sashimi and not the nigiri sushi we were privileged to enjoy, which are always eaten with your fingers even in the most formal of settings.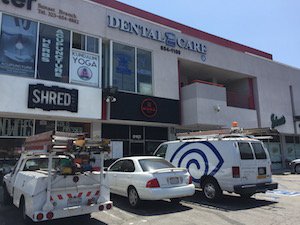 Embracing both family and community, KURA has established itself as a "Purveyer of Fine Sushi and Japanese Cuisine" since it opened 15 years ago in a Sunset Boulevard strip mall at Crescent Heights in West Hollywood.  "Audaciously refreshing" describes the experience best.
Kura – www.kura-sushi.com
8162 Sunset Blvd., Los Angeles, CA  90046 (323) 656-6347