Kura Chef's Favorite Japanese Summer (Corn) Recipe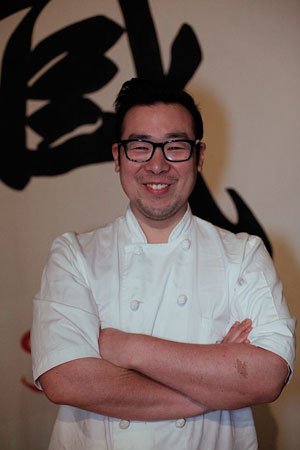 Head Chef Daniel Son at KURA offers special summer dishes to to honor the warmer months using fresh, seasonal ingredients he hand selects daily.  Chef Son's summery chilled homemade Goma (Sesame) Tofu with Sweet Summer Corn is a healthy and a favorite with Japanese diners that is enjoyed during the hot months. Goma Tofu is best known for shoujin-ryori cuisine that was created in Buddhist Monasteries in Japan.
Chef Son combines his expertise in Tokyo-style Edomae cuisine and authentic Edomae sushi techniques in his family's warm, unassuming environment. He brings with him a remarkable international  track record, working at Spago Hollywood, Kaiseki Restaurant, and the Denmark based Restaurant Noma, the recently closed restaurant voted the best restaurant in the world and star of the film, "Ant On A Shrimp."
Goma (Sesame) Tofu with Sweet Summer Corn
Recipe:
Approximately: 30 mins, 2 hour cooling time.
Portions: 4-6
180g corn paste (2 corn ears)
Ingredients:
1 Tablespoon Mirin (sweet sake)
1 Tablespoon Butter (unsalted)
70g (2.5oz) nerigoma (ground sesame seed paste)
50 g (1.75oz) kuzu powder (you can find at a health food store or japanese grocery market)
500ml (2cups 1Tablespoon) water (filtered)
Shaping Bowls
Sauce Pan
Plastic Wrap
Instructions:
1. Remove corn from husk and grill over high heat flame.
Carefully remove corn kernels with chef's knife and sauté with a dash of mirin (sweet sake) and butter. (If you wish to keep it vegan remove butter in the step) Saute until corn is sweet to taste.
Puree in food processor until smooth like oatmeal. Cool and reserve.
2. Combine kuzu powder with a little water that was measured to make a smooth paste with a whisk or chopsticks. Add to sauce pan with remaining water and add nerigoma. Continually mixing place pan over medium heat.
3. As mixture rises in temperature it will begin to thicken and even get lumpy. Be sure to keep stirring to smooth out the lumps and to prevent scorching. Once it looks slighly translucent in color and consistency of pudding remove from heat.
4. Place plastic wrap onto each shaping bowl. Ladle gently into plastic lined shaping bowl to prevent bubbles evenly (depending on your preferred bowl) Scoop corn puree (about Tablespoon or desired amount) in center of mold.
6.Pinch each corner of plastic wrap and bring together in center and twist. Place in small sauce bowls and cool in refrigerator for about two hours.
7. Once fully cooled, remove plastic and serve round side up with soy sauce, fresh wasabi, and ginger if desired.



Embracing both family and community, KURA has established itself as a Purveyer of Fine Sushi and Japanese Cuisine since it opened 15 years ago.  The restaurant stays true to their name, KURA – which was historically a storehouse to a village in Japan, that stores precious heirlooms and provisions to support the local community.  The unassuming restaurant is located in a Sunset Boulevard strip mall at Crescent Heights in West Hollywood.  KURA features seasonal and omakase dinners prepared in true traditional Japanese style.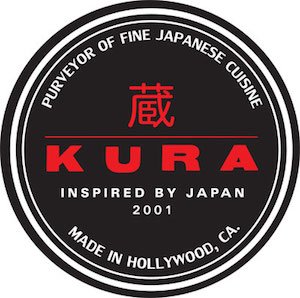 Kura Fine Japanese Cuisine, 8162 Sunset Blvd., West Hollywood, CA  90046 (323) 656.6347. (www.kurasushisunset.com)