LA's Best Coffee: AROLATIN's Café de Olla Corretto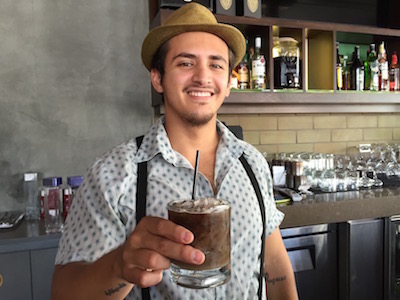 (Gerry Furth-Sides) Cafe de Olla Corretto, a beauty of a drink, was first created for me one hot, lazy day in South Pasadena this summer at the AROLATIN bar.  And there is no hotter or lazier than on this quaint street. Alejandro Chavez revamped and elevated the drink for us. His recipe goes thusly:
Café de Olla, with pillonsillo and cinnamon
Shot of tequila
5 oz patron Café Liquor
Splash of rumchata
And how appropriate that we are on Mission Street, the set of blocks created by an eccentric bunch of businessman before the turn of the century, who made their money quickly and emphatically in the then nearby orange groves. This merry band took the term "mixed use property" to heart.  They utilized the first floors as retail businesses and the second floors to house their concubines for monkey business.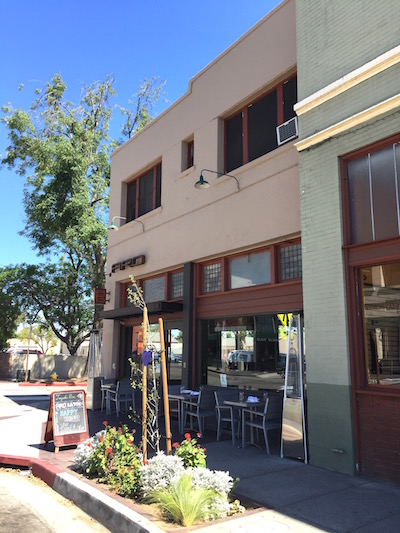 Once inside the cool, inviting restaurant, we didn't stop with the Cafe de Olla.  This was a "dessert" visit so we indulged in the light, most moist, tres leches cake, created by Candy Garcia Raina, co-owner of AROLATIN with husband, Karan.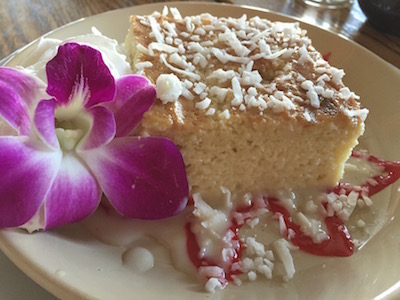 The original Cafe de Olla corretto tastes just as delicious, and was just as pretty although I'm not sure of the effect.   Not only did the AROLATIN bartender not give me the bottle, after he learned that I was not taking the metro, he didn't finish pouring the rest of the tequila!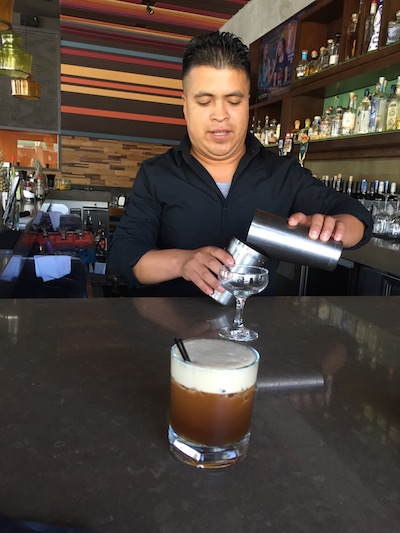 In Italy it is known as Caffe corretto, a shot of espresso with a small amount of liquor, usually grappa and In Italy it is known as Caffe corretto, a shot of espresso with a small amount of liquor, usually grappa and sometimes Sambuca or brandy.   Outside of Italy, it also goes by the name, "espresso corretto" and ordered as "un caffe corretto alla grappa." But who cares about the details.     Coffee by any name is my passion, proven by the fact that the ONLY password clue I remember is "Favorite Food," and that being "coffee. "   It is the taste and the ritual that is important. Most Italian bartenders prepare a caffe corretto by adding a few drops of liquor into an espresso shot; however, when it is a favored customer, bartenders are known to present the espresso shot and liquor bottle and let the customer do the pour.
In Spain a similar drink is known as carajillo, and in Sweden, Norway and Denmark as Kaffekask, karsk and kaffepunch.   However, it makes me smile to learn that karsk or kaffe is actually coffee added to moonshine to make it more palatable, rather than liquor added to coffee for flavor!   I will have to remember this when I visit PLANCHECK next time, where moonshine is a star on Chef Ernesto's menu.
Grappa (or tequila for that matter) in coffee is a crazy idea.   However, the drink has become so popular and well known that the phase "corretto", meaning "corrected" in English has become an idiomatic term in Italian, a Phraseme.
Added to this apology for the drink, you could say they are both stimulants is that espresso has less caffeine than coffee.   When I was boarding a plane in Milano a few years back and had already taken a valium for the flight, I remembered that it was my mission to have an espresso in this glorious city – so I had a double. It was a singular and just as novel an experience as enjoying my first caffe corretto on a terrace overlooking Lake Garda a few weeks earlier.   The espresso did not phase me at all except for a pleasant buzz; I slept like a baby all the way home.
I'm not sure how the more raw-tasting mezcal would work in the drink, but trust the bartenders.  On a place of honor among the shelves on the impressive wall  behind the bar are a changing row of infused mezcal in gleaming colors.  We tried one of Bartender Alejandro's refreshing, fruity creations with  the prickly pear infused in a special cocktail.
AROLATIN, 1019 Mission Street, S. Pasadena, CA  91030 (626) 799-9400. (http://arolatin.com/). Order online for pickup or delivery below.