Lavazza "Picks up" Tiramisu with New Coffee Blend for Mother's Day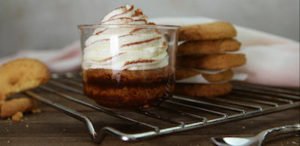 (Gerry Furth-Sides) Tiramisu is a favorite Italian dessert consisting of layers of sponge cake soaked in coffee and a liqueur with powdered chocolate and mascarpone cheese.  It is derived from the Italian phrase tira mi su meaning 'pick me up'.
My favorite restaurant version(see recipe below) is from Buca di Beppo — heavy on the marscapone cream, espresso and liquor!  It is  served in a soup bowl to share although I have polished off an entire one myself.  The Lavassa version is more refined and pretty – perfect for Mother's day.
Lavazza recently introduced its newest coffee varietal – Intenso Dark Roast – that help redefine the term "tiramisu" or Pick-me-up! Based on a traditional family recipe, and rated a nine out of ten on Lavazza's intensity scale, Intenso is a bold new coffee with smoky, caramelized flavors and lingering chocolaty notes.
Adding a little more energy  into a Mother's Day gift this year, the coffee innovators behind Italy's favorite coffee, Lavazza, created an easy Espresso Tiramisu recipe below. Even kids can make it.  The hot coffee finds its perfect match with the recipe's chilled ingredients, and brings out the fragrance of the partially soaked Pasta di Meligabiscuits.
INGREDIENTS
Serves: 6
Lavazza Espresso or Mocha coffee
Paste di Meliga biscuits (store-bought or homemade)
Mascarpone cream:

8.8 oz. Mascarpone cheese
2.1 oz. Powdered sugar
3.1 oz. Heavy cream
1.4 oz. whole milk
¼ Vanilla bean pod

Cocoa powder
Instructions
Prep Time: 15 minutes
Place the mascarpone cheese in a mixing bowl.
Add the powdered sugar, whole milk, heavy cream and vanilla bean paste.
Use an electric whisk to obtain a soft creamy mixture.
Place in a pastry bag and refrigerate.
Brew Lavazza Espresso or Mocha coffee
To serve:
Place a Pasta di Meliga biscuit in the bottom of a cappuccino cup.
Add a generous helping of the mascarpone cream mixture.
Pour hot brewed Lavazza coffee around the cream.
Dust lightly with bitter cocoa powder.
Note: Lavazza recommends preparing this recipe with Espresso coffee.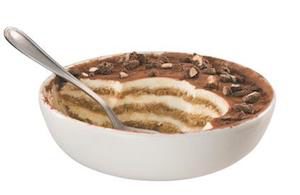 Preparation:
 "ladyfingers:"
Preheat oven to 350 degrees. Butter two large cookie sheets.
In mixing bowl, combine sifted sugar and the eggs and beat at high speed 12 to 15 minutes or until fairly thick and frothy. Reduce speed to medium, add sifted flour and mix just until incorporated.
Immediately spoon batter onto cookie sheet, forming three circles about 6 inches in diameter. Batter will stay in place initially, but will spread slightly while baking, so leave a few inches between each circle.
There may be some batter left over. (See note).
Bake in preheated oven until golden brown and center no longer has bubbles or looks wet, 10 to 12 minutes. Remove from heat, let cool 1 to 2 minutes, then remove from cookie sheets with a thin metal spatula and set on cooling racks. Cool to room temperature. (These are best done a day in advance.) Store in a covered container at room temperature with waxed paper between them so they don't stick together.
To assemble: Combine cooled espresso with 2 tablespoons of the rum in a large shallow bowl.
In mixing bowl, combine mascarpone cheese with powdered sugar and remaining 3 tablespoons rum. Mix until well combined.
Set out a bowl with a 6- to 7-inch flat bottom that is about 3 inches deep; a glass bowl with straight sides (such as a trifle bowl) works best.
Check the size of the "ladyfinger" rounds and trim them to fit the bowl if needed. You want the rounds to be even around the outside when layered.
Put a ladyfinger round on a large spatula and dip into espresso mixture for 2 to 3 seconds. Do not leave it in the mixture too long or the ladyfingers will get soggy and fall apart.
Transfer to prepared bowl and top with one-third of the mascarpone cheese mixture, spreading it evenly with the tip of a rounded knife.
Repeat two more times so you have three soaked ladyfinger layers and three layers of the mascarpone. The last layer will be a mascarpone layer. Cover top of bowl tightly with plastic wrap.
To serve:  Unwrap and sift cocoa powder over the top, then sprinkle with biscotti chunks. Scoop servings out of the bowl.
Note: You will have enough batter leftover to make three to four additional ladyfinger rounds. Use for additional tiramisu or store in an airtight container between wax paper until needed