Angelenos "Live & Dine" 2015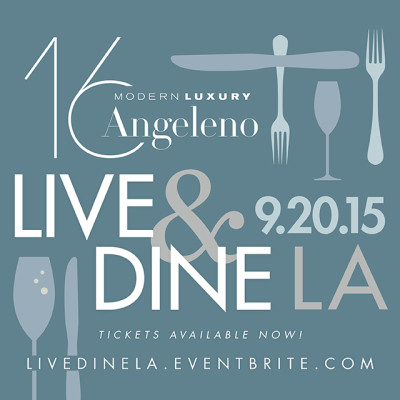 Of the multitude of weekly food events that take place in Los Angeles, Angeleno magazine's Live & Dine LA remains among the top five of the year, setting a high bar and always flying over it.  The event takes place this year on September 20 at the Miramar hotel.
Last year it lived up to its trademark motif of "Modern Luxury" in 2014 at the 12th annual Live & Dine L.A. Event just across the street from the ocean in Santa Monica to cool down a hot day and "hot" chefs, each of whom prepared an exquisite meal. The plates were paper, cutlery was plastic but the booth signs reading, "masterfully prepared by…" rang true.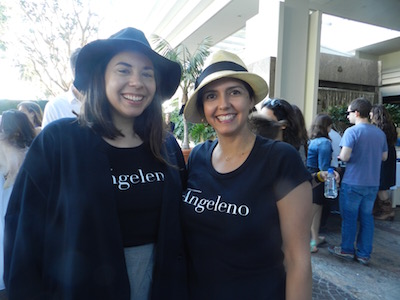 The glossy, thick Angeleno Magazine Restaurant Issue, currently on the stands, previews the event and whets the appetite. Several of the chefs created the dishes that earned them one of 50 places of honor as "L.A's finest buzzing new resto, award-winning chef or dishes to savor."
This annual Angeleno party is the perfect way to experience high end restaurants for the price of one meal. It's also a priceless, behind-the-scenes, experience with the chefs and their crews. Best of all, the event benefits Share Our Strength, dedicating to ending food deprivation among children in the U.S.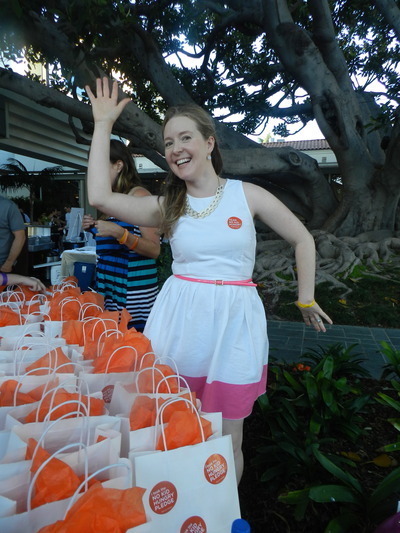 Honoring the locale and theme, chefs offered exquisite fish and seafood dishes. Billed as "bites," each was more of a light, esoteric appetizer course. Preparing the refined, complex dishes on site, the chefs looked as though they were competing in Iron Chef— while greeting guests and being photographed at the same time.
FIG Executive Chef Ray Garcia of the hosting hotel, thankfully prepared his signature succulent, whole pork on a grill. His crew deftly turned them into tacos and served up portions, including the crackling skin, to purists (me).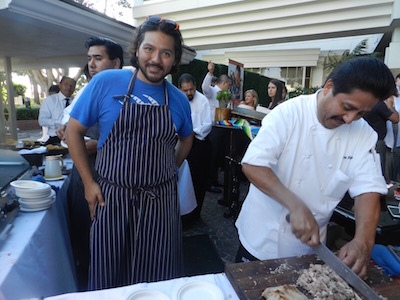 Town and Country Party Rentals turned the resort's long u-shaped side garden driveway into the party venue. So there was lots of sun and humidity and teasing shadows– and only a slight ocean breeze — but the sheer pleasure on part of the participating chefs and mixologists, plus the short lines at each station on the part of the guests, made it a spiffy, happy gathering from beginning to end. With everyone fed the first two hours, guests stayed to mingled and enjoy the evening air at the end.
The culinary line-up featured new and veteran restaurants with a new chef, plus restaurants rare to the event circuit. Angeleno honorees that fill all three categories were our friends, bigger-than-life, Chef Anthony Mure, and partner-maitre, Paolo Cesaro. They showcased their new Adoteca in Brentwood (www.adotecabrentwood.com).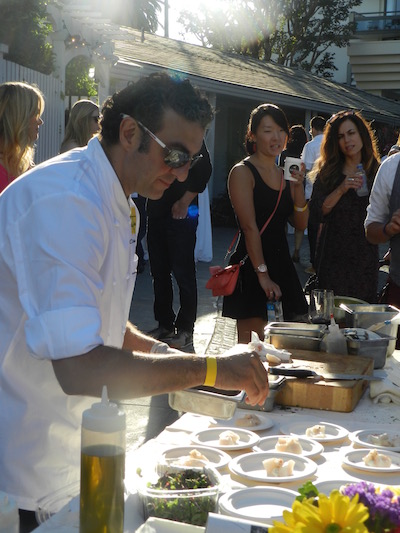 Chef Tony prepared the dish that earned him the magazine's 10 Dishes to Savor honors: Sea Scallop Crudo. Described as, "Much more than crudo or Italian-style sashimi, in this sexy dish, plump sea scallops are topped with American caviar, a mound of shrimp tartare, burrate, olive oil and volcanic sea salt.
The Adoteca table drew the biggest crowds and he was the last chef serving. The pair already proved their staying power with their crazy, popular Ado (www.adovenice.com) and CasaAdo www.casaado.com).This is Paolo on the right.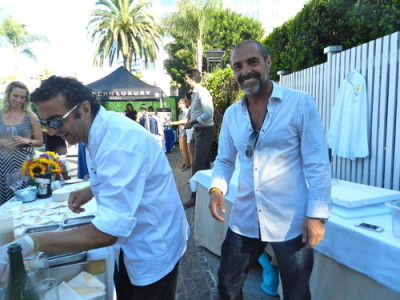 Another culinary scene veteran with a new restaurant was charismatic, talented Chef David LeFevre (Manhattan Beach Post) showcasing his new hit, Fishing with Dynamite. (http://www.eatfwd.com). This versatile chef was even the hit of last year's Thai Festival
Hans Rockenwagner's Rockenwagner Café (Wilshire at Barrington) may have been represented with lemon custard filled mini-doughnuts but more thrilling is Han's newest restaurant with a lunch and dinner menu featuring his bold, American flavors enhanced by his French technique, the first after he closed Rockenwagner to open his bakery.
Making one of their rare event appearances, and always with a fascinating dish, Chefs Yoya Takahashi and Wonny Lee of the classic, Hamasaku, used the rare yuzu in their marmalade on their Ankimo Pate. (www.hamasakula.com).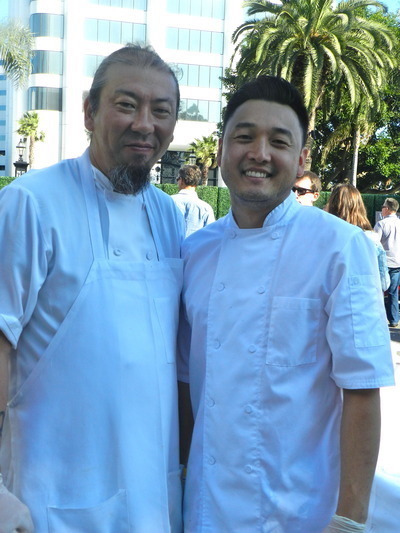 New restaurants included Raos, serving snappy marinated peppers (raosla.com) and Stephane Bombet's Faith & Flower, along with Fifty Seven, Fundamental LA, Hakkasan, Justice, Malibu Pier Restaurant & Bar and the stunning, organic Nobu Malibu. Chef Gregario promised us the best table overlooking the ocean next time!
Veterans rarely seen at events included Caffe Roma, CAST at Viceroy Santa Monica, The Church Key (downtown), Cliff's Edge, Craig's Restaurant (George Clooney partner) , Culina Modern Italian at the Los Angeles Four SeasonsThe Polo Lounge, RivaBella, SAAM at the Bazaar, Scarpetta, The Wallace and West.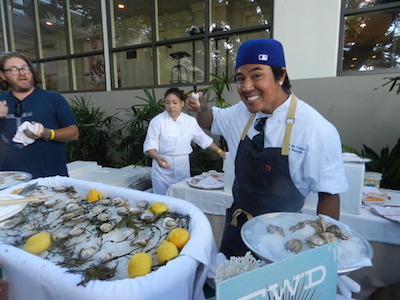 Chef de Cuisine John Lechleidner at Next at WP/24 featured the most visual and original Kalamansi Creamsicles – citrusy kalamansi sorbet with vanilla ice cream, beautifully displayed on dry-iced banana leaves. It paired perfectly with his Hamachi Sashimi with pickled vegetables, yuzu (another rare to these parts citrus fruit) miso vinaigrette and forbidden rice.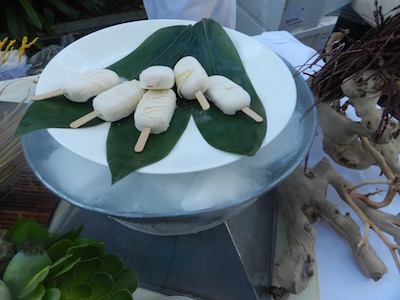 At the door, with appetizer to start and authentic panna cotta for dessert, was exuberant, handsome Northern Italian Chef, Giacomo Pettinari, head of the kitchen of the new Al Mare (http://ristorantealmare.) on the Santa Monica Pier. The restaurant space is the former merry-go-round and ride room, quite a feat even from the partners who created the Roman, high-ceiling, Trastevere.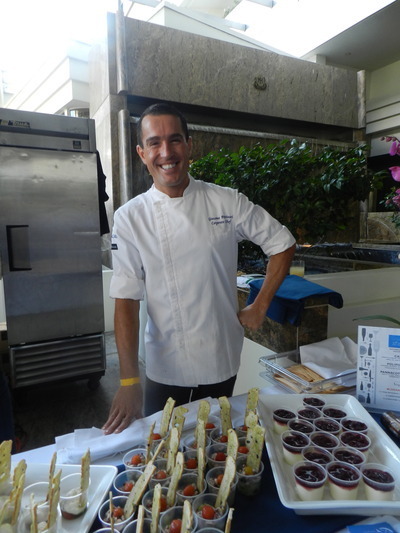 Gracias Madre, the gorgeous new (full-lot patio) relatively new vegan Mexican restaurant added a finishing light touch with a healthy celery drink that totally fooled the taste buds by not tasting savory (graciasmadreweho.com). Artisanal cocktails crafted by Acabar bar directors Julian Cox and Josh Goldman crafted artisanal cocktails. And Matthew Biancaniello, formerly of The Roosevelt Hotel's Library Bar shook up his signature cocktails. Wine Media Connect offered glasses of reds and champagne flutes.