Los Angeles Times Launches Month-Long "FOOD BOWL" Celebration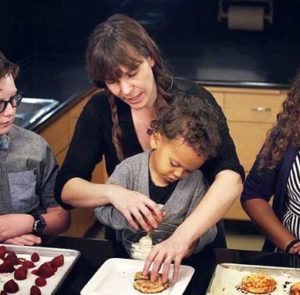 (Gerry Furth-Sides, All content and photos are courtesy of the Los Angeles Times).  The Los Angeles Times will launch its first annual Food Bowl.  The month-long festival will celebrate the city's dynamic and influential food scene.  Centered in Los Angeles, the festival will bring together the best in local dining experiences while promoting social awareness about food waste and hunger.  For updated schedules please check http://lafoodbowl.com
L.A.'s largest culinary event to date, Food Bowl will include special programs with internationally renowned chefs during rare U.S. appearances, including Massimo Bottura, chef-owner of Osteria Francescana in Modena, Italy, and founder of Food for Soul.
Other renowned figures in the culinary world include Fergus Henderson, chef and founder of St. John in London; Rosio Sánchez, chef-owner of Hija de Sánchez in Copenhagen; and Magnus Nilsson, chef at Fäviken in Sweden. Additional appearances will be announced.  For updated schedules please check http://lafoodbowl.com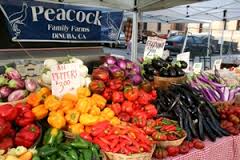 In celebration,  the Santa Monica Farmers Markets will host a series of chef demos featuring recipes of farmers market produce deliciously prepared and presented in a bowl.  And in recognition of the start of the California cherry season, all bowls will be prepared with a cherry on top!
DEMONSTRATIONS TAKE PLACE EVERY HALF HOUR FROM 9:30 AM – 12:30 PM AT EACH MARKET ON THE DATE DESCRIBED AND ARE FREE AND OPEN TO THE PUBLIC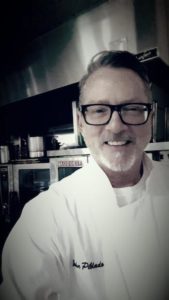 Wednesday May 3rd at the Wednesday Farmers Market:  GRAIN BOWLS: Join Chef John Pitblado of The Gourmandise School in Santa Monica for a lesson on how to cook whole grains, breakfast grain bowls, grain salads and condiments using heritage grains grown in California.  The California Grain Campaign and the Tehachapi Heritage Grain Project Cape Seafood and Provisions are helping farmers to plant, harvest, store and process traditional grains such as wheat, rye, buckwheat and spelt.
Location: 300 Arizona Avenue at Third Street Promenade
Market Hours: 8:30 am – 1:30 pm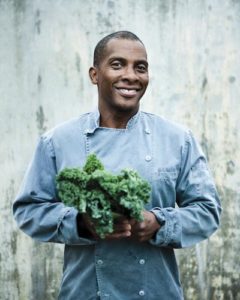 Saturday May 20th at the Saturday Downtown Market:  POKE BOWLS:  Join Chef Gill Boyd of The Gourmandise School in Santa Monica, and Cape Seafood and Provisions, a local dock-to-dish seafood company sourcing sustainable California coastal fish, who will demonstrate methods of creating traditional Poke bowls using fish from small boat fishermen.  
Location:   300 Arizona Avenue at Third Street Promenade
Market Hours 8:00 am – 1:00 pm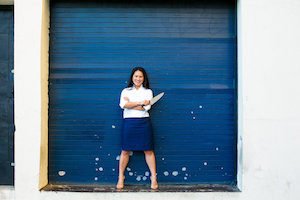 Sunday May 21st at the Sunday Main Street Market:  SOUP BOWLS:  Think of a cool gazpacho made with the season's first apricots, mixed into a refreshing taste of summer.  Chef Kim Vu of Vucacious Catering will walk you through methods of preparing delicious concoctions in a bowl that redefine the concept of "soup."
Location: 2640 Main Street at Ocean Park Blvd.
Market Hours 8:30 am – 1:30 pm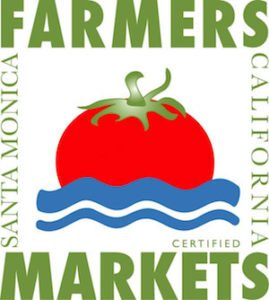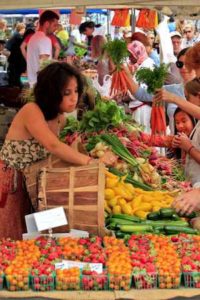 Saturday May 27th at the Virginia Avenue Park Market:  FRUIT BOWLS: Farmers have a lot to celebrate this year with the historic rains that reminded us of nature's beneficence.  Late May is when California's stone fruit gets into full swing.  Join Clemence Gossett of The Gourmandise School in Santa Monica as she shows you how to cut, macerate and season tree ripe fruit into salads and bowls. Veggies included!
Location: Virginia Avenue Park, 2200 Virginia Avenue
Market Hours 8:00 am – 1:00 pm
The Los Angeles Times Food Bowl begins on Monday, May 1. The month-long event will feature guest speakers, exhibitions, dining pop-ups, classes, and a wide selection of special menus at restaurants around Los Angeles.
"We really wanted to do something that was unlike any other food festival in L.A. or the country," Jenn Harris, deputy food editor for the Los Angeles Times, and one of Food Bowl's organizers, told LAist. "And I think it is unlike anything in that it is a whole month-long event. But we just really want it to be a celebration of the city's diverse cuisines and cultures. L.A. just has so much to offer, and why not devote an entire month to eating here?"
Highlights of the Bowl include the Los Angeles Times Night Market in Grand Park, which runs from May 10 to May 14. The nightly event will feature over 50 food vendors, as well as bars and entertainment.
On Monday, May 8, the Italian Cultural Institute will be hosting a talk on olive oil. While internationally-renowned Tuscan butcher Dario Cecchini will be holding a master class on beef butchery at chi Spacca on May 22.
On Friday, May 5, Los Angeles Times restaurant critic Jonathan Gold will be holding a forum at the Theater at the Ace Hotel. Gold will be discussing the "wrongs inherent in our current food system" with chefs Massimo Bottura, Mario Batali, Roy Choi, Dominique Crenn, and Mary Sue Milliken.
Notable pop-ups around the city include Chimney Coffee's weekly "Japanese-inspired breakfasts" for dinner series, a collaboration between The Bellweather's Ted Hopson and The Charleston and Pakpao Thai's chef Jet Tila, and a six-course meal collaboration at Salazar between Guerilla Taco's Wesley Avila, Ceviche Project's Octavio Benitez, Top Chef's Katsuji Tanabe, and Salazar's own Esdras Ochoa.
For a full list of events, event times, and ticketing, visit the Los Angeles Times' Food Bowl site here.