Macaron and Canale: French Pastry Goes Mainstream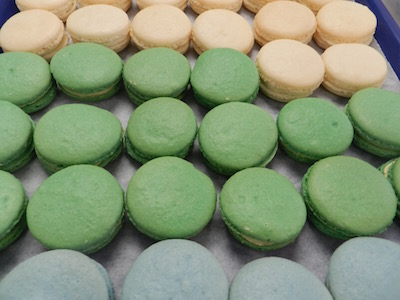 Heavenly French macarons and rich hot dark chocolate have become the newest form of "cookies and milk" –and more healthy and non-fattening!
We're talking here about the French macaron, not the candy-kiss-shaped coconut meringue cookies, though are made of egg whites and almond paste and got their biggest boost both originated in Italy. But leave it to the French. Their more fragile version with a crispy outer shell and pillowy- soft yet chewy inside is inordinately tricky to prepare and .
"Macaroon," comes from the Italian word for paste, maccarone, and, the first maccarone can be traced to an Italian monastery. The cookie arrived in France in 1533 with the pastry chefs of Catherine de Medici, wife of King Henri II (literally the Martha Stewart of her time, she who spread many glorious culinary trends across Europe).
The story continues with two Benedictine nuns, Sister Marguerite and Sister Marie-Elisabeth, who when seeking asylum in the town of Nancy during the French Revolution (1789-1799), baked and sold so many French macarons to pay for their housing, they became known as the "Macaron Sisters."
About that time Italian Jews adopted the cookie for Passover because it has no flour or leavening, also adding chewy coconut to the dough. This "Jewish" sweet became popular all over Europe and America, and came to define "macaroon" – until recently!
At the turn of this century, New York and Los Angeles bakers seized upon this confection that had earlier took Paris by storm.   That's when Pierre Desfontaines Ladurée had the inspiration to join two plain almond (no coconut) meringues, adding complementary fillings of ganache or jam and refining the exquisite texture into one both brittle and chewy. Oui! Oui! Fast forward
Today the French macaron arrives in a variety of classic and contemporary flavors all with bold, vibrant colors: Apricot and Raspberry, each filled with jam; Lemon with lemon crème filling; sophisticated bittersweet chocolate; Coffee; Vanilla and Pistachio, which, as combined with the almond paste flavor, is reminiscent of Baskin-Robbins Pistachio Almond.
The new Chocolate Box Café has the best selection, delicate, gorgeous and in authentic bite-sized, nested in a gem of a box to match (http://www.chocolateboxcafe.com).  La Provence has an assortment of delicacies, crispy on the outside and creamy on the inside.  SherryYard's macaroons are perfection as specials from the time she was at Spago to her new post at Helm's Bakery.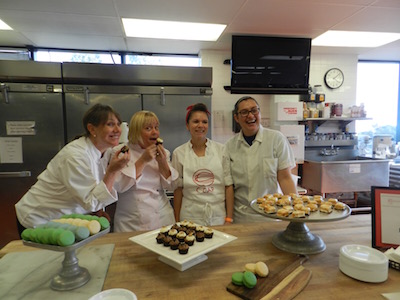 For the richest raspberry macaroons, Bottega Louie (www.bottegalouie.com). For the most delicate lavender macaroons. (www.thelittledoor.com). For the finest coffee version, La Provence Café www.laprovencecafe.com). These days even Trader Joe has gotten into the act and their variety assortment is very, very good even though their seasonal pumpkin flavor falls flat.
The macaron combine beautifully with another new trend, hot chocolate. ChocolateBox Cafe shaves the best of European chocolate, Belgian, into their Classic Hot Chocolate drinks.
And we can't forget the Moroccan macaron, made without dairy here at Got Kosher Cafe.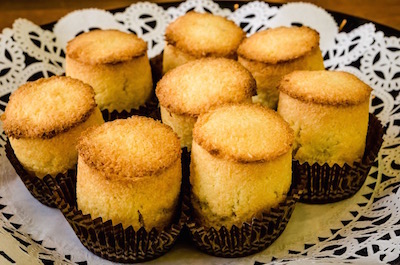 The canale, our very favorite, is a close cousin.  (www.gotkosherinc.com)