Maggiano's Little Italy Offers Dinner All Day on Week-Ends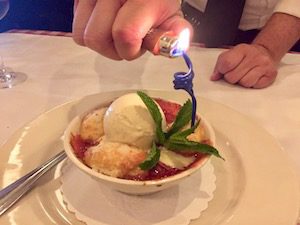 Special occasion celebrations are key at Maggiano's Little Italy® especially  judging from the arriving groups of guests with gift boxes and special occasion helium balloons. A favorite for special occasions, the restaurant was host to more than 535,000 celebrations in 2016 alone.  Inside the tables are set for parties of four to 20 throughout the dining room.  Spacious Maggiano's itself  feels homey and festive with its many well-appointed rooms filled with lots of dark wood that lend an old-world feel.
On April 9, new Local Food Eater Chef-columnist, Carla Crudup, and I celebrated my dad's birthday at Maggino's in style.  Even as a "party of two" the servers make any meal as welcoming as long-lost family, and as attentive.  To make it more special, on Sunday the dinner menu is available the whole day.
The warm consideration extends to the valet station outside where guests can relax on a shaded bench to wait for their car. It feels exactly like a private driveway at a home even though it is in the middle of The Grove at the Original Farmers Market.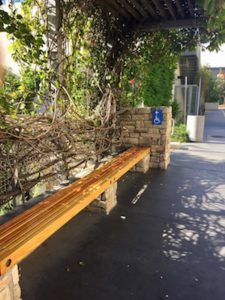 Executive Chef Alberto Bini is more than ready to personally answer questions and explain how the dishes are prepared.  Here he shows off his Angel Hair Vegetable Primavera with a beautifully poached egg on it.  
When we complimented him on the eggs, he told us about his cooking classes that allow him to share his Maggiano's expertise with groups.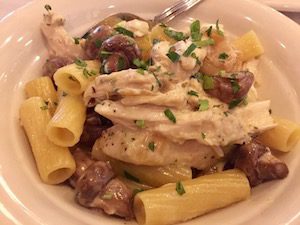 The chef wanted us to try Maggiano's  "Famous Rigatoni D" signature dish.  Chef Carla thought "the pasta was cooked perfectly al dente."  The rich dish was seasoned just enough to please American guests.
This fits right in with the Maggiano's philosophy of accommodating guests.  Chef Bini is happy to customize dishes for diners.  But he will just as easily tell them, as he did with us, when it hampers the essence and intent of a dish.  All allergies are taken into consideration, too!
The chef is proud of the "scratch" kitchen at Maggiano's Little Italy®.   Coincidently, as we heard on the national news today, Chef Tom Coliccho is currently on a campaign to champion "made-from-scratch" kitchens.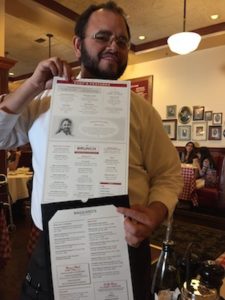 Server extraordinare Kevin shows off the dinner menu that is available all day on Sunday.  He is one of the attentive, warm, professional crew that feels genuinely happy to be working at the restaurant.   The waitstaff has been mentioned as superb in just about every public review of Maggiano's and for good reason.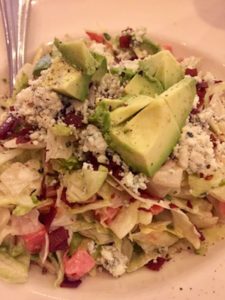 Caution: The portions are generous!  On the STARTER menu this Chopped Salad serves four, for example.  The Romaine lettuce nest is chock full of blue cheese, tomatoes, bacon and beets. Server Kevin encouraged us to order the large when the smallest was generous enough.  Salads, Pastas and Signature Cuts are other sections on the "Family Style" menu available for parties of four (2 choices each course). Items are also available individually.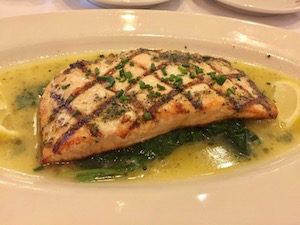 The detailed grill marks on the Grilled Salmon Lemon & Herb, and the bed of  spinach below are evidence of the care taken with each plate.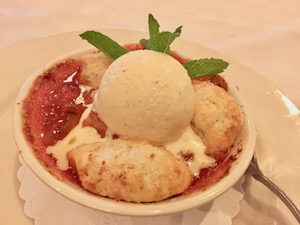 At the end of the meal, Kevin came out smiling with a very special dessert.  We were just toasting my dad with the last of our Chianti wine.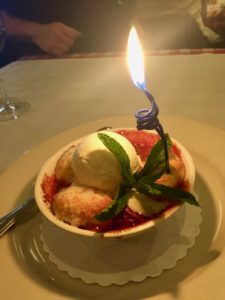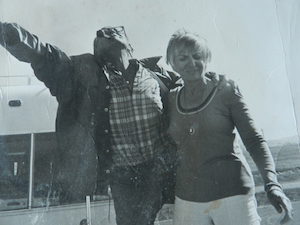 My dad would have loved the whole meal!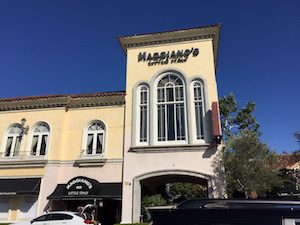 All of the 52 restaurants nationwide offer lunch, dinner and brunch, delivery, carryout service and banquet spaces.  For details and to view the full current menu, please visit www.maggianos.com.