Family Affair at Mahan Indian in Alhambra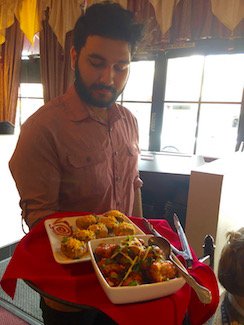 Mahan (pronounced Mah-hahn) Indian Restaurant aptly the magical name, "Alhambra" as its address.  The spare, long, dusky double-long interior with the buffet layout and bar in one corner, ample space between tables and a tidy feeling reflects both the fine dining background of Delhi born and bred owner, Anil Sharma, and the local well-manicured Spanish architecture shaded by trees.  The only Indian restaurant in this Chinese and Japanese neighborhood, Mahan draws locals of all nationalities.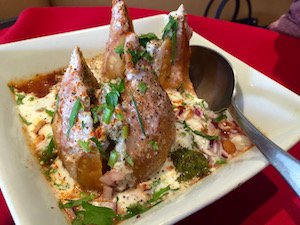 Samosa chaat, shows how Mahan takes a dish to a new level.  Here the kitchen splits the potato-stuffed patty in two and placed on a bed of chickpea curry, Raita (yogurt), tamarind chutneys and mint and a shake or two of chaat masala mixture.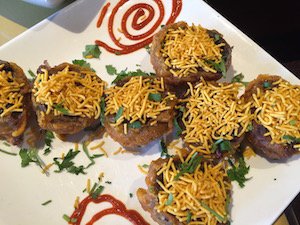 Representative of why is Mahan's appetizer Stuffed Mushrooms, uncommon on Indian menus pleases western taste with chopped mushrooms, sauteed onion and a gooey mozzarella cheese filling. The Indian sensibility comes into this American 50's cocktail party favorite with a chickpea flour batter before frying, as well as in the fun, crunchy topping of sev (crisp Indian chickpea noodles).  You can see Sage's squiggly touch in the tomato sauce plate decoration.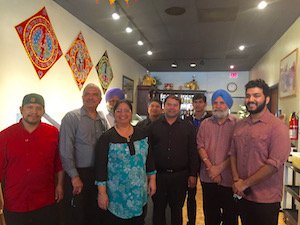 Owner Anil Sharma is happily surrounded by family at Mahan, his wife, Poonam presiding over the kitchen and his son, Sage Sharma adding to the fun of updating their menu of authentic regional and contemporary specialties. On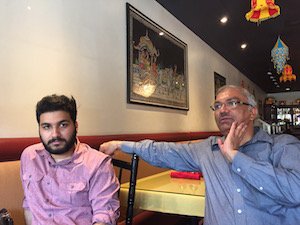 "Happy surrounded," is in fact an understatement. The entire staff considered itself family and they eat together after lunch service each day.  It's closer to "Fiddler on the Roof." Anil positively beams when it comes to his family and it is the inspiration for his work. He even dreams about it, as he recalls above.  Mango Chicken, one of the restaurants most popular dishes, even came to him in a dream. was one of the delicious entrees we sampled. He relishes the story about waking up and telling Sage about having to make mango chicken!   The fragrant sauce is prepared with both fresh mangoes and cannedmango pulp plus  sweet mango pickle or achar), ginger, garlic, onions, green peppers, serrano chilies, chili flakes and sugar. Chicken Tikka is the last ingredient added to the finished sauce.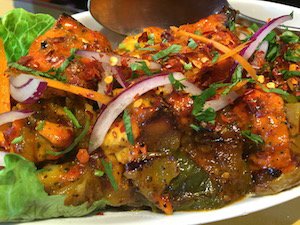 The Mango Chicken is garnished with ginger julienne, which is probably an idea of Sage. Anil proudly told us that Sage updates him on contemporary ideas since he is currently enrolled at Le Cordon Bleu in Pasadena and learning French technique. "Indian cuisine is the best in terms of ingredients, he told us, but the best, perhaps the best, of all cuisines, but it's not is one of recognized as such because French chefs, for example, do better at presenting their food.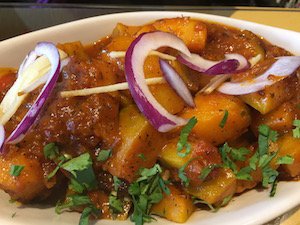 Silky,  Pumpkin Curry has become a signature dish with good reason. A key seasoning that imparts a slight tang to contrast with the sweet kabocha is mango powder or amchoor.  Anil worked months to getit to the exact taste he liked specifically for the Mahan menu after he remembered how much he liked eating it long ago at a friend's home. The fresh kabocha squash cooked with onion, ginger and garlic and flavored with white and black pepper.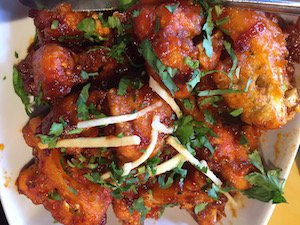 Southern region cooking come with the ubiquitous Gobi Manchurian (Indo-Chinese cauliflower, a reminder of the Asian connection to intricate Chinese cuisine.  Cauliflower florets dipped in chickpea flour batter are fried and then heated in a sauce heating with vinegar, sugar, soy sauce, ginger, and for a pleasing touch of heat, chili flakes, chili powder and Chinese ginger garlic chili paste.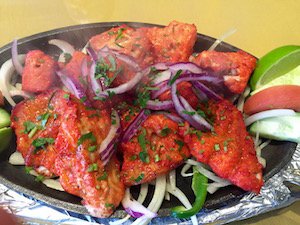 Tandoori Fish, such a simple dish, requires so much technique to keep it moist in the tandoor.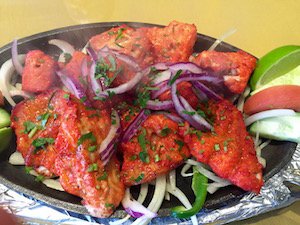 Also on the menu is Chicken Tikka Masala, 5th most popular dish in the world. What makes the dish unique is Anil's particular account of how it came about in the first place – usually attributed to an accident in a British restaurant kitchen when a disgruntled owner didn't want to serve a late-arriving diner. In Delhi-bred Anil's version, the dish was created in Delhi in much the same way when the chicken tikka accidently slid into a creamy sauce. Son Sage explained that the Mahan version uses white meat chicken, the American preference, rather than the dark meat preferred  in India.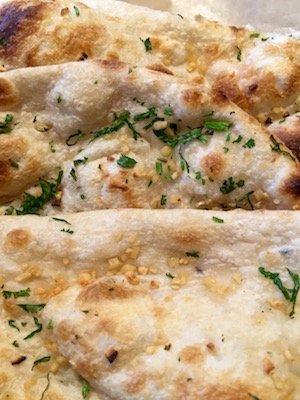 Naan, is unusual and Mahan has versions filled with spinach, mint, grilled onions and fennel seeds.  A family affair, the filling flavors are all favorites of their family who were asked to make the decision.
House-made pistachio kulfi flavored with saffron and drizzled with rose syrup. Anil told us it was made of reduced milk and sweetened condensed milk and had ground and whole pistachios, and did not need to be churned in an ice cream machine.
Just barely over 21 years old, Sage also presides over the bar.  Here he okays Mahan's top-selling Tamarind Martini made with French vodka, freshly squeezed tamarind, lemon juice,  Himalayan salt, sugar and a spritz of cayenne.  It is meant to be savored over an entire meal.