Marina Del Rey Gourmet Wine Tasting Dinner July22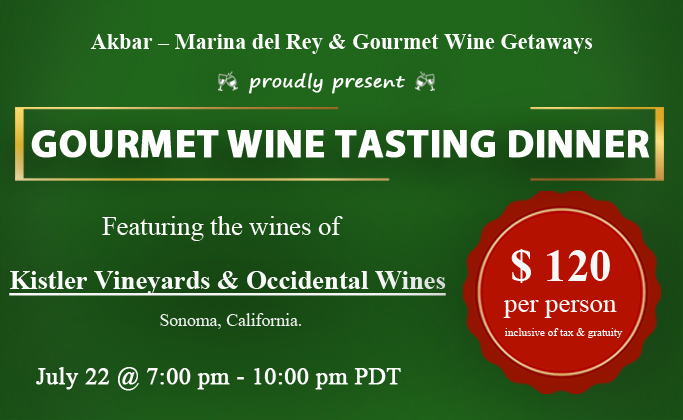 Host : Peter D. Kerr, The Wine Consultant
The history of Kistler Vineyards dates back to 1978 when the Kistler family founded the winery in Sonoma County. Their first vintage, 1979, was a mere 3,500 cases. Wine production has grown to 25,000 cases & they now receive regular accolades from many notable wine critics.
In 2013, winemaker Steve Kistler founded Occidental Wines with the goal of producing world-class PNO from the Freestone-Occidental AVA in Sonoma. Wine critics, with their scores, say Steve is hitting home runs! Many of these wines are only available to their wine list subscribers, so this is a rare opportunity to enjoy & stock up on these highly sought after wines at very attractive prices.
Owner/chef Avinash Kapoor has created a wonderful menu to pair with five of Steve's wines. Join Gourmet Wine Getaways' wine expert Peter Kerr as we explore these wines & food pairings.
Limited to 22 guests so reserve early!
HORS D'OEUVRES
Puffed Puri stuffed with chutney-spiced potatoes
2015 Kistler Chardonnay, "Les Noisetiers" (R.P. -92 points)
MENU
Scallops Balchao
2014 Kistler Chardonnay, Vine Hill Vineyard (W.A. -96 points)
Tandoori Wild Scottish Salmon
2014 Occidental Pinot Noir, Sonoma Coast (A.G. -94 points)
Tandoori Rack of Lamb
2014 Occidental Bodega Headlands Cuvee Elizabeth Pinot Noir (W.A/A.G. -97 points)
2014 Occidental Station Cuvee Catherine Pinot Noir (W.A. -98 points, A.G. -96 points)
Advanced Reservations required.
Cancellations will only be accepted 48 hours in advance.
No discounts or discount programs valid for this event.
Reservations: (310) 574-0666