Marino Ristorante: Defining "The Sea" for 32 Years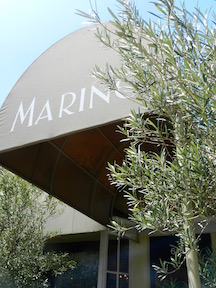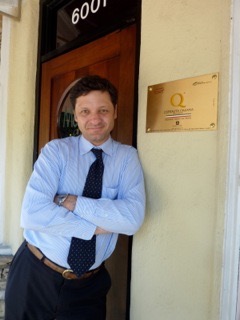 One of the most popular hosts in town, young proprietor, Mario Marino, now welcomes guests into the recently streamlined interior of his family's restaurant, marino ristorante.Marino ristorante is one of the 31 restaurants in Los Angeles to be awarded the The "Ospitalita' Italiana – Seal of Authenticity." For Marino it will be the fifth time in 2015. Restaurants have to pass an extensive series of rigorous tests, from a percentage of denomination Italian wines on their list to the menu being written in perfect Italian, and Italian-speaking staff.
Dad Ciro (who passed away in 2009) created Marino Ristorante as an old school formal dining room in 1979.  Yet Marino's menu, under the direction of Chef Salvadore (also owner-chef of Il Grano), continues to earn acclaim because it is as fresh as the fish and seafood that  Mario carefully picks out each morning at the downtown markets, and the seasonal produce Sal picks out at the local farmers markets or from his own garden.
"Marino" means "the sea," and here fish and seafood star among the Neapolitan comfort dishes.  Marino was the first restaurant to feature Branzino (Chilean Sea Bass), hard to imagine a time when this fish was not a featured dish since it became almost too popular.  Marino offers it three ways, grilled, Blackened and baked in a coating of sea salt,  filleted table side.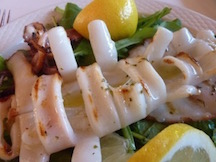 Known affectionately as the "unofficial Paramount Studios commissary" for power hitters and celebrities, Frank Sinatra once held court to friends there (and personally recruited Ciro to be his private chef) in the private side room.  The casual, white tablecloth dining room still holds political officials, musicians, entertainers and producers with household name recognition although they know their privacy is well respected (which is not to say that when "Brad and wife" were there, paparazzi were not waiting on the roof with cameras in hand).
Marino cuisine classic options are also healthy – vegan bread is baked in ancient Roman style, with a similar recipe also used in the award-winning pizza crust.  Gluten-free pasta choices, such as the wild mushroom fettuccine show here, with options for vegetarians and vegan.  For carnivores, there is the pappardelle Bolognese, along with steak and lamb dishes.  The classic Neapolitan, Chicken Vesuvio, heads the list of poultry dishes.  Marino organic produce (featured on National Public Radio), and homemade desserts.  The Chestnut Pasta has been featured in Los Angeles Magazine.  It is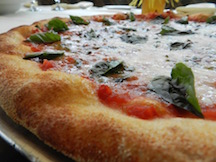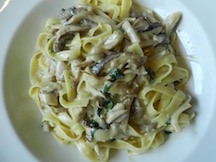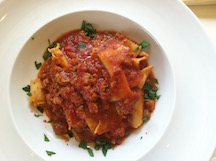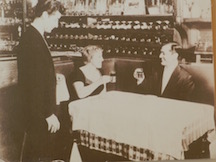 Ciro was always a cutting-edge trend-setter. He originated the first outdoor patio dining spot on Sunset Boulevard, which soon became "the" after-hours place for everyone in the restaurant business. Ciro was head captain at the legendary Villa Capri and co-owned Martoni's, one of the city's first celebrity-driven eateries.  Sonny Bono wrote, "I've got You Babe," after host Ciro has to ask him to follow the restaurant dress code and go back home and add a shirt to his vest.
But he was better known as a trend-setter.  He originated the first outdoor patio dining spot on Sunset Boulevard, which soon became "the" after-hours place open till early morning  for everyone in the restaurant business, so popular that he left Martoni to raise his young family in Naples, returning in 1982 to open Marino.  There the signature meal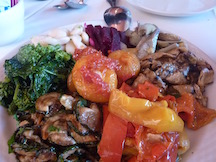 starter, the anti pasti (shown here), that became so popular an item it earned a showcase of its own at the door.  These days the case is at Marino La Bottega deli instead!  And Marino operated the first restaurant "take-away" section out of their kitchen, still popular today with its performance kitchen window visible from the street.
Also available are degustation and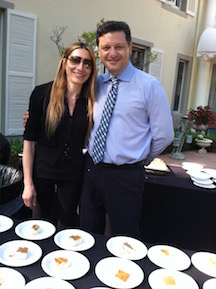 Businessman's lunch menus, along with the Award-winning in-depth wine list Wine Dinners. A new cuvinet system, showcases the extensive and award-winning wine list from the wine cellar for which the Marinos are famous.
The signature ricotta cheesecake  currently  boasts three pages on google, including a video on how to make it.  It is a featured item at many of the invitational charity events in the city.  Here it is shown at Vintage Hollywood 2015, where hostess Rita serves it with Mario.  It will also be at the Concern Foundation event at Paramount Studios for the third year on July 11.
6001 Melrose Avenue (Wilcox), West Hollywood, CA 90038 (323) 466-8812, Lunch Mon-Fri; Dinner Mon-Sat. Reservations suggested; children welcome; valet parking, casual elegant, private room.
www.marinorestaurant.net.
marino ristorante, 6001 Melrose Avenue, Los Angeles, CA 90038,(323) 466-881. Order online for pickup or delivery below.