Marlo's Bakeshop Updates A Classic Global Favorite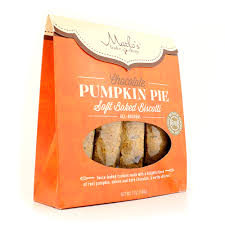 A "star" baker as a relative with a closely guarded recipe automatically bestows bragging rights onto an immigrant family. The family of Marlo Gertz of Marlo's Bakeshop in San Francisco is no exception. But unlike so many recipes that have disappeared (like my Viennese grandmother's tissue paper strudel), Marlo not only got the rights to her grandmother Ann's "secret" mandel brot recipe that arrived generations before from Russia to Philadelphia, she updated it to share it with the world.  And the story of bringing the product to market feels as though Marlo Gertz's own drive and new home in start-up heaven San Francisco synchronized to make Grandmother Ann's approval worthwhile.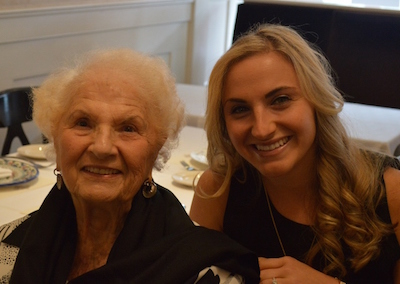 Marlo's Soft-baked Biscotti translates the Jewish mandel brot into a version that shares the same roots and flavors as  historic Italian biscotti.  This adaptation is a cross between a soft-baked cookie and a classic, crusty biscotti.  "The bit of crunch gives it "dunk-ability," Marlo explains, " but people who typically shy away from classic biscotti because of its hard, brittle texture also love it."  We found that it was closer to a dense cookie consistency than  crispy biscotti.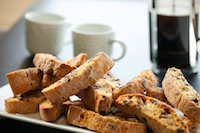 If Marlo has east coast savvy, academic education and motivation, she is a Californian marketing dream with striking healthy looks  –high cheek bones and long blonde hair ( from the Lithuanian side of her family) and a vibrant smile.  An enthusiastic entrepreneur, Marlo, gets as excited when she tells the story of how she created her product as if it was the first time.
"I remember hearing about my grandmother, Ann, making what became the original flavor back in the 50's as a snack for my dad and uncle, her  sons – — baking for  three to four days at a time.  She affectionately labeled her twice-baked cookie a "kmish (Yiddish for mixture) bread. The mandel brot became such a family favorite "it marked a rite of passage to receive your own tin. And I was thrilled when I received my first one at college!"
But that's getting ahead of the story.   After college, Marlo moved from NY to SF in 2011 and worked in software but "found myself baking for my office mates and friends.  And I enjoyed the idea of making something sweet and making people happy. Then my grandmother passed on the recipe to me when she got arthritis and was not baking as much."
Biscotti was originally made as a practical and nourishing long-shelf-life food, very dry and with no fat, for travelers.  One of the first purposes was to feed a moving army, was well carried out by the traveling Roman Legions of the time.  The unleavened, finger-shaped wafers were baked twice, first to cook them, then to completely dry them out and make them durable for travel.
Modern biscotti, associated with Italy's Tuscan region, were then flavored with almonds from the plentiful groves of Prato, where the cookies are still known as Cantucci di Prato.  Famed Jewish cookbook writer, Joan Nathan, wrote, "with a large Jewish population in Piedmont, Italy may have been the place where Jews first tasted biscotti and later brought them to Eastern Europe,  where they renamed them, mandelbrot, which literally means almond bread."
Jewish bakers dispersed to many countries took it from there,  developing and updating the practical cookie, almost all continuing the use of oil instead of butter and the twice-baked method. "Oil creates a more tender texture, softer crumb," says Marlo. "And I started becoming aware of how this works in a twice-baked cookie.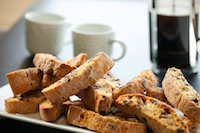 "That's when I went through a program at Tante Marie's Cooking School on week-ends while still working. (I add an exclamation point here). I had a ball.  "Mary Risley, the owner/founder, is an icon in the San Francisco food world." (Risley is still active though she recently closed the school after 50 years).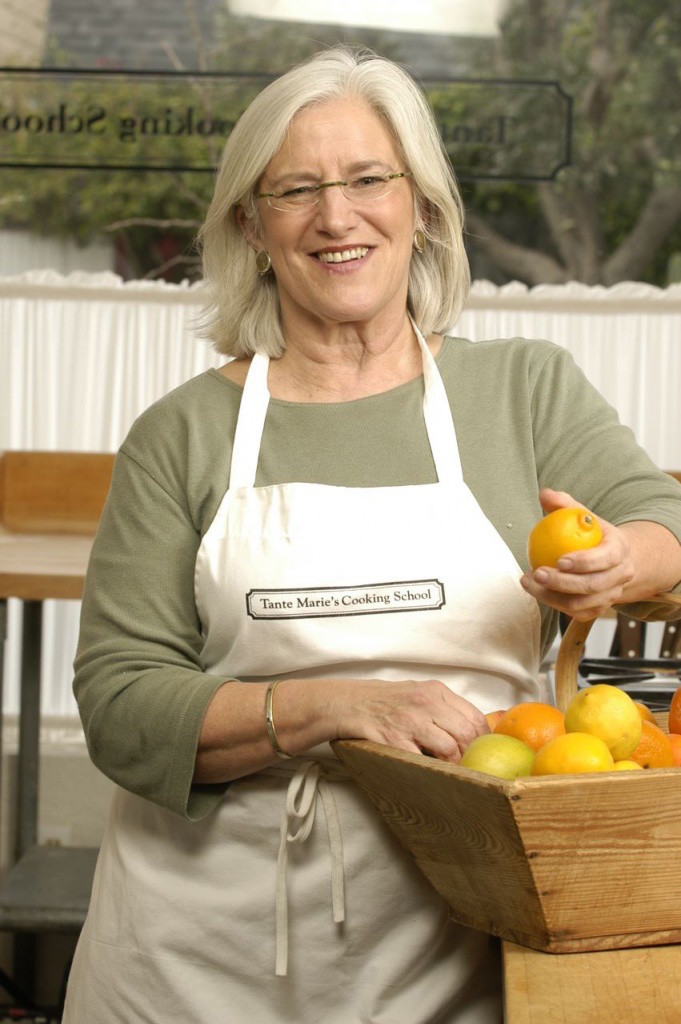 This venerated teacher's many honors through the years are legendary, starting with "The Cooking Teacher of the Year" by BON APPETIT magazine in 1997. In 1998, she was awarded "Humanitarian of the Year" by the James Beard Foundation, for her "Food Runner" volunteer organization to help alleviate hunger in San Francisco, and  in 2008 she received the Jefferson Award in San Francisco for Food Runners.  As if this the program alone was not enough motivation,  Marlo "became aware of other women creating wildly successful businesses, such as the school graduates and  founders of Sprinkles and Kara's Cupcakes.  I got so inspired and motivated by this that I launched my own business in 2012 while I was still working full time for the whole year."
When she started sourcing, Marlo  learned that,"being on the west coast is a total gift because we could find vendors with the highest quality ingredients, be green and eco-friendly, and still have the best tasting product. Even though we have pure cane sugar and eggs in the cookies, we never want to make it a big sugar bomb."
By the time Marlo's Bakeshop had a retail box ready to approach buyers, Marlo had gone through a number of incarnations.   She had to keep in mind that, "since there is no butter, they can't spread into a thin loaf.  At the same time there is lots of baking powder so, from a thin rope shape, they puff up into their very recognizable shape." By the time she was satisfied, Marlo had tried five different chocolate chip companies and a number of baking powders, flour mills and walnuts.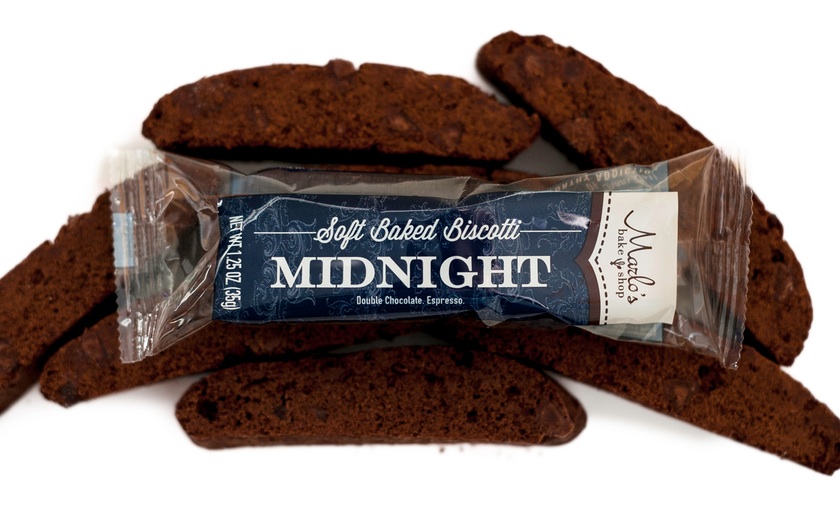 "For example, our Midnight flavor does have coffee as an ingredient but the Java coffee doesn't really have a distinct flavor. It is intended to lend a strong back note to the chocolate, intensifying it.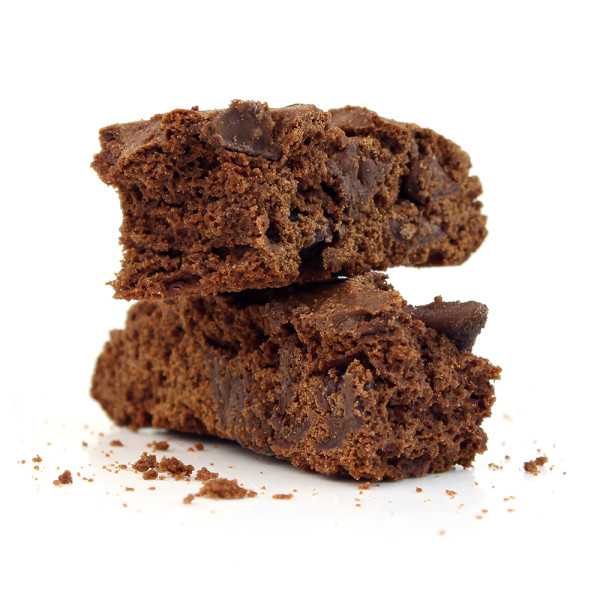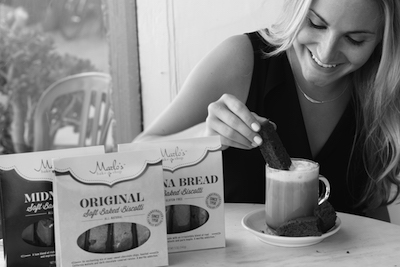 "We took time with packaging design, too." She chuckles, "because mandel brot and "kmish" bread are not familiar names to the public, we called it, Soft baked Biscotti, going for both the traditional biscotti lovers and cookie lovers. 'Biscotti,' alone was a polarizing name because it brings up the notion of being hard, brittle but retain its integrity when you dunk it into coffee," while a cookie is just the opposite and dissolved in coffee.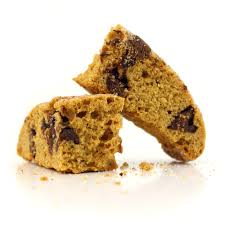 One ardent, representative fan described the new version well on the Marlo's Bakeshop website (http://www.marlosbakeshop.com): "Marlo's biscotti…has the perfect chewy and crispy consistency, not too hard, not too soft, which makes it very easy to eat and enjoy." So it  pairs well with coffee, tea & an assortment of wine varietals and bourbon.
The Original contains everything that grandmother Ann's mandel brot did with added "sexy" favorites, such as farm fresh walnuts that are toasted, chocolate chips and  raisins that are chocolate-covered. The uniformly same-length cookies, each individually-wrapped in film, are available in 5oz boxes or single serving. "In order to achieve this kind of quality, we have a co-packer in Sonoma County who does the baking in huge convection ovens with the air circulated all around," says Marlo.
Marlo shares a kind of immigrant experience in terms of "first selling my biscotti door to door, just like my ancestors  would have done in Russia– although I drove around to do this."  She agrees that biscotti is one of those international ethnic basics, like pancakes/crepes/pies,  influenced by tradition, location and changing resources.
And surveys in her case.  According to Marlo, "As far as flavors, the soft-baked biscotti are like a blank canvas."   Where an immigrant baker would get relative of getting feedback and flavor requests from friends and family.  In this way, Marlo "discovered the banana flavor most compelling.   So we developed a Banana Bread flavor with real banana, maple and Lake County walnuts.  After very third person asked for a Gluten-Free flavor, we added this to the mix that was already dairy free."
Marlo reveals, "We are moving toward flavors that are evocative of desserts. The new Chocolate Chip Coffee Cake flavor will even have a crumble on top."  Warm pie spices and chocolate make the Chocolate Pumpkin Pie introduced for the 2015 season original. Pure Maple syrup, orange juice, cinnamon clove, nutmeg and sea salt add a spark, and sugar blend topping provides a sparkly holiday finish.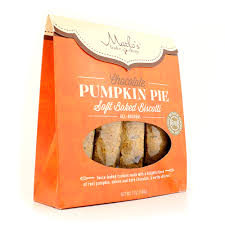 Marlo's "commitment to providing customers with a delicious and natural product made from 'clean' ingredients from trusted sources" paid off in 2014. After a year of pursuing verification, signature line of three flavors (including gluten, dairy, soy & nut-free options) passed a rigorous screening & analysis process to earn the Non-GMO Project Verified seal and remains the only Non-GMO Verified soft-baked biscotti on the market.  At the same time, Marlo's Bakeshop as a woman-owned company was named a Certified Diverse Supplier by the California Public Utilities Commission.
Marlo's Bakeshop products are available throughout the country at leading specialty & natural grocers, wineries, gift basket companies & online at MarlosBakeshop.com, by calling 415.952.7013 or emailing Info@MarlosBakeshop.com.
How does Marlo's family feel about sharing the family recipe? "My family are my biggest supporters," she reports. "They even do inventory check for me (checking market shelves).
And Marlo is keeping it "all in the family" in the future, too.  She finds it fun to learn from the experiences of her fiancé in the toy industry, also involved in a local start up.  "There is such an overlap between toys and cookies that we share same customers and vendors at times.
And best of all," Marlo concludes, " my grandmother Ann often calls me up with a big order for all her friends!"