Top 100 List: Mayura Indian Restaurant in Culver City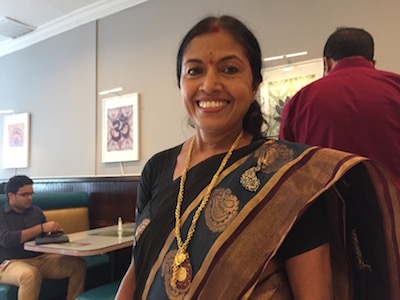 Venice Boulevard in West Los Angeles, with its many blocks dotted with Indian restaurants, sweet and spice shops and even a major temple, has evolved into a "Little India" second only to Artesia. And Mayura Indian Restaurant has become the official star of the show, in part due to the blessing of a prominent LA Times writer's top 100 list.
This is your new savory bakery with dough starring in half the menu sections.  Perfect and unique dosas, uthappam, idly, naan, kulcha, parathas, porotta, poori, chapatti and roti, every one of which will make anyone forget the word, paleo. The treats are stuffed with or served with chutneys, veggies, potato, tamarind instead of more butter and jam.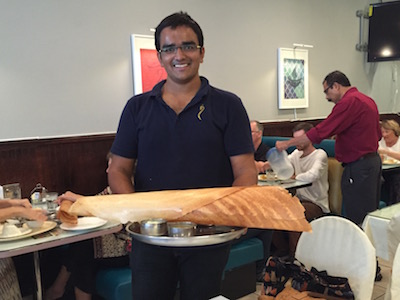 There are close to 20 Dosas, paper-thin crepes made of fermented rice and lentil batter, grilled to a crispy gold and prepared with an abundance of ghee.  To give an idea of how thin the dosa dough among their list of 22, the crepes are accurately labeled "paper." (filled crepe like) Spring dosas are filled with carrot, pea, potato and other veggies.  The piped mashed potatoes may seem like too much "frosting on a starch cake," but they to go together perfectly with the dosa.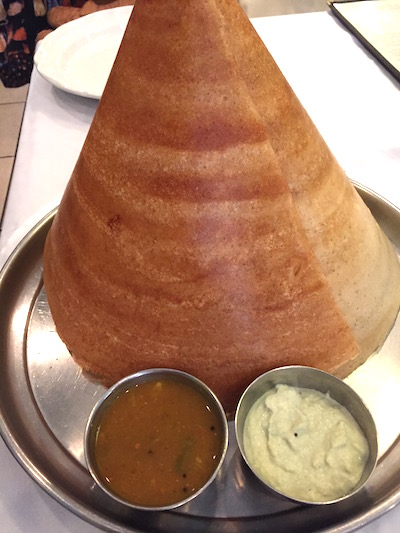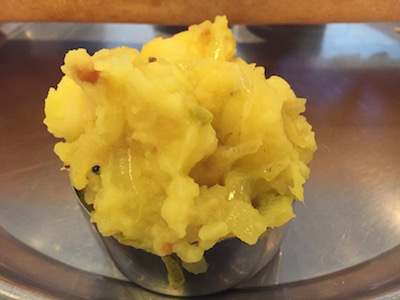 Samosas and the crispiest pakoras, served with mint chutney and raita look and taste as festive as a Christmas wreath.  Flavor, texture, heat and color reign here.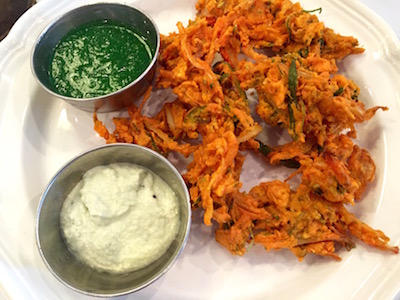 There are Uthappam (very large, fermented rice and lentil pancakes), that are layered with veggies, such as peas, carrots, onions and/or chilies and folded over.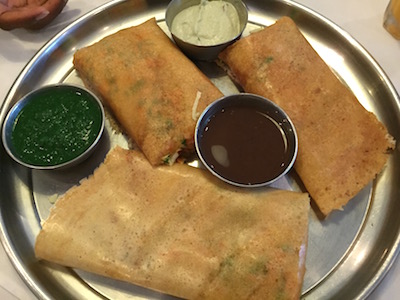 Idly (steamed fermented-lentil and rice cake patties look and taste a lot like very dense Chinese bao.  Of course, it is easy to eat a plate of them rotating all the condiments.  These are also served with sambar, a broth-like liquid.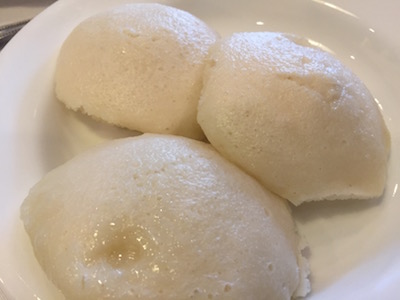 Appam, look as delicate as snowy white lace handkerchiefs dropped onto a plate, taste as light as they look, and yet boast deep intense texture and flavor.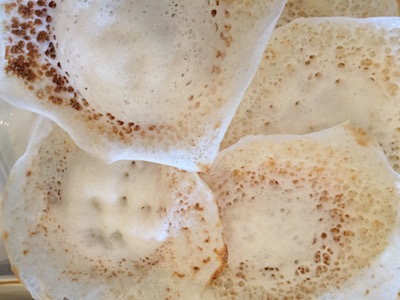 Poori, deep fried whole wheat puffed bread.   Fried to a crisp chickpea flour coated veggies serves with mint, tamarind chutney.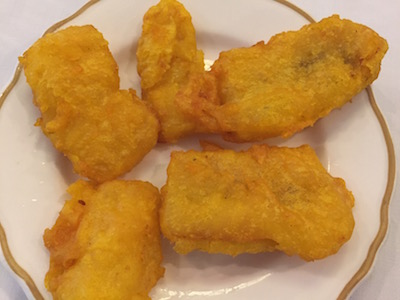 And naans!  There are plain Naans cooked in a tandoor, Naans topped with Garlic/Ginger/Onion, Naans topped with melted butter and Naans topped with cheese. Kulcha is Naan stuffed with freshly chopped onion and sprinkled with herbs.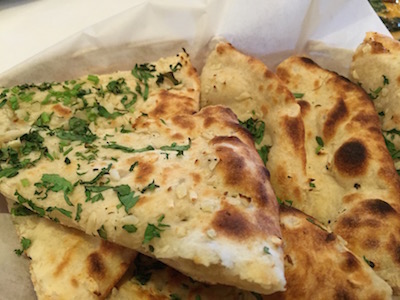 Rarely found Kerala style dishes make up the rest of the menu, including Fish Curry a  must-try, signature Kerala dish cooked in  savory gravy ($9.95) Fish curry, Avial (as a starter or entre), Kerala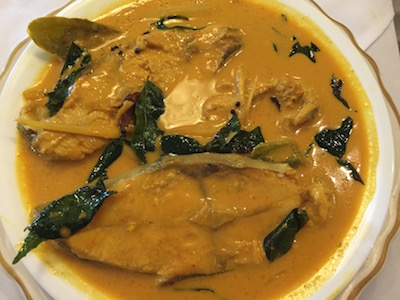 a Kerala-style dish of julienne vegetables sautéed with coconut, which has made it onto many local Indian menus. Another famous  dish is Vegetable Biriyani, the dish famous of trade spices and also a favorite to the north on the coast.
Mayura Indian Restaurant sits,almost hidden, in the middle of a congested corner strip mall.   Inside it takes a minute or two after you enter to sort out the L-shaped room its  front jumble of a wall buffet, communal and smaller and booths along the back wall.  Shabby-chic white chair covers add a surprising party atmosphere.  At a birthday lunch we hosted there recently, no one wanted to leave even after three hours.
The Anijan family-run restaurant  has both a halal (meat following Islamic religious code) and a vegetarian kitchen.  While southwestern at its roots, the owners include what they deem popular with customers, naturally from the north, like most Indian restaurants. While a many-layered place, it is well thought out by Padmini Aniyani, who puts her doctorate degree in business and marketing to good use.  This includes  pretty , matte-finished take-out menu with photos, plus Indian celebrities and notables lining the wall above the buffet .
The Mayura kitchen specializes in dishes from the owners' home area of Kerala  on the southeastern border of the country right on the Arabian Sea.   A 1500 year old spice trade that evolved the region into one of the most cosmopolitan in India earned it the name, "Spice Coast". Renowned for Malabar Black Pepper, cinnamon, cardamom and curry leaves, the cuisine also incorporates a lot of bananas and coconuts which grow in the area.    Nayar Hindus, Muslims, Syrian Christians and even an ancient community of Jews all have an influence on the culture.
Nearby, the more colorful and contemporary, Annapurna Southern Indian Cuisine, also features dosas and superb Southern Indian Cuisine (http://localfoodeater.com/ Annapurna-Indian-Vegetarian-Restaurant-in-culver-city).
Mayura, 10406 Venice Blvd., Culver City, 310-559-9644, (http://www.mayurala.com/)