Mediterranean Gem Turquoise Restaurant in Redondo Beach
(Gerry Furth-Sides) Straightforward food would be more than enough to please at a beachside restaurant.  At award-winning Turquoise, Owner Hamid Fatemi  has added fresh ingredients, depth of flavor and collages of color in his dishes, along with superb service since he opened in 2008.
Middle Eastern professional service begins with prompt phone service even before you arrive.  Hospitality begins at the door with a cool smoothie.  The vivid raspberry color "Miracle Drink" blended with carrot juice, apple juice, adds a kick of ginger.  Shreds of the fruit provide texture.
Here, "Pan-Mediterranean" refers to many customary Middle Eastern items, such as huumus and babaganoush, yogourt and kabobs.  It also offers unique non-Middle Eastern Mediterranean combinations, such as a  grilled duck schwarma Panini sandwich.
Sampler  tomato-basil and lentil soups prove why they soups are a pride of the kitchen.  The taste of vegetables and herbs reign, complemented but not overpowered by spices and oils.
Turquoise  "Cold Tapas" dips are $9 for one and two for $12.95. Beets arrive in Mast-O-Laboo, homemade organic yogurt mixed with succulent roasted beets, proving why beets are a star in Iranian cooking.
Turquoise Organic Hummus is filled with wickedly good flavor.  Here the depth comes from pureed golden chickpeas, roasted red peppers, pomegranate molasses, roasted walnuts and organic sesame seeds.  It proves the argument for featuring walnuts in savory dishes.
Crushed walnuts in the  Olive-walnut Tapenade balance out chopped black and green olives.   Tabouli made with cracked wheat , cucumber, tomato, scallion, parsley and olive oil is seasoned with lemon and distinguished by a touch of fresh mint. Turquoise prepares Baba Ganoush (perfectly roasted eggplant) with a caramelized onion flavor rather than garlic which I prefer.
Middle eastern spices make the more Western Salad Oliviyeh stand out, packed with natural chicken, organic eggs, potatoes, organic mayonnaise, chopped pickles, olives, green peas and spices.  Diced Persian cucumbers, homemade organic yogurt and fresh mint made the Mast-Okhiar sing.
Persian cucumbers add a snap to Classic Greek Salad  adds Plum tomato, red onion, Kalamata olives, feta cheese and fresh parsley garbanzo beans are at its core. Bell pepper, fresh parsley, cand flavorful
"Grandma's recipe" for Torshe Anbeh, a middle eastern joy of sweet and sour mango chutney marries  tamarind, mango, dates with spices.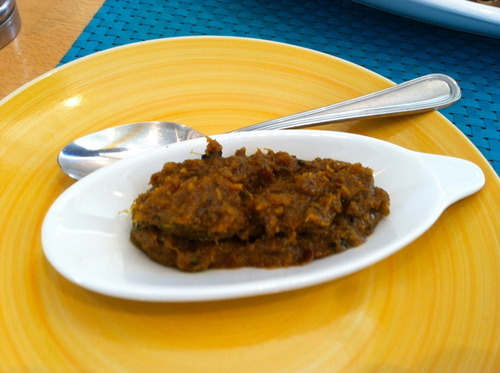 Grandma's Torshe AnbehEven a photo of the Duck Shawarma Panini, grilled duck with organic fig, brie, capers, grape tomato and dill  ($13.95), makes your mouth water.  The succulent duck was made even more so with the spread.
Meticulous preparation and homemade ingredients at Turquoise translate into 

slightly higher prices. This is offset by generous portions and entrees served with rice and an organic salad.
The Lamb kabob, all natural  filet of New Zealand lamb is marinated in a gourmet saffron-onion blend then  grilled to a pink-tan ($24.95).  The secret of the all natural boneless Chicken Breast Kabob is a lemon juice and saffron marinade ($14.95).
Roasted Vegetables with Saffron Rice ($11.95 as an entrée), a vivid crayon box color combination, textured with asparagus, portabella mushrooms, eggplant, tomatoes, zucchini and bell peppers.
Hameed's catering background expertise for choosing universal pleasers and enhancing are most evident in the desserts. He improves the original recipe for Crème Brulee from a Parisian pastry chef in Westwood with real vanilla bean and cream.
A royal parfait of homemade yogourt and fruit is dense, creamy and naturally sweet.
---
There is a Persian saying  because of Isfahan's famous architecture, carpets and cuisine, "Esfahān nesf-e jahān ast" (Isfahan is half of the world).  Until I get to this magical place, Turquoise will do just fine.
1735 S Catalina Ave, Redondo Beach CA 90277
Today's hours: 11:00 am-9:00 pm. (310) 362-4478
(www.turquoise-restaurant.com). Order online for pickup or delivery below.