Mexicano Rules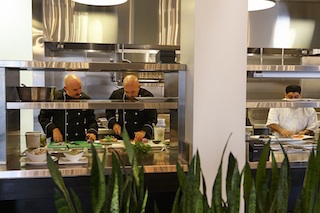 (Gerry Furth-Sides) Exceptional Los Angeles Eastside restaurants usually stay a well-kept secret and so it was with La Casita Mexicana in Bell (all of about 3 miles from downtown L.A. ) for the bold, traditional dishes and the Latin hospitality of charismatic chefs Jaime Martin del Campo and Ramiro Arvizu (www.tienditamex.com/first-restaurant-post). That was true until they opened Mexicano ( "me-hi-ka-no")this year, on the west side in the Baldwin Hills Crenshaw district.  (www.mexicanola.com)(baldwinhillscrenshawplaza.com).
Ironically, street construction,  torrid unseasonal weather and a packed schedule can make such a trip feel like an out of town adventure.   It was well worth the drive for us, starting with hostess, Olga, offering a cool drink at the door before leading out into the little breezy, shaded outdoor patio corridor (just outside the shopping center doors).  There we were under the professional, cordial care of server Sylvia, although she handles both inside and outside tables.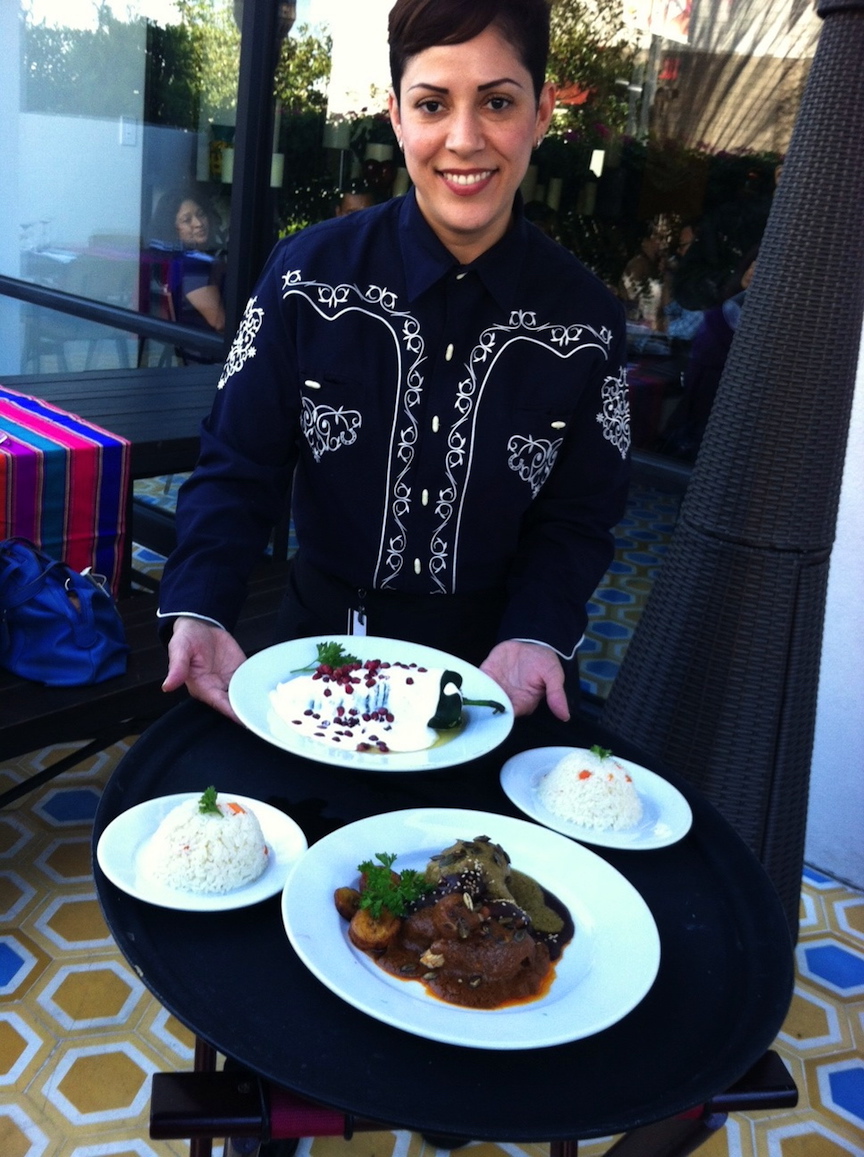 Just-fried corn chips served warm in a stunning silver bowl inscripted with Mexicano, arrived at the table soon after.  The chips topped with some smashed fijoles with a bit of pickled carrot and jalapeno strips and crumbled cotijo cheese, are accompanied by a ramekin of full-flavored smokey salsa with heat but none of the spikey .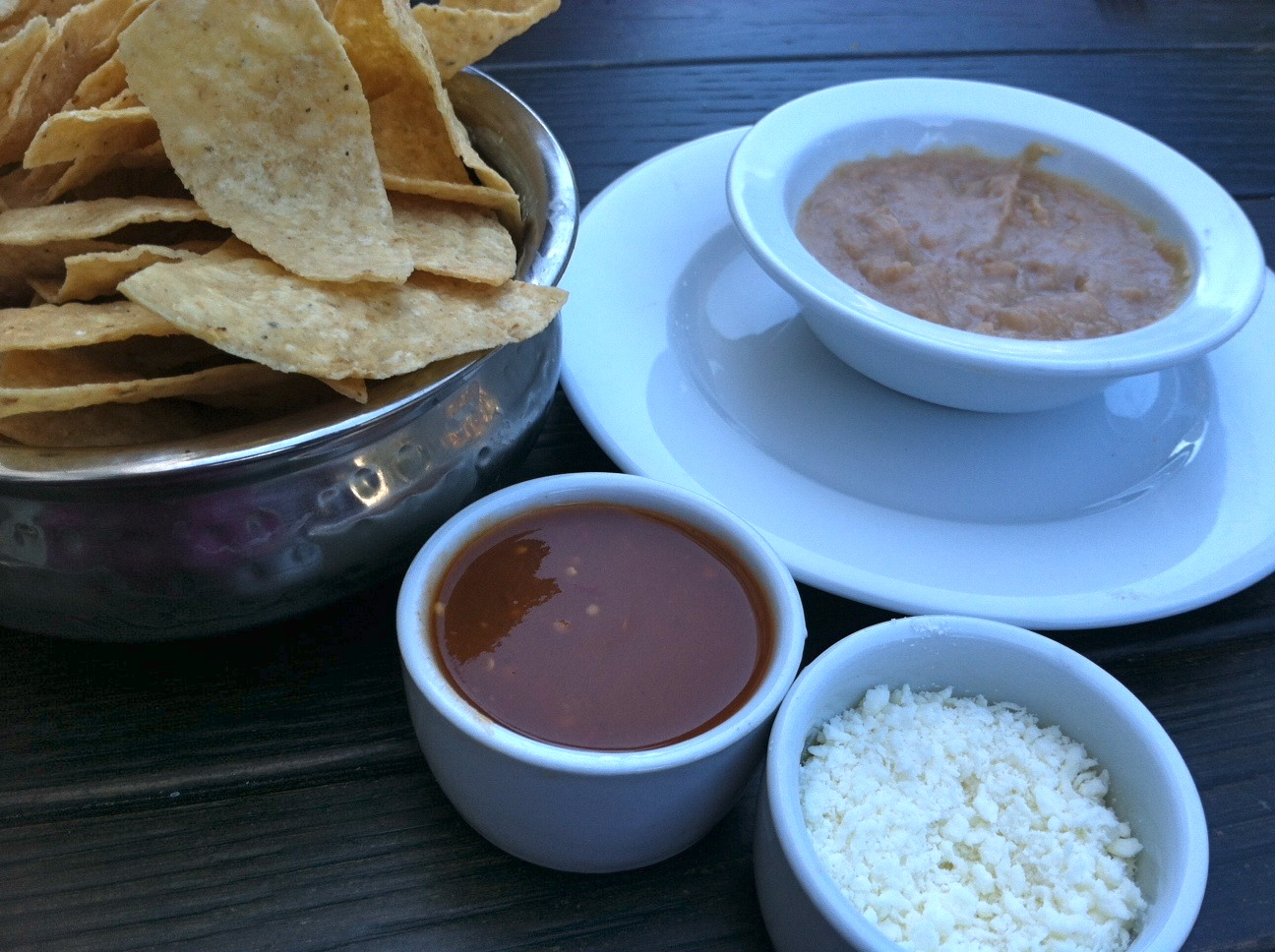 A cucumber-mint agua fresca was in order  avoid a sweet drink, with a shot of tequila on the side for omph.  It arrived in a shot glass cleverly sitting tightly in a small round vase of ice, representative of very thought to aesthetics being brought to bear in this lovely space –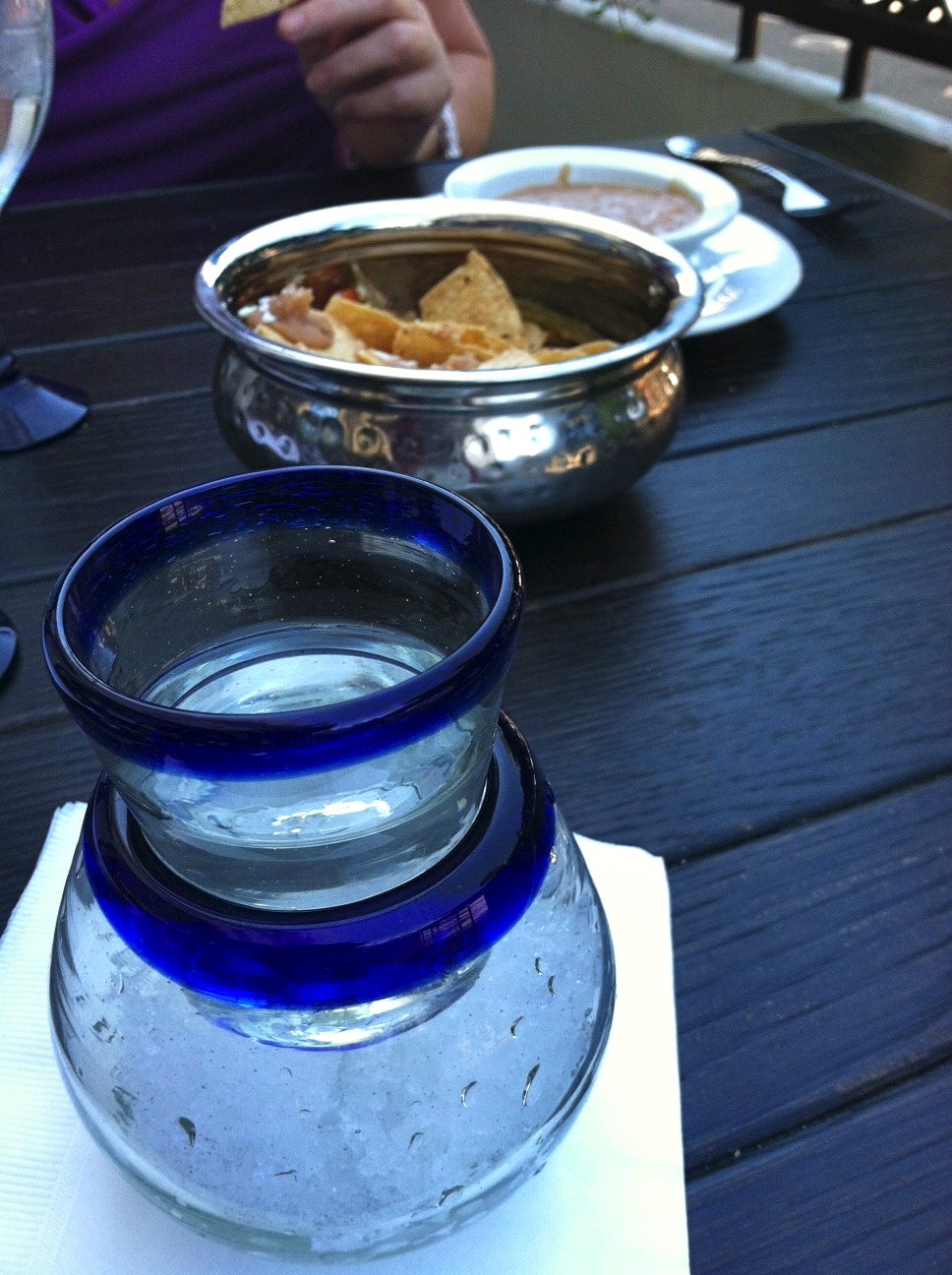 The colorful entrees included Chile Nogada (served only on the weekends), a large, no make that giant, chile, cooked just until fork tender, filled with chopped meats, walnuts and raisins; topped with a mousse-like somewhat sweet Mexican Crema and served with Pomegranate Seeds across the top.  Sylvia acknowledged that Jaimie and Ramiro "have friends in the right places." This is an outstanding version of the classic dish. We would have licked the plate if no one was looking but service was so attentive while still being friendly we gave up on this idea.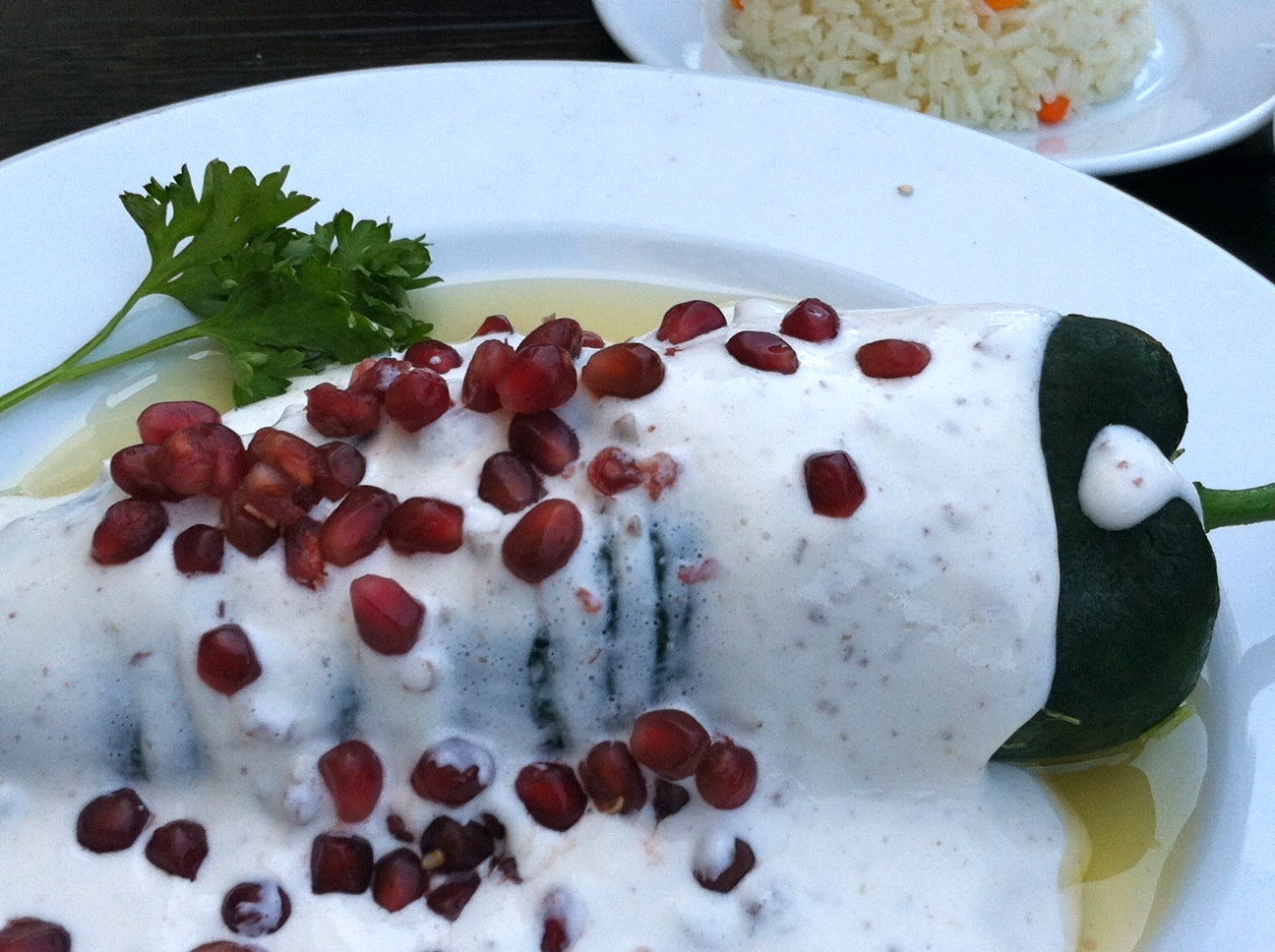 Also perfect for sharing is the refined  "Tres Moles" entree, which can be served either over roasted pork or over pieces of chicken (and the chicken was placed like a painting on the plate).  The three moles are: Verde Mole (Green – this is the hottest but it wasn't hot by any means), Negro Mole (The black Oaxacan 30-ingredient kind with chocolate), and Roasted Red Mole (with soft  flavors); served with homemade warm corn tortillas just off the comal.  The three moles were artfully laid over the meat in stripes, with Pumpkin (Pepian) seeds over the Green version.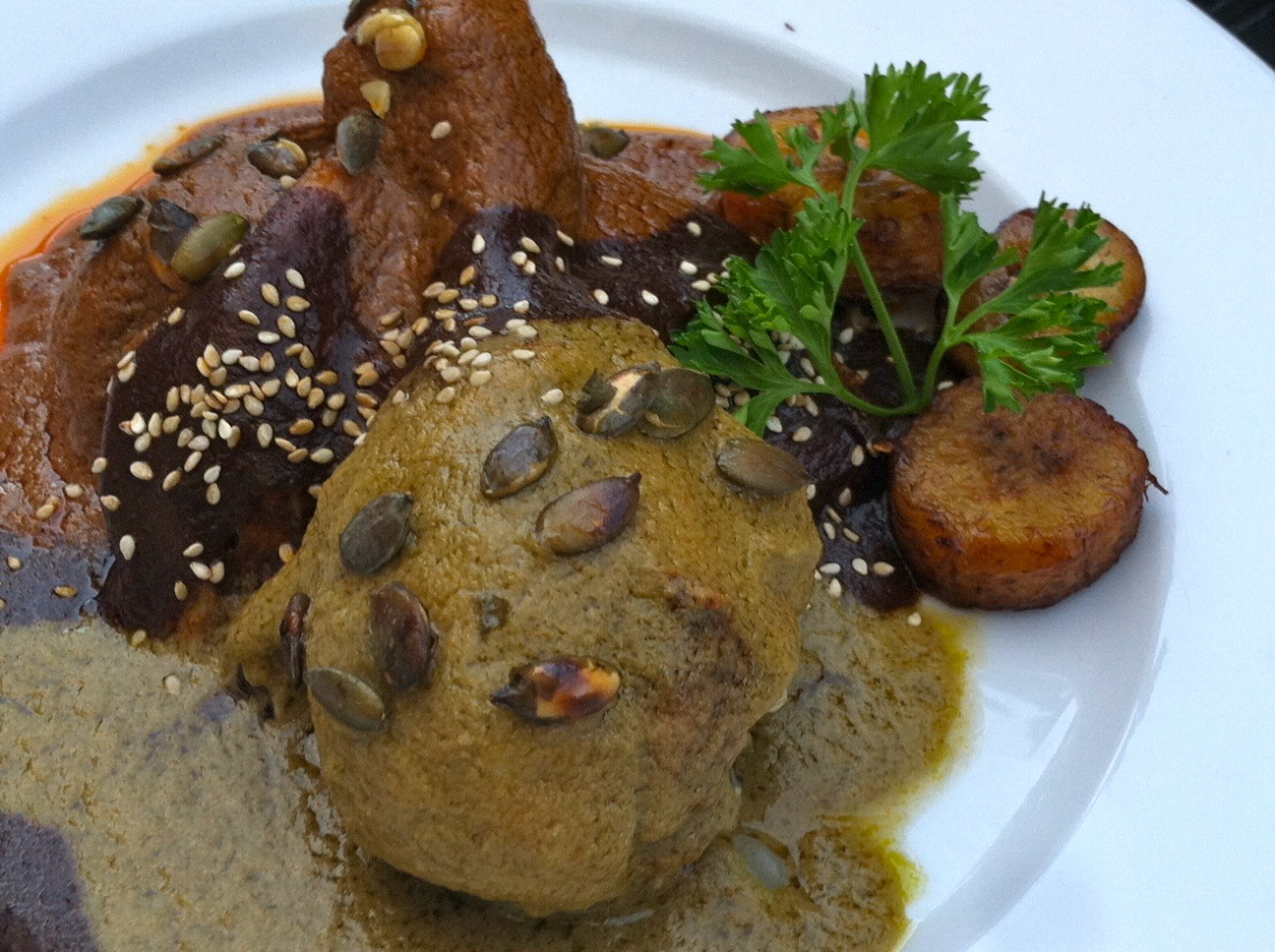 A shout-out to our server, Sylvia, who treated us so kindly.  And thanks to the bussers for always keeping the water refilled, especially welcome on a hot, humid day.
The extensive menu at Mexicano features additional dishes to La Casita Mexica's menu, along with many of Jaime and Ramiro's signature items—from ceviches to moles and stuffed chilies. The diminutive and intimate "La Casita" filled an entire storefront, replicating an authentic cendaduria in Mexico and has a wonderful little store attached to it.  Here the expansive, spiffy restaurant features a casual shop attached.
Mexicano features a spiffy, but informal interior, complete with a bar area and full beverage program, as well as a picturesque patio area for al fresco dining and just about any kind and size of party from casual to formal. Though part of the sprawling mall, parking is free and accessible nearby and the restaurant is set off with a beautiful wrought iron gate.  The area opens up into a room with hexagonal turquoise and cream floor tiles, stained wood, and etched metal dividers with abundant appointments in the form of colorful lamps, retail items, and indigenous artwork from the chefs' home state of Jalisco.
The brand new Mexicano reflects the $40 million shopping center renovation. It is in the same shopping center that Brad Johnson and Chef Govind Armstrong pioneered in not that long ago with their upscale hit, the sleek, casual Post and Beam Restaurant (replacing a Golden Bird Chicken).
Another new feature is the performance kitchen. Signature dishes they brought with them are the chicken flauta topped with Jaime and Ramiro's legendary mole poblano and the potato and homemade chorizo flauta filled with potato, Mexican crema and spicy tomatillo sauce.  Menu highlights include a 10-minute cooked-to-order grilled tamale, Nayarit Cod ceviche, and pechugas de pollo, a simmering Mexican dish of shredded chicken with poblano chiles, cream and mushrooms.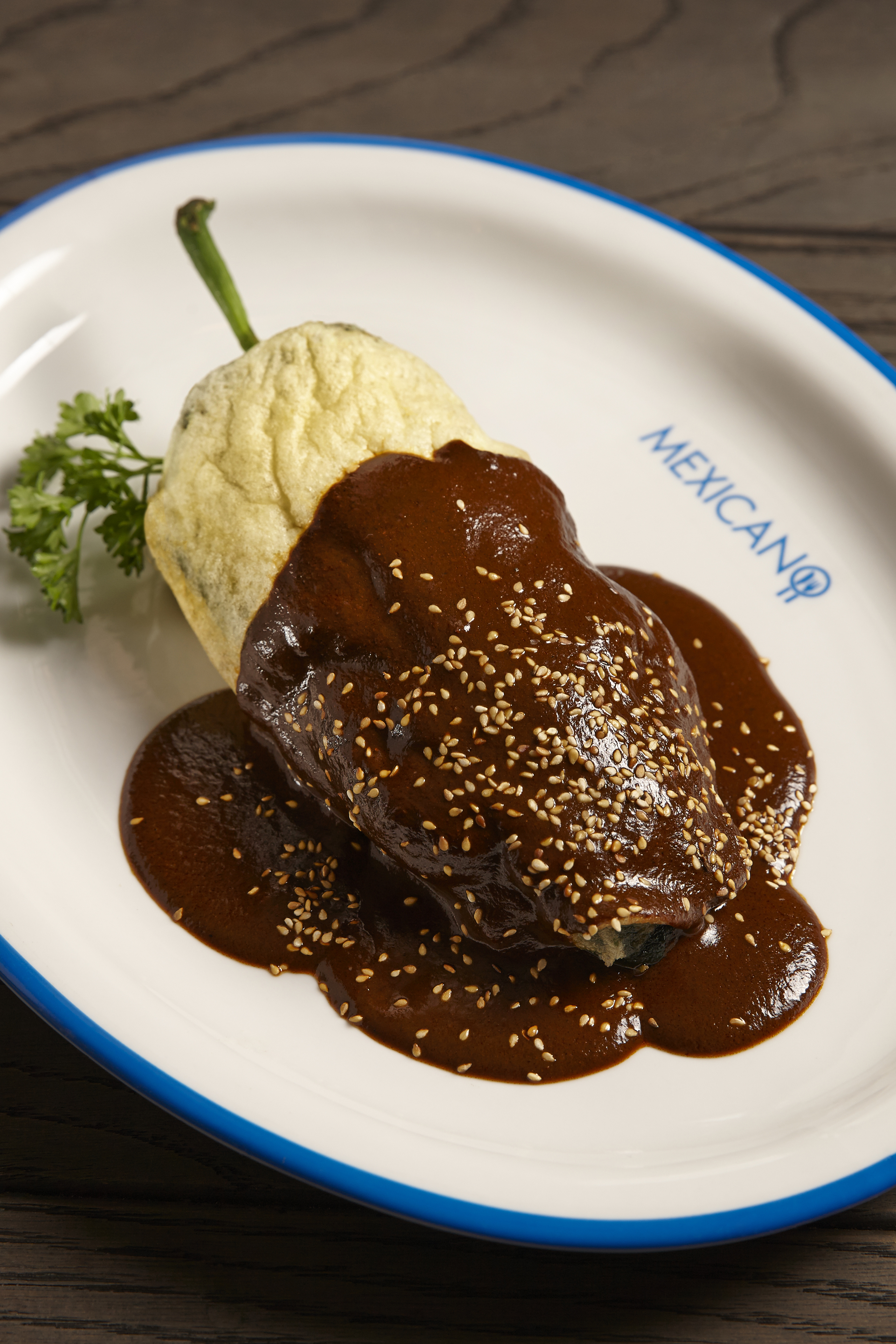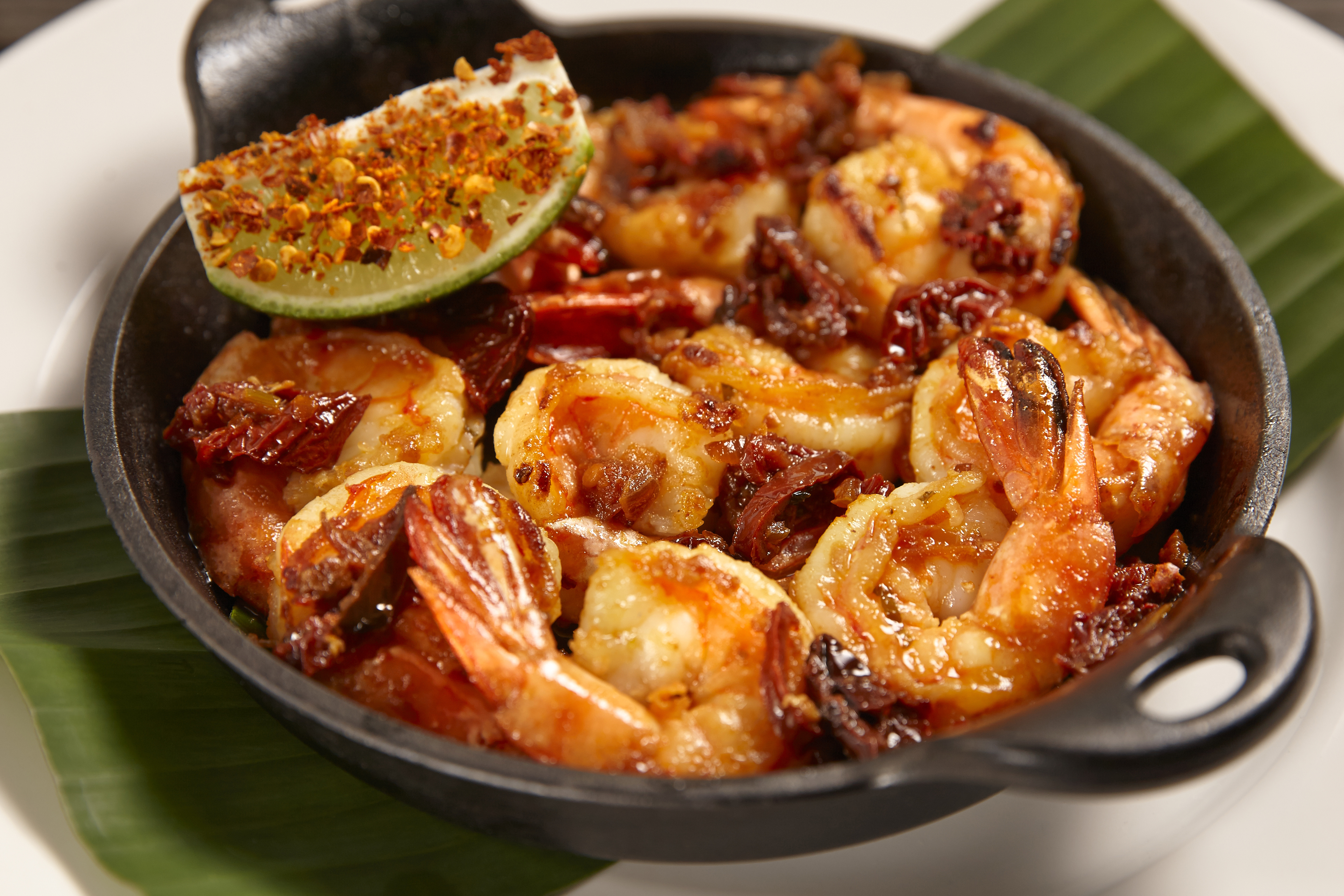 No expense was sparred for the humble al fresco dining area, including  suspended incandescent, Edison-style bulbs and steel pendant fixtures to illuminate the space. A long menu of visually stunning cocktails matches these new digs.     Several Mezcal based cocktails star along with three fun Raspados, the Mexican version of a snow cone.
Decadent desserts include mini churros to dip in cinnamon-laced café, guavas marinated in a Mexican-style eggnog and Chile en Nogada Ice Cream topped with candied Poblano Chile strips, a play on the traditional chile dish of Mexico.
 Flautas is a casual stand right behind Mexicano located in the food court.  Here Chefs Jaime and Ramiro offer a  number  of traditional  crisp-fried Mexican rolled tacos. Larger in size than taquitos, and a favorite street food in the chef's native Jalisco, the flautas are topped with various sauces, salsas, and moles.  Over 10 varieties will be offered at all times, including the popular chicken flauta topped with Jaime and Ramiro's legendary mole poblano, and the potato and homemade chorizo flauta filled with potato, Mexican crema and spicy tomatillo sauce.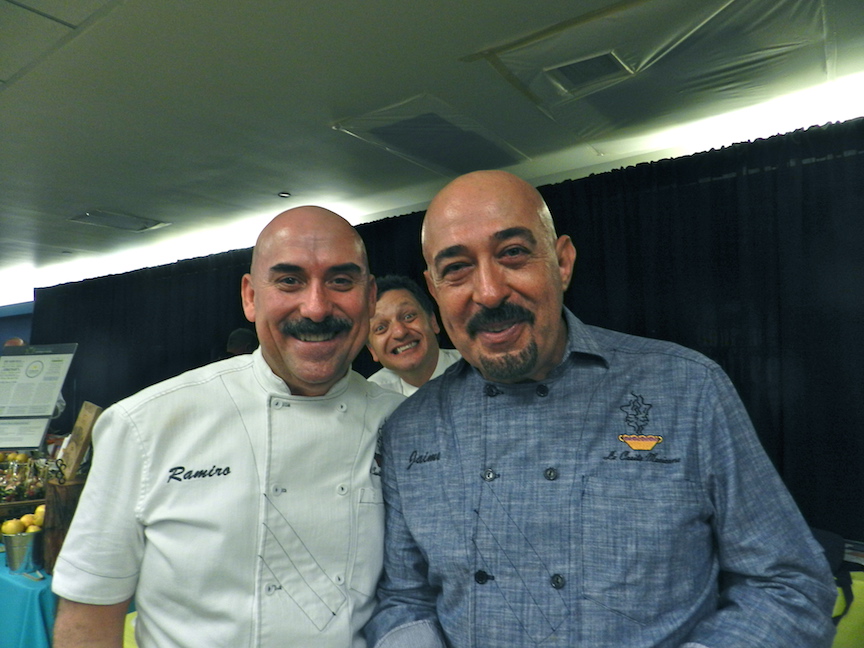 Jaime and Ramiro have the personalities of two "bad boy" chefs in terms of sharing their sheer joy of cooking without formality.  They encourage everyone to call them by their first names, for example, and at the C-CAP "Sweet and Savory Event," (www.ccapinc.org) it was the two guys who were started the ball rolling for chefs to introduce themselves to each other, posing and laughing with former Spago star, Pastry Chef Sherry Yard (www.TheTuckTavern.com) (below).  They also thought nothing of simply packing up a bundle of their tamales for me  to take home.
So it was a surprise – that now makes sense – to learn of their strong corporate backgrounds – which catapulted them to such success in their restaurant careers. The two met as airline company executives 19 years ago, and bonded over their shared desire "to open a true Mexican restaurant" with their family's heirloom recipes. This expertise combined with their dedication to La Casita Mexicana has made them among the biggest stars in the Mexican cooking world.
 The duo's passion for Mexican cuisine and their knowledge has earned them critical acclaim and numerous civic awards plus a James Beard nomination for best chefs. and they are  judges on the Telemundo show, "Top Chef Estrellas." They are active members of The Taste of Mexico Association, known as "the flagship organization of restaurant exponents of authentic Mexican cuisine in Los Angeles." We'd love to see them on Food Network's "Chopped!" 
mexicano restaurant, (www.mexicanola.com)(baldwinhillscrenshawplaza.com).