Chase Valencia (above) is the Co-Owner and General Manager of LASA, a popup restaurant project housed inside Unit 120 in Chinatown of Los Angeles.  His and other migrant stories will be aired on the doc-series,  The Migrant Kitchen, a series in co-production with KCETLink, a national independent public media organization. Previews are available online. (photo above by Emily Merkley)
The show focuses on entrepreneurial second generation migrants – many of whom have pedigrees from American culinary schools and high end restaurants.  It echoes the story of second generation, Executive Chef, Roy Choi, who began his explosive  food truck career in partnership with social media experts after losing a job in a high end hotel.   In this case the force behind the restaurant is Chef and business dynamo, Alvin Caiman of the trendy Eggslut in Central Market (soon to be in Venice and Las Vegas), who generously gave LASA a start by way of pop up dinners in what he termed a "culinary incubator" in Chinatown's Far East Plaza ( Far East Plaza) right across from Roy Choi's Chego (http://Chego).
The series developed by Life & Thyme food magazine publisher, Antonio Diaz,  takes a peek into the kitchens of Providence  and Connie & Ted's Restaurants.  It follows the work and home life of two migrant chef brothers, and how their industriousness impacts the restaurant kitchens.  Long-time Executive Chef Michael Cimarusti has always been so respectful and encouraging to his staff,  this is a welcome note on the show..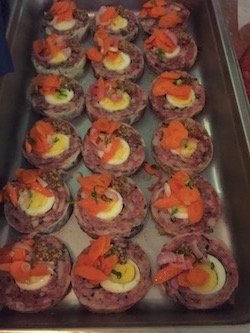 Below is an excerpt from Chef Chase Valencia's fascinating Life & Thyme Magazine story about Filipino cuisine.
"Our childhood involved routine visits to see our family in Pampanga, Philippines. Baryo life in the province was a hot, tropical escape from California urban living. Each day was greeted with the syncopated crows of the neighborhood roosters, and the melodic calls of "Taaahhoooo," bellowed into the air by the local street vendors. What always followed was the clapping of tsinelas smacking the heels of children who craved the warm snack of silken tofu, brown sugar syrup, and tapioca pearl.