New Modern Salad Cookbook: International, Inspiring, Innovative
(Gerry Furth-Sides) Every so often a cookbook comes along and takes you by surprise.  Elizabeth Howes' Modern Salad Cookbook is one, filled with "innovative new American and International recipes inspired by Burma's iconic tea leaf salad."  Recipes are so innovative,  refreshing and just layered with appealing textures that we bookmarked several the first time we opened the book.  "Fermented" is the new nutritional buzz word but here the ancient, revered Burmese Fermented Tea is described, complete with  directions for preparing it. (explained below).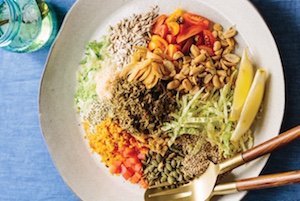 The stunning salad format filled with big bold flavors and stunning combinations almost jump out of the pages to take your breath away, and not because it is an expensive glossy book.  The engaging element is how very familiar ingredients, such as peaches, corn and pistachios (and radicchio and our favorite grape seed oil)  – not so familiar a few decades ago) can be elevated with lemongrass, jalapeño and plum vinegar.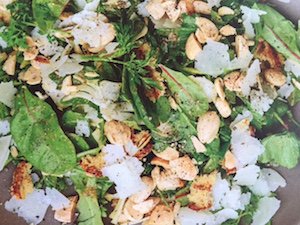 And author Howes explains what could be the unfamiliar and sometimes offers more convenient substitutions.  For example, orange marmalade can do for the membrillo (quince Paste) in the Spanish Bread Salad with Smoky Quince-Black Pepper Vinaigrette. We also found that the poultry can be inter-changed, as well as some of the other ingredients such as noodles.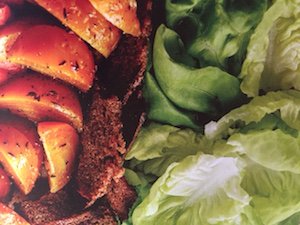 Cider Smoked Salmon and Toasted Rye Salad with Pickled Onion and Thyme Cream (with cider stone-ground mustard0  is a welcome dish that replaces a sandwich.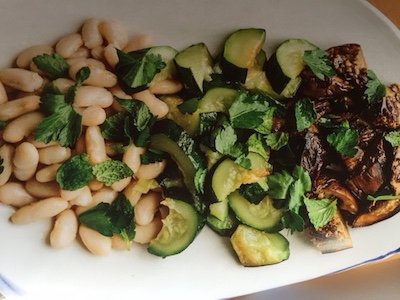 Roasted Eggplant and White Bean Salad is one of the category of  "why didn't I think of that" reaction to several of the recipes which use ingredients in everyone's pantry.  However, the Spicy almond Vinaigrette dressing is what sets it apart.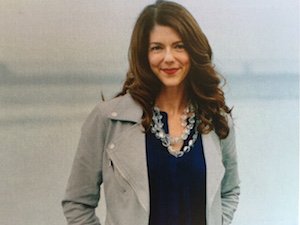 It is not surprising then that Author Elizabeth Howes is a chef, recipe developer and wellness consultant. She appeared on "The Next Food Network Star" in 2006, competing against Guy Fieri. In her words, "The core of this book is about reinvention and the transformative power of exhilarating whole food. " Raised bi-coastally, Howes became fascinated with the concept of the Burmese Tea Leaf Salad – itself "served only during special occasions because of the prized ingredients and compelling presentation.  The deconstructed format, the array of textures and tastes and the infusion of  ingredients from other cultures s a result of the "Collision of Cuisines" because of Myanmar's location added to the inspiration.
The brand new hard-cover, full-color cookbook  up protein- and superfood-rich recipes that are artfully presented in a "deconstructed format."  For salad lovers (such as myself) this is heaven-sent.  Sections are divided into Vegetarian; Noodles, Grains, and Legumes; fish and Shellfish; Chicken, turkey and Duck, and Pork and Beef.   The double page format shows a photo on one side of the page and the recipe with instructions opposite it.  A "Building the Pantry" section is at the back of the book.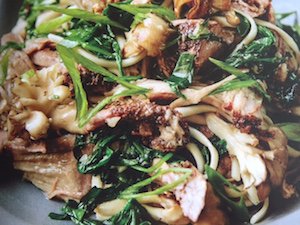 The Modern Salad is also very practical for main meals by simple adding rice to the menu. For example, the Masala Chai Braised Pork and Garlic Udon Salad (shown above) can easily be a main course.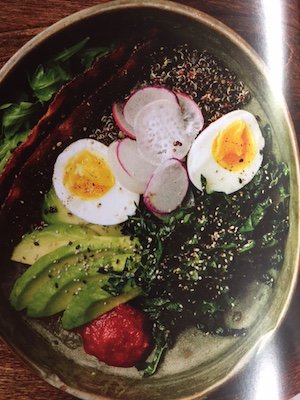 The Power Breakfast Salad with five Spice Maple Bacon and Sambal Oelek is also a complete meal in itself – and one that defines "breakfast" at any time of the day.
Advertised as, "Bursting with bold flavors, hearty ingredients, crunchy textures and brilliant colors—the salads in this cookbook are a feast for your senses. " We could not have said this better ourselves.
 Over 35 recipes inspired by Burma's iconic Tea Leaf Salad 
include the Charcuterie Board Salad with Mustard-Maple Vinaigrette, Grilled Peach and Corn Salad with Lemongrass-Shallot Vinaigrette, Summer Fig and Caramelized Onion Salad with Aged Balsamic Reduction, and Masala Chai Braised Pork and Garlic Udon Salad.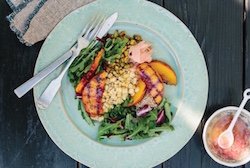 Grilled Peach and Corn Salad with Lemongrass-Shallot Vinaigrette
In the heat of summer, when stone fruit is at its peak, grilled peaches are my favorite ingredient in everything from savory to sweet preparations. This salad, with its complex contradictory and bright complementary flavors, is full of lively surprises.
NOTE: Umeboshi plum vinegar is the by-product of the Japanese umeboshi-making process. When preserved with shiso leaves, the result is a vibrant pinkish-red, sour and salty condiment.
SERVES 4
1 1⁄2 tablespoons finely grated lemongrass
3 tablespoons finely diced shallot
3 tablespoons umeboshi plum vinegar (or red wine vinegar)
1 tablespoon maple syrup, grade B
1 cup, plus 3 tablespoons grapeseed oil, divided
2–3 large peaches, sliced in half, pits removed
4 ears of corn, shucked and silks removed
4 cups arugula
1 cup roughly torn radicchio
1⁄4 cup thinly sliced jalapeño, seeds and ribs removed
1⁄4 cup toasted and roughly chopped pistachios
1⁄4 cup toasted sesame seeds
2 tablespoons finely diced Pickled Ginger
sea salt and freshly cracked black pepper, plus Maldon sea salt for finishing
For the vinaigrette, whisk together the lemongrass, shallot, vinegar, and maple syrup in a medium bowl. Slowly whisk in 1 cup, plus 2 tablespoons of the grapeseed oil. If using umeboshi plum vinegar, you probably won't need to add salt at this point. Otherwise, season to taste. Transfer to a glass jar, and refrigerate for up to 5 days. Shake before assembling the salad as the vinaigrette will likely separate.
Next, preheat the grill, indoor grill pan, or heavy skillet to medium- high. Coat the peaches and corn with the remaining 1 tablespoon of grapeseed oil, and season with salt and pepper. Grill the peaches for 1 to 2 minutes per side, or until grill marks form and the fruit begins to soften and caramelize. The corn may take slightly longer, about 5 to 6 minutes. Remove both from the heat, and allow to cool. Once cool, gently slice the peaches into bite-size pieces. With a sharp knife, slice off the corn from each ear. Doing this in a large bowl makes for easier cleanup.
To assemble the salad, arrange the peaches, corn, arugula, radicchio, jalapeño, pistachios, sesame seeds, and pickled ginger on a large platter or on individual plates. Serve with the vinaigrette on the side, along with some Maldon sea salt and black pepper, if desired.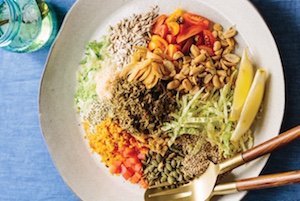 The Burmese Tea Leaf Salad
This salad has become a cult favorite for a very good reason: It's outrageously tasty, exhilarating to eat, and ignites all the senses. I'll admit it. I have a long-standing love affair with this salad. I often crave it, deeply. The variation of ingredients doesn't even matter that much. As long as it's made well, with perfectly bright, tart, and deeply flavored tea leaves, anything else pretty much goes. My modern version incorporates a few non- traditional ingredients, like romaine lettuce, red bell pepper, and a wide variety of seeds for added color, texture, and nutrients. Also, instead of fried beans or peas, I developed a recipe for roasted split mung dal. They're a slightly nutty, super healthy, and extra crunchy addition to an already exceptional lineup of ingredients.
NOTE: Dried shrimp are widely used in Asian and Latin American kitchens. Their aroma is much stronger than their flavor, and they fade into the background while greatly enhancing whatever they come into contact with. Well-stocked Asian markets and large grocery stores often carry them. For a vegetarian version, omit the dried shrimp and fish sauce, and instead use tamari or soy sauce.
SERVES 4
3 cups Fermented Tea Leaves
4 cups finely shredded Napa cabbage (about 1 large head)
4 cups finely shredded romaine lettuce hearts (about 2 medium)
2 cups thinly sliced tomato
2 cups finely diced red bell pepper
1⁄2 cup Crunchy Roasted Split Mung Dal
1⁄4 cup raw, shelled, and unsalted sunflower seeds
1⁄4 cup raw, unsalted pumpkin seeds
1⁄4 cup raw sesame seeds, toasted
2 tablespoons raw hemp seeds
1⁄4 cup, plus 2 tablespoons roughly chopped Roasted Peanuts
1⁄2 cup Crispy Garlic,
some slices left intact, others finely chopped
1⁄4 cup finely ground dried shrimp
1⁄2 cup Garlic Oil
2 teaspoons fish sauce
2 lemons, quartered
sea salt, plus Maldon sea salt for finishing
Place the tea leaves in a fine-mesh sieve to allow any excess liquid to drain. Assemble the Napa cabbage, romaine, tomato, bell pepper, mung dal, seeds, peanuts, crispy garlic, and dried shrimp on a large platter or on individual plates. Add the desired amount of tea leaves, and drizzle the garlic oil and fish sauce over the salad.
At tableside, toss thoroughly with a spoon and fork or clean bare hands, until the tea leaves are completely incorporated with the other ingredients. Serve the lemon wedges on the side and Maldon sea salt for finishing.