Modo Mio Celebrates 30th Anniversary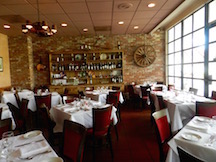 Modo Mio in Pacific Palisades celebrates 30 years as a rustic Mediterranean dining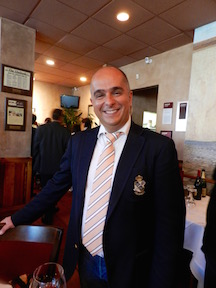 room, intimate and friendly, serving familiar, refined, northern Italian dishes made from scratch from a loyal staff of almost as many decades.  The culinary journey takes diners from Val d'Aosta and the famous Piemonte to Lombardia, Veneto and Liguria.
It is the kind of place that was created three decades ago when times were much more "laid back" and easy, and the feeling still permeates the comfortable room.
Beaming host, Georges, and his charming family were in the dining room with him, welcoming guests (that includes the mayor and long-time customers). Wife Veronique, a passionate Parisian pastry chef, brought her own canales, my favorite, in close to impossible to make miniature format.  She was almost as excited that I knew and loved them, as I was to enjoy them!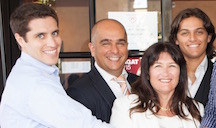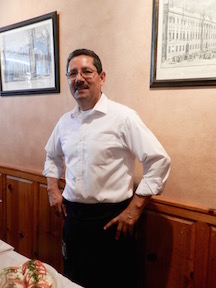 The Special Modo Mio Anniversary menu (below) includes the most popular signature dishes.  At the dining room table was Tony, the long-time popular server that makes a restaurant into a familiar, family place for the neighborhood.  When we phoned on the way over and were looking for the restaurant (which has a Sunset address but is on the side of the building) Tony answered and effortlessly guided us there, never skipping a beat with the dining room preparations.
The Modo Mio 30th Anniversary Menu
Primi
Bruschetta and Mushrooms
Verdure Alla Griglia
Caprese e Pomodoro
Mosaico di Pepperoni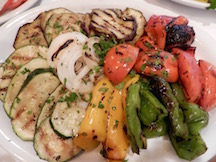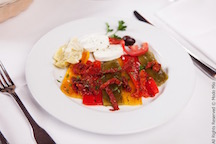 *************
Secundi
Ravioli Dello Chef
Rigatoni Alla melazane
Pollo alla Diavola
Gnocci Modo Mio
******************************
Dolce
Tiramisu – by Veronique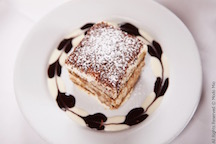 Macaron (here with a canale, amaretti)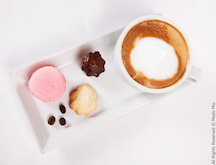 Apple Tart (rustic style and single portion)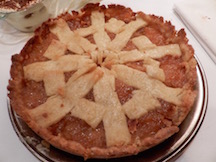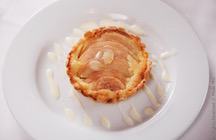 Amaretti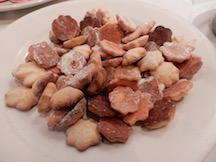 The Sweet Nuns' stacked cream puffs, known as "religieuses," the bakery's original nuns are endearing little classic French pastries made of "chous" filled with custard-like cream.  They appear on the plate as little birds, angels and other moppets.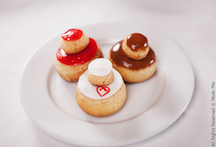 The infamous Canele – not Cannoli! They are baked in tiny molds with wax around them.  What a feat to bake them so beautifully and tiny.  Veronique has so much practice.  She laughed, "I just like to go into the kitchen and bake and bake and bake because I love it so much" — and you can taste this loving spirit in every bite.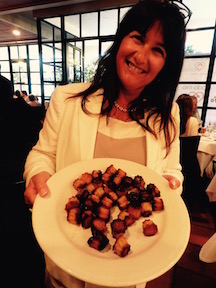 Georges and Veronique's movie star handsome son, Benjamin, served Coffee or Tea on the menu.  It was an astonishing experience in itself to see how loving this family is, and how pleased they were to be hosting as "a team."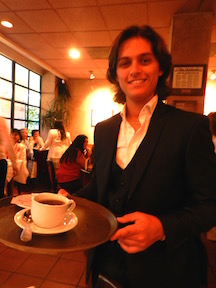 Congratulations on the first 30 years, and best wishes for the next 30!  What a welcome restaurant in the neighborhood, or anyone coming from the beach.
Modo Mio Cucina Rustica, 15200 Sunset Blvd. Suite 106 (around the corner of the Chase Bank Building), Pacific Palisades, CA 90272 (310) 459-0979 (modomiocucinarustica.com), (http://www.thesweetnuns.com)