MONOGRANO FELICETTI's New Way to Look at Pasta: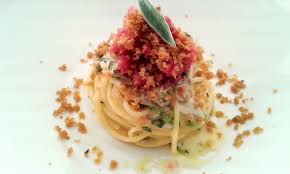 (Roberta Deen) Monograno Pasta is made with 100% organic single-source ancient grains. It comes handsomely, elegantly packaged in richly textured white boxes with clear panels that allow you to view the beautiful pasta within. I admired the packaging and began to read the detailed information on the back of the boxes. http://www.monogranofelicetti.  it/eu_en/flour-types.html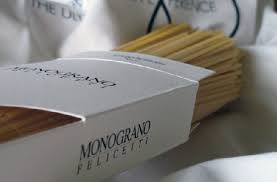 The history of the various grains and their sources is carefully explained. The penne lisce (long, sturdy quills) was made from matt, "a strong and rich variety of durum wheat" cultivated in Puglia and Sicily.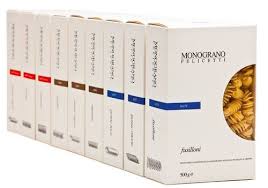 The chiocciole (an oddly shaped, textured tube) is made from Khorasan-type durum wheat known as kamut,"the ancestor of our modern grain…easier to digest than other grains."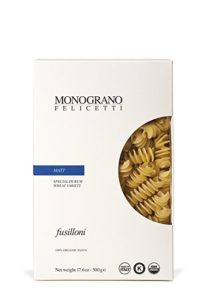 And the linguine, a rich, textured whole wheat brown, is made from spelt which "has been around since the ancient days of the Celts, Egyptians and Etruscans. It is a soft wheat…that has a higher protein content and is richer in vitamins. There are 250 varieties. The Felicetti family uses one specific variety from…Umbria".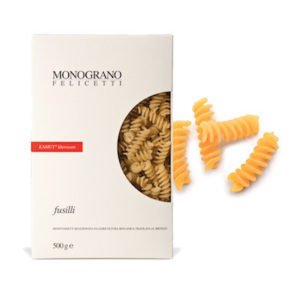 I chuckled a bit and thought how the packages read like wine labels with "scents of hay and dried coconut, scents of hazelnuts and cooked eggplant, white flowers and freshly peel fruit"! There was the nose. Then came the flavor profiles – "pine and macadamia nuts with hints of edible flowers, stone cooked bread, butter and bamboo shoots, hints of peanut butter and red dates". I took these descriptions as a challenge to see if they held true.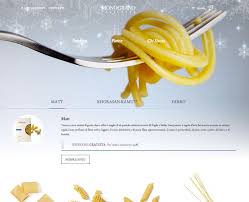 When I cooked them I chose to go very simple – water, a generous pinch of Fleur de sel salt and a splash of extra-virgin olive oil. I cooked about 4 ounces of each pasta until just a bit past al dente ( I am a very old school American pasta eater. I like it done.) As it cooked, I wafted the rising steam directly to my nose and there it was – the penne lisce made with matt gave off notes of green hay overlaying the dried coconut.
The Khorasan kamut released the gentle scents of white flowers blending with back notes of fresh fruit. The farro linguine emitted the fragrance of toasted hazelnuts with the palest hint of eggplant.
I drained the pasta, saving some of the cooking liquid for the finish with real butter and just a touch of freshly finely grated Parmegeano-Reggiano over the top.
From the first bite, I was enchanted. All of the pastas were toothsome, sturdy, fragrant (except that the farro linguini is a bit fragile if over cooked.  It needs to stay al dente.) They would all take to any type of sauce and any style of salad. All of the flavor notes were there except that I was unable to find the peanut butter and red dates in the farro linguine. But, just the butter and Parm were more than sufficient for me. What more could one ask than fully flavored and fragranced pasta that could stand on its own.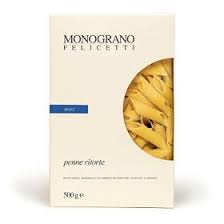 Just as an introduction to letting the pasta be the star, I suggest the following recipe.
Pasta Nona Rustica
Per person as an entrée:
1 nicely ripe Roma tomato, charred, peeled, seeded, and diced
5 Italian black olives, pitted and slivered
5 small to medium basil leaves, torn into small pieces
Freshly ground black pepper
Finishing salt (lightly smoked or pink Himalayan would be a good choice)
2 Tablespoons toasted pine nuts
1/4 cup freshly grated Parmigiano-Reggiano (other hard, sharp
cheeses such as aged goudas would work as well)
2 ounces dried pasta such as the Monograno Matt penne lisce, kamut
chiocciole or the farro linguini
boiling water
salt
extra-virgin olive oil
1 top of a stem of basil for garnish
Cook the pasta in a generous amount of boiling water seasoned with salt
and a splash of extra-virgin olive oil for 8-10 minutes.  Reserve 1 tablespoon
of the water the pasta was cooked in and drain the pasta well.
Return the reserved water to the pot, add the pasta back and toss well.
Add the tomato, olives and basil and toss again. Season with a few grindings
of pepper, a pinch of salt and toss lightly again.
Place the pasta in a serving bowl. Sprinkle with the pine nuts.
Generously dust with the Parmigianino and garnish with the basil top.