"Made Up" National Cuban Sandwich Day August 23
National Cuban Sandwich Day is coming up on August 23 celebrating the many varieties of the traditional pressed treat.  Did you know that in the classic, cuban bread must be split with a palm frond?
The multi-textured, highly flavored meal may be officially honored in Tampa, Florida's Ybor City neighborhood in Tampa but the treat is spreading to all corners of the world.  From the sprawling, streamlined Porto's in the Glendale-Burbank-Down (soon) area to tiny neighborhood  Trop-i-Cal in Silverlake to the organic, contemporary Havana Cafe at the Lumberyard  Malibu, Los Angeles has it covered.  Friendly, efficient service and a menu of refreshing drinks but espressos are what these places have in common.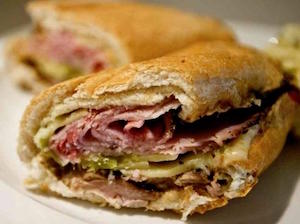 Cuban Sandwich Fun Facts and History
• While an early cousin of the Cuban sandwich was born in Cuba proper, the Cuban sandwich as we know it today originated in Tampa, Florida's cigar-producing neighborhood of Ybor City in the late 1800s and caught on by the early 1900s. It was popular among workers in the district's many cigar factories.
• While it's called a "Cuban" sandwich after the Cuban immigrants who settled in early Ybor City and influenced the sandwich the most, the ingredients are also a nod to the southern Italian bricklayers and the German cigar workers who also immigrated there.
• Salami was added via the Italian bricklayers, who found that placing a hot brick on top of the sandwich for a few minutes pressed it flat and made it taste better.
• Mustard was a condiment flavor preferred by the Germans. It also didn't spoil in the Florida heat. That's why there's no mayonaise on a traditional Cubano–refrigeration was scarce in Tampa in the early 20th century.
• Tampa and Miami have enjoyed a rivalry over ownership of the Cuban sandwich, though Miami-style Cuban sandwiches are made without the traditional salami. Miami Cuban sandwich connoisseurs say that the salami is blasphemous. NPR investigated the rivalry for a 2012 story. (http://www.npr.org/…/the-cuban-sandwich-crisis-has-a-winner…)
• By the 1970s, the Cuban sandwich had spread to menus around the United States.  And in 2015, the Cuban Sandwich Factory opened in Belfast, Ireland, and in 2016, the Tampa Cuban Sandwich Bar opened in Seoul, Korea. (https://seoulsearching.net/…/12/08/tampa-cuban-sandwich-bar/)
• The annual Cuban Sandwich Festival in Ybor City attracts competitors from around the United States. In 2015, participating restaurants joined forces to make a 105-foot-long Cuban sandwich, the world's longest.
•In 2012, the Tampa City Council and Mayor Bob Buckhorn passed a resolution making the Cuban sandwich the city's official sandwich.
Turns out that the "National" part of this day was actually dreamt up by an ambitious reporter, Christopher Spata of the Tampa Bay Times"for a food I love." In his words, "It was partly as an experiment for what is meant to be a comical feature story.   I was trying to show how easy it is for anyone to make up a new "food holiday" and get the media, restaurants and regular people to participate in the fun of celebrating a particular food, such as Cuban sandwiches.
I wrote a story earlier this month about the many, many "food holidays" celebrated these days, and how they're often invented on a whim. There's nothing "official" about the vast majority them, but some random person decides it's national fill-in-the-blank day, sends out a press release, and people play along.
"That's how we ended up with National Tater Tot Day, Burger Day, Whisky Day and so many others fun ones we celebrate and write about regularly, myself included.
"To some degree, all holidays are 'made up' … But if everybody celebrates it, does it matter whether it was a formal proclamation by a president … or a whim-gone-viral which brings a smile to people's faces?," said Jonathan Alderson who runs that website.

This idea came from my love of Cuban sandwiches and wanting to spread that love. I will still be celebrating National Cuban Sandwich Day on Aug. 23. The idea is not to embarrass anyone. So don't worry, I won't be naming anyone in my story."