September 16th Guacamole Day goes Mainstream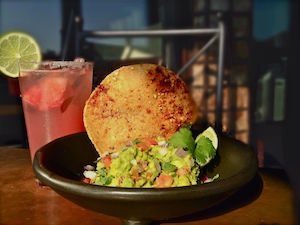 September 16 is Mexican Independence Day – (Dia de la Independence  to celebrate the "cry of independence" that started a revolt against the Spaniards in 1810.  What better holiday to add to this than  National Guacamole Day on September 16, honoring the  indulgent, rich, satisfying and healthy dish that makes summer linger a little big longer.
I should know.  I created and drove a decorated car with celebrities in the East L.A. holiday parade for years, including the first time when a shooting took place on the place we parked only hours later.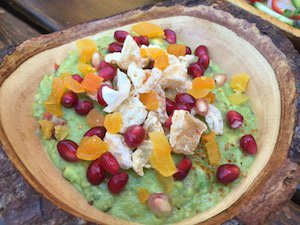 This year we dipped into   SOL COCINA's famous "Naked Guacamole Playa Vista (see below) and at Cocina Condesa in Studio City we tried  Chef Eddie Garcia's Guacamole Chignon dotted with Pomegranate seeds, dried apricots and crispy chicharrones.  A revelation and a meal –especially dining outside under the awning with mist-ers along accompanied by a flight of Mescals!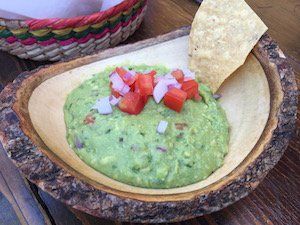 Chef Garcia's other interesting Guacamoles include: House Guacamole with cilantro, red onion, lime and sea salt (shown above); Guacamole Fuego with Cilantro, red onion, lime, sea salt, habanera chili, golden raisons  and Guacamole Loco that adds to the mix Spiced mango, cotija cheese, lime and toasted crickets! We ate the toasted crickets in the special.
Created by Aztecs, the indigenous people of Mexico, adaptable guacamole does triple duty as dip, condiment or garnish).  California chefs have choice avocados year-round and make the most of it.   Everyone loves guacamole.  And the nutritional elements seem too good to be true, as does the easy preparation of this complex dish.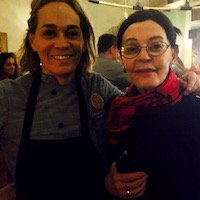 Noted cookbook author Executive Chef Deborah Schneider of SOL Cocina in Playa Vista (here with fan, Barbara Hansen, of the LA TMES) created two versions.  Her Naked Guacamole features ripe avocados, cilantro, lime, onion, serrano chilies and tomatoes.  Her recipe featured here of  Guacamole SOL uses the naked guacamole as a base and tops it with mango, tequila, creamy goat cheese, and toasted pepitas.
Guacamole SOL Recipe
Created by Executive Chef Deborah Schneider
Serves 6
Ingredients:
2  ripe Hass avocados
1 T. fresh-squeezed lime juice (about 1 lime)
½ tsp. kosher salt
¼ cup white onion, finely diced
¼ cup cilantro, chopped
1 Serrano chile, minced (optional)
2 T. Roma tomato, cored and seeded, diced
2 T. ripe mango, peeled, cut into small dice
1 tsp. Blanco tequila
1 tsp. lime juice
1 T. goat cheese, crumbled
1 T. pomegranate seeds (if pomegranates are not available, substitute toasted pine nuts)
Garnish:  cilantro sprig, fresh tostadas, lime wedges
Preparation:
Split, pit and mash the avocado flesh with the lime juice and salt, using a potato masher, fork or a whisk in an up and down motion (never a blender or food processor).
Stir in the onion, cilantro, chile and tomato.
Place in a serving dish. Toss the mango with the tequila and lime juice.
Arrange the mango, goat cheese, and pomegranate seeds in neat rows on top of the mashed avocado.
Set a cilantro sprig on top and serve with fresh tostadas and limes.
At the table, stir the ingredients into the guacamole and enjoy.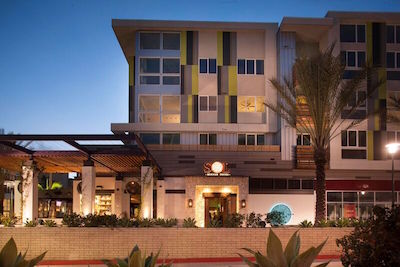 The spectacular resort-like SOL Cocina Playa Vista in a brand new Jefferson Boulevard shopping complex is the perfect place to kick back and celebrate.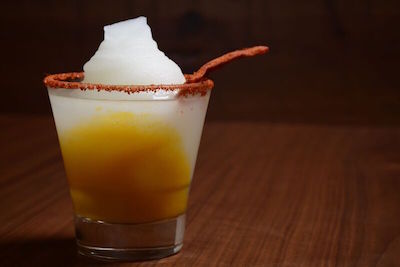 (photo courtesy SOL COCINA)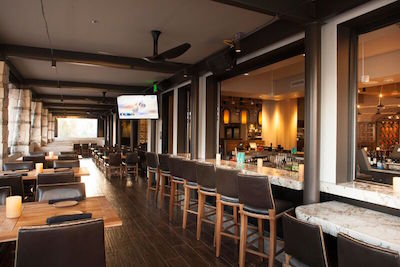 There are as many drinks and bars for what feels like a "stay-cation" intimate or large-groups as a resort (the owners are resort-operators).  "Naked" guacamole (below) is served on the counter here on the veranda for an indoor-outdoor feast.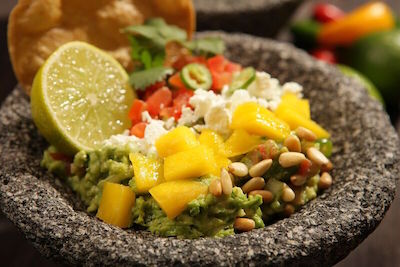 SOL  COCINA, 12775 West Millennium Drive #160, Playa Vista, CA 90094; 424.289.0066; www.solcocina.com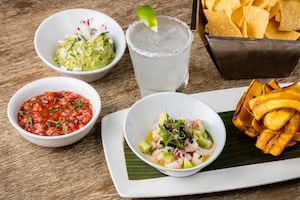 Red O Award-winning Culinary Director (Mexican culinary food icon) Rick Bayless travels with his staff to a different part of Mexico each year to keep current.  Here he keeps it clean and simple at Red O in Santa Monica where his Classic Guacamole keeps guests clamoring for more, with fresh avocado, tomatoes, onions, fresh lime juice, cilantro, and serrano chile. (photo courtesy bob Hodson)
Red O Santa Monica . 1541 Ocean Ave., Suite 120 Santa Monica, CA 90401; 310.458.1600; www.redorestaurant.com
Classic Guacamole by Culinary Director, Rick Bayless
Serves 8 to 12 Guests
Ingredients:
2 serranos, stems removed
3 avocados, preferably the black-skinned Hass
A couple of tables spoons of fresh cilantro
1 small white onion (fresh knob onion—green tops still on—is best), finely chopped
Salt
2 tablespoons fresh lime juice
Optional – A little crumbled Mexican fresh cheese (queso fresco) for garnish
A sliced radish or two for garnish
Instructions:
Finely chop the green chiles, and scoop them into a bowl.
One at a time, run a knife down through each avocado, starting at the top, until you reach the pit; continue cutting around the pit until you reach the point you started.
Twist the two halves of the avocado apart. Remove the pit and discard. Scoop the flesh into the bowl with the chiles. Mash coarsely with the back of a spoon or an old-fashioned potato masher.
Add the cilantro and onion, stir to combine, then taste. Season with salt (usually about a teaspoon) and lime juice. Scoop into a serving dish and garnish with radishes and cheese.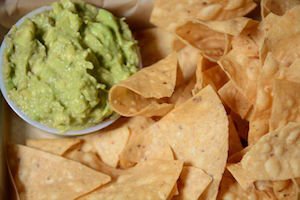 The burger – and all-out, super-friendly hospitality- may reign at Hache LA in Silver Lake, but it is all about the avocado for National Guacamole Day.  Here Executive Chef Michael "Mick" Schepers unveils his recipe for Modified Guerrero Style Guacamole, which features secret ingredients like extra virgin olive oil, juice of half a lemon, two garlic cloves and a Roma tomato. (photo credit: acuna-hansen)
Modified Guerrero Style Guacamole Created by Executive Chef Michael "Mick" Schepers
 Ingredients:
 2 regular avocados
1 Medium Size Jalapeño Chile
1 Serrano Chile
2 garlic clove
1/2 onion diced
1 large Roma tomato diced
1/2 tablespoon of EVOO
1 teaspoon Salt or to taste
Juice of 1/2 a lemon 
 Method & Preparation:
Place garlic and chopped deseeded chiles in blender with 1/2 tablespoon EVOO (extra virgin olive oil,  lemon juice, salt till finely chopped.
Add the two deseeded and peeled avocados and pulse in blender till required texture is achieved.
Add diced tomato and onion, pulse once maybe twice. DO NOT BLEND THE ONION or the TOMATO or "it will be nasty." (fold in the tomato and onion in the blender ONLY with  a pulse button fold; otherwise use  a fork.
Place in a plastic container, cover with lid and band on the table till the top is flat, take off the lid add approximately 1/2 a cm or 1/4 inch of water over the top. Replace the lid and place in the fridge till required use.
Pour out the water (don't worry the guacamole won't fall out) and enjoy for up to five days, always replacing the water.
Anything else you have heard of adding to guacamole to stop it going brown is an old wife's tale.
Haché LA- 3319 West Sunset Blvd. Los Angeles, CA 90026; 323.928.2963;www.hachela.com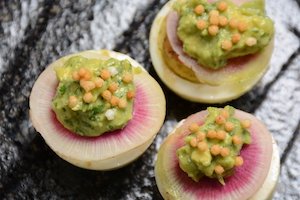 An avant garde dish using guacaamole as a garnish is Chef Jeff Lustre of Demitasse Cafe & Roastery in Hollywood, where the avant-garde crowd favorite Deviled Eggs are dolloped with guacamole, radish, and bubu aware (Japanese cracker in the form of tiny balls). Secret Ingredients include creamy yogurt and red wine vinegar.
Demitasse Roastery & Kitchen:  1542 N. Cahuenga Blvd. Hollywood, CA 90028; 323.498.5155; www.cafedemitasse.com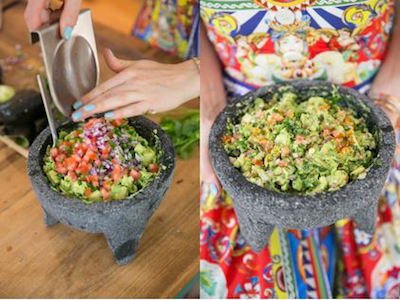 Food blogger Svitlana Flom from Art de Fete has the perfect addition to all of your chips and dip appetizers, taco nights, avocado toasts, sandwiches – the opportunities are endless. The secret that makes Svitlana's guac better are her three secret ingredients: lime juice, garlic, and a pinch of cumin. Whether you choose to include jalapeno and hot sauce is up to you, but this Spicy Guacamole will add a delicious kick to any meal.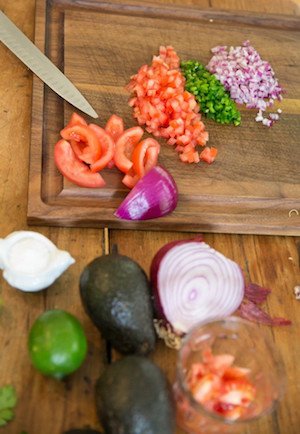 Art de Fete's Spicy Guacamole
3 avocado, ripe
1½- 2 medium vine or Roma tomatoes
½ red onion, finely diced
1 jalapeño pepper, deseeded, finely diced
3 tablespoon cilantro, finely chopped
1 lime, squeezed
1-2 small garlic cloves, minced
pinch of cumin
5-10 dashes of hot sauce (optional)
Kosher salt, to taste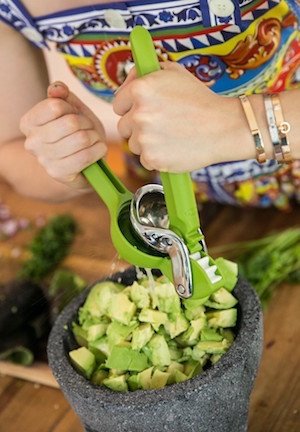 Directions
Deseed tomatoes: Slice tomatoes inhalf and cut out white divot. Cut tomatoes into quarters, then cut out the seeds with a sharp knife. Deseeding is absolutely necessary and it will ensure that your guacamole is not watery. Slice deseeded tomatoes into strips. Dice tomato strips finely. Set aside
For the avocado: Slice the avocado open vertically and remove the pit. Using just the tip of the knife, slice into avocado flesh in a criss-cross pattern. Squeeze out the flesh into a serving bowl, then squeeze lime juice on top to prevent avocado from browning. Mash avocado with a mortar or folk but keep it somewhat chunky.
Make guacamole: Add all diced ingredients, cilantro plus minced garlic. Add few dashes, or more than few, depending on your liking, of hot sauce! I like traditional Cholula in it. I also like to add a pinch of cumin spice, it's just so earthy and delicious here!
Season guacamole with kosher salt and gently mix all the ingredients to combine. Squeeze a bit of lime juice on top. Sprinkle with salt, tiny bit. Serve with tortilla chips  – and a margarita!