New American Bear Paws: The Better to Shred You with My Dear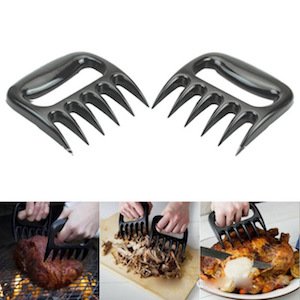 (Gerry Furth-Sides) Bear Paws are so appealingly tactile they look like a play toy although they really are the tool to help prepare American regional or international dishes.  They just about scream out how far we've come from a stick over a fire!  And of course they are "the tool" for finishing off perfectly pulled barbecue pork or chicken.  Despite their rounded, plastic "toy-like" appearance, they are extremely sharp and easy to grip.  They can be used to grip and pick up a roast before it even gets to the shredding process.  "Handle, transfer, shred" covers it all.

Bear Paws make it much quicker to shred pork or chicken than any other tool, such as forks or prongs. The cook simply takes each "paw" in each hand and gently pulls the two paws through the meat.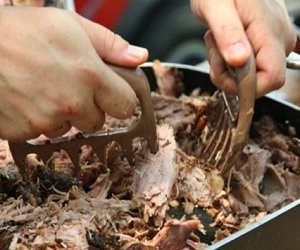 The tines do the work gliding along the cutting surface  so no poking, digging, or hard pulling needed.  Shown above, the Bear Paws are so secure and efficient, the meat can even be shredded in a pan in the kitchen.  This dream tool for pulled pork or chicken not only delivers visually appealing, uniformly shredded pieces of meat, but the process also releases intensified BBQ flavor.
Award-winning Bear Paws earned a first place award of excellence form the National BBQ Association. They are made from a FDA-approved, proprietary nylon material that is harder, denser, stronger, tougher, more heat- resistant and will stay sharper in use.
The handles stay cool even when a cook picks up a piece of meat up to 475 degrees.  Manufactured by Bear Paw Products (trademarked) this is one welcome long lasting plastic item.  To this end, "paws" are dishwasher safe and come with a limited lifetime warranty. Bear Paws are proudly made in the USA.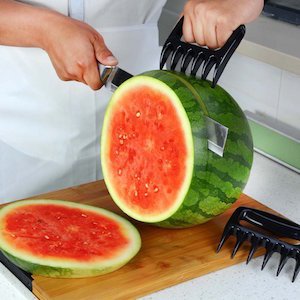 In addition to pulling meat,  Bear Paws are extremely versatile for all types of kitchen work, including handling turkeys, hams, roasts, large fruit and vegetables, as well as tossing salads and pastas.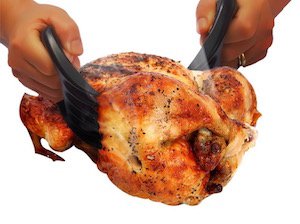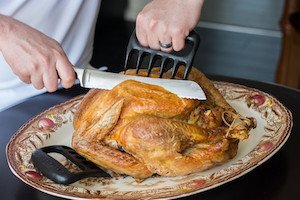 As shown above, they are useful for removing roasts or poultry from the oven pan to platter efficiently and safely.  And Voila! One piece also holds the bird in place during the carving process.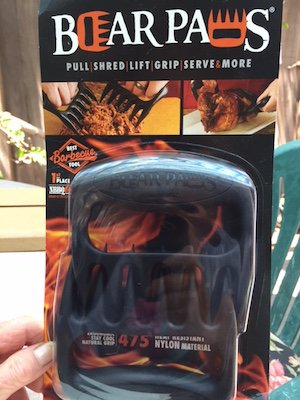 Bear Paws  come in red, white, black aand other colors, and are easily spotted in their hanger container ($5.99).  They are available at select BBQ stores and retail outlets as well as Amazon.com. Learn more at http://www.bearpawproducts.com/.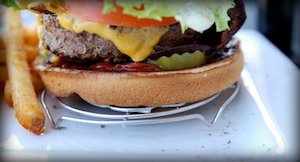 In the "not necessary but totally fun product" line, The Original Burger Lift was created to keep the bottom of a burger bun as crisp and dry as possible.  It's also in the "spiffy restaurant" mode and a sure conversation starter for home parties.  The Burger Lift is constructed from stainless steel and is dishwasher safe. The design is both lightweight and easy to grab, and promised to be sturdy enough to withstand the test of time. It is also available in plastic in a vibrant red color –Both styles are sold in a set of four. $10.99 – $24.99. https://burgerlift.com/