New Bar Fogo® at Beverly Hills Fogo de Chão Ushers in Spring Here (Fall There)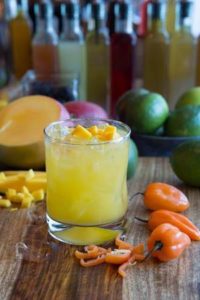 (Gerry Furth-Sides) The star signature caipirinha, the lime juice-infused cocktail made with a sugar cane liquor, cachaca, retains its place of honor at the recently revamped Fogo de Chão bar at the Beverly Hills location.
This  new Mango Habanero Caipirinha on the expanded Bar Fogo Menu features the tantalizing combination of  limes, mangoes and habanero peppers muddled with silver cachaça for a sizzling kick.
The new Brazilian cocktails, bar bites and Happy Hour offerings are part of the largest U.S. bar menu innovation to-date in the 20 years since  Fogo de Chão arrived stateside.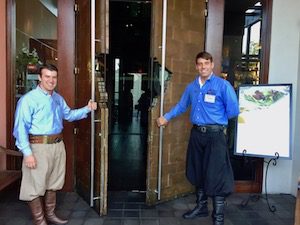 Arriving guests notice the new exterior signage plus enlarged entrance and restaurant foyer are impressive from the minute you head out of your car into the parking lot. Gaucho (right) Leonardo Bauer welcomes us at the door.  His brother works at the downtown location.  You would swear they were one and the same person.  The bartender we also saw downtown actually works there.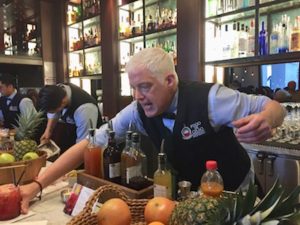 The expansion of Bar Fogo features a stunning, imported, white Carrara marble bar and a new outdoor patio lined with a living greenery wall.  The energy inside this place is as vibrant as a carnival even shortly after it opens in the late afternoon.
A sampling of the new cocktails explains why.  The new Brazilian Gentleman premium cocktail on the expanded Bar Fogo menu features Knob Creek Rye Bourbon, passion fruit, tawny port, Amargo Chuncho bitters and honey. This bolt of a cocktail slides down easily,  both smooth and tart and a sweet all at once.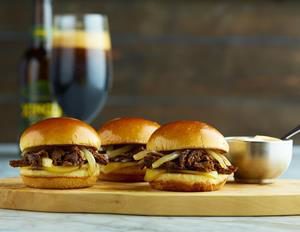 Bar Fogo's new straightforward, lush offerings were designed by and are unique to Fogo de Chão.   Fogo's spring seasonal menu items have been crafted for those ready to embrace warmer temperatures using the freshest ingredients of the season.
New Braised Beef Rib Sliders on the expanded Bar Fogo menu feature Brazilian Xingu beer- braised beef topped with caramelized onions and smoked provolone.  They are pillowed on a soft, firm brioche bun.   Caution: they are addictive! Save room for dinner.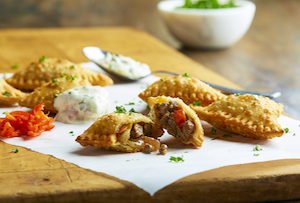 Brazilian Empanadas
are the flakiest pastry dough pies filled with seasoned picanha and onions. They are served with Chimichurri aioli for dipping.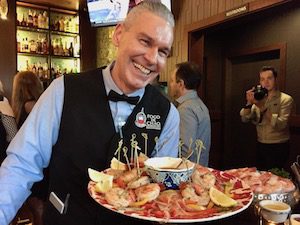 The Jumbo Shrimps served with limes and a Malagueta Brazilian cocktail sauce is only one of three superb seafood items on the menu.  They almost, almost  make you forget you are in a house of palace of beef.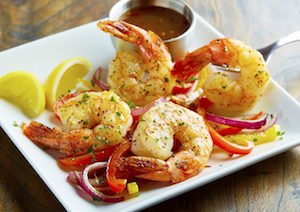 Garlic Shrimp feature four jumbo shrimp sautéed in garlic butter with sweet peppers and onions, served with passion fruit dipping sauce.
Other $4 BRAZILIAN BITES items served in the bar are include the following.  We will not reveal calorie count.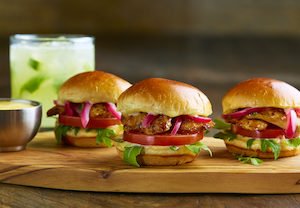 New Spiced Chicken Sliders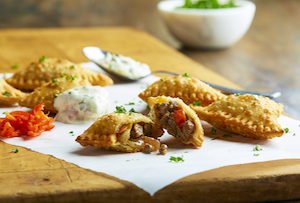 New Brazilian Empanadas
Warm Hearts of Palm and Spinach Dip  and the Crispy Parmesan Polenta Fries complete the list.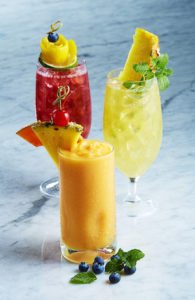 The expanded Bar Fogo menu also features new hand-crafted Caipirinhas and Brazilian inspired cocktails including:
Strawberry Hibiscus Caipirinha: Silver cachaça is mixed with hibiscus-infused syrup, fresh strawberries, and lime for a tasty twist on Brazil's national cocktail.
Brazilian Gentleman: Knob Creek Rye Bourbon, passion fruit, tawny port, Amargo Chuncho bitters and honey blend together seamlessly in this premium cocktail.
Brazilian Nights: Belvedere Vodka joins forces with passion fruit, cinnamon honey, lemon ginger tincture and La Marca Prosecco for the ultimate evening drink.
Mango Ginger Martini: Ketel One Citroen, fresh mango, South American ginger and honey lemon elixir is garnished with fresh basil.
Mango Ginger Martini: Ketel One Citroen, fresh mango, South American ginger and honey lemon elixir is garnished with fresh basil.
Bar Fogo Happy Hour is available Monday through Friday from 4:30 to 6:30 p.m. and features new Happy Hour prices that everyone can appreciate – from $4 Brazilian Bites & Beers to $6 South American Wines and $8 Brazilian Inspired Cocktails.
"Menu innovation is at the core of all that we do at Fogo so we're thrilled to be providing our guests with new ways to experience the authentic flavors and Southern Brazilian hospitality for which Fogo is known," said Larry Johnson, Chief Executive Officer of Fogo de Chão.
For more information on the new Bar Fogo and spring menu offerings or to make dining reservations, please visit http://www.fogo.com.
Fogo de Chao Beverly Hills restaurant located just north of Wilshire Boulevard at 133 N. La Cienega Blvd. Valet parking lot and street parking.