New BIBIBOP Grills Introduce Fast-Service Korean Bibimbap to LA
(Gerry Furth-Sides) BIBIBOP Asian Grill will be opening four brand-new locations in the Los Angeles area in July.  Part of a national expansion by BIBIBOP to expand its popular Korean-inspiredCleveland, Ohio born concept, other cities include Washington DC and Chicago.  (It is not to be confused with BIBIGO)
 The new LA locations are :

Beverly at 8424 Beverly Blvd., opening on Wednesday, July 5
Westwood at 1059 Broxton Ave., opening on Tuesday, July 11
Hollywood at 6333 Sunset Blvd., opening on Tuesday, July 18
Santa Monica at 1401 Third St. Promenade, opening on Monday, July 24
BIBIBOP focuses on promoting it's signature "WELL B-ING" through healthy, delicious food that offers a fresh spin on the traditional Korean dish bibimbap, meaning "mixed rice". Each customer can build his or her own perfect BIBIBOP from a selections fresh vegetables, quality proteins and Asian-inspired sauces.
To welcome and introduce guests to the BIBIBOP Asian Grill experience, the Beverly location  (July 5) and the Westwood location ( July 11) will each be hosting a Grand Opening event, offering one free food order per person while quantities last.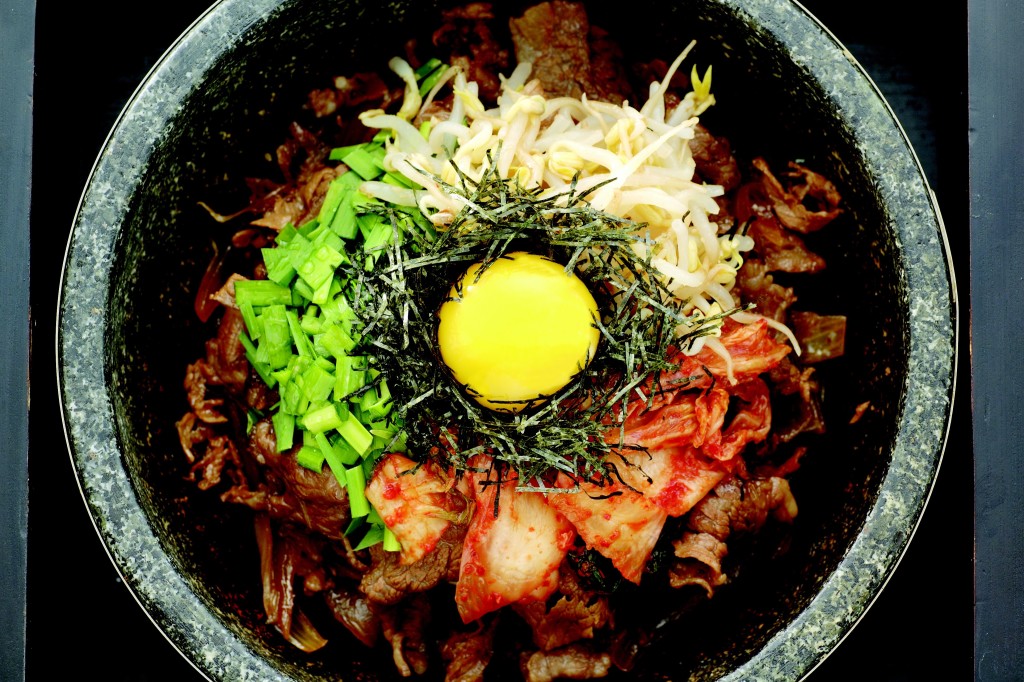 The actual name "bibimbap" roughly translates to a classic rice dish served in a steaming granite bowl, so hot that when a server drops in a raw egg,  the dish cooks before your very eyes. Add to the fun,  a server who literally cuts with a scissors what looks to be a piece of cloth that is actually a paper thin piece of beef.   He or she then anoints the mixture with hot sauce to the specified level of spiciness.
Since the granite bowl holds  heat and takes a good long time to cool off, the egg is cooked through within minutes. The rice that comes into contact with the scorching hot sides of the bowl forms a tasty crispy crust – a prize at the bottom of the dish.  The toasted rice makes such a surprising contrast to the tender, marinated beef you don't want to take a mouthful of one without the other.
It's perfect for cooling down on a hot summer day or a colder winter one when you want a dish to stick to your ribs.  Anthony Bourdain may have made the dish famous on his "No Reservations" TV show but Zip Fusion (now closed) owner, Jason Ha, did the performance cooking on my first memorable steaming concrete bowl of bibimbap one chilly DTLA winter night.
These days, the line moves quickly at  each BIBIBOP Asian Grill restaurant although all ingredients are still freshly chopped, grilled, cooked and prepared on site daily.  Standout ingredients include spicy chicken, organic tofu, daikon, kale, kimchi and BIBIBOP's unique purple rice.
Black rice!  A nutrition-packed superfood once reserved only for emperors — boasts more antioxidants per serving than blueberries and also is packed with fiber, iron and copper.  Korean black rice actually has 11% more nutrients than other black rice.
BIBIBOP also offers free miso soup as a complimentary and satisfying pairing with their rice, noodle, and salad bowls.
CEO Charley Shin's first BIBIBOP Asian Grill restaurant originated in Columbus, Ohio, in August 2013.   This followed Shin's successful launch of the international Charleys Philly Steaks franchise.
After mastering the franchise concept to wild success, Charley Shin went back to his roots and was inspired to bring the bold flavors and healthy ingredients of his native South Korea to his American hometown. The new concept caught on fast with the company opening three more locations in 2014, eventually expanding to 12 total locations across Ohio by 2016.
To learn more about BIBIBOP, visit bibibop.com and connect on Facebook, Twitter and Instagram.