New Bon Appetour, the "The Airbnb of International Food"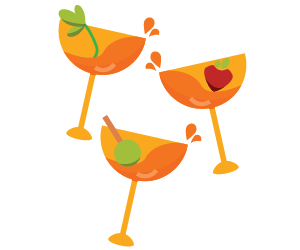 Using the same logic of Airbnb but working on a home dining experience model, Rinita Vanjre Ravi, Inez Wihardjo and Giovanni Casinelli created BonAppetour.   It proved such a worthy idea that early on it won the 2003 edition of Startup.
BonAppetour, now actually known as 'The Airbnb of Food,' is an innovative web-based social platform that connects travellers and guests with an authentic dining experience whether it is in the comfort of a home or in a cooking class.
According to the founders, "the Uber like flexibility and the authenticity that Airbnb brings is a common language that we all speak, food. Often tired of the same song and dances when visiting cities and doing the same 'touristy' things, we try to provide authentic experiences so that a guest or travellers gets a true sense of belonging.
This BonAppetour experience started from a group of young millennials during a backpacking excursion, themselves looking  for a native cultural experience.  They then began building their business out of their college dorm rooms while earning degrees in various disciplines of engineering.
Their other notion in creating the business is  that today's  traveller more interested in interacting in a genuine way with "locals" to learn their culture and become personally acquainted, rather than be assigned to predefined travel sightseeing itineraries.  BonAppetour was created in the same spirit and with the vision that travel can also be seen as a path to achieve that level of self-discovery and self-expression.  .
"It was an idea born out of personal travel experience," as BonAppetour co-founder, Rinita, describes it. "We discovered that as we forged much more meaningful connections with the people, traditions and customs of the places that we were visiting we were more motivated to combine the most loved elements of travel – food and people – into a BonAppetour experience".
The business fit right in with the trend of a steady rise in interest in cooking shows such as MasterChef, travel shows featuring local cuisines and food documentaries,  and reports by the International Culinary Tourism Association reported that more and more travellers want to experience this for themselves. Food has become something to be "experienced" rather than just consumed.
BonAppetour starts with the  potential chef-host creating a website account and creating a menu to offer to customers.
People then search on the website for international cities to visit, choose the most interesting menu and book it.   In this moment the customer pays the website.  After the dinner, if everything went well for both, the website will send the money to the "chef" account.  After the experience, both cooks and guests have a change to leave  feedback reviews.
BonAppetour now has more than five hundred hosts in over thirty cities around the world, and are focusing on expanding their communities in Europe, particularly in popular destinations such as Italy, Spain, France, Japan and Southeast Asia.
The Singapore-based start-up BonAppetour has raised $500,000 USD from Serial tech entrepreneur and investor in the latest round of funding with the focus on expanding their presence into the top culinary hubs around the world, including Rome, Paris, and Barcelona, where they already have a thriving community.
The founders Rinita, Inez & Giovanni explain how they got started in this way in their own words.
"Traveling just isn't about sightseeing.
We've travelled to a number of cities, walked past thousands of people. Yet there is always a feeling of disconnection, where the city and its people are one and we are just one of the many tourists briefly passing through.
Visiting the sites that tell the tales of history, roaming the streets and eating in eateries and restaurants along the way can tell a lot about a city, but this merely grazes the edges of the local community. The only way to truly immerse ourselves, we decided, would be to meet and spend time with local residents. What better way than to bond over a hearty home-cooked meal, coupled with the taste of home?
While on a backpacking trip in Scotland, we had the rare opportunity to stay in the home of a local resident. Sitting around a table piled high with Scottish fare, casual conversations flowed. From the exchange of travel experiences to the endless talks about food, it was in that time spent that we truly saw Scotland through the eyes of its people.
As much as we wanted such home dining experiences a part of every trip, we realized it was difficult to seek out these hidden gems. Sure, travel tales tell of meeting friendly residents, where friendships blossom from a simple home-cooked meal, but in truth, these encounters are few and far between. We decided then that if we couldn't get it anywhere else, we'd have to create it ourselves and share it with a global community of like-minded people.
A little unsure of where and how to take our first step, we'd count it more than just a lucky coincidence that we met Giovanni, who now holds the position of Co-founder and CTO. He leads the technical development of our platform.
And that was it. BonAppetour was born.
So representing our community of passionate hosts and enthusiastic guests, our aim is to spread the love from humble kitchens around the world.
Visit the BonAppetour website  at www.bonappetour.com to find hosts, sign up to become a BonAppetour hosts, or learn more information.