New Brunch at Alsatian 4th & Olive Restaurant in Long Beach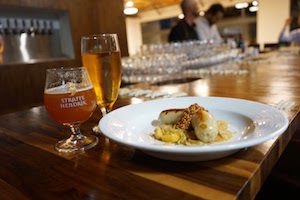 (Gerry Furth-Sides) Specialty Alsatian style breakfast and brunch dishes that can't be found anywhere else in the city are being offered on the new weekend brunch menu at 4th & Olive in Long Beach.    Located at 743 E. 4th Street, the 85-seat restaurant serves authentic Alsatian food complemented by a traditional Franco-German wine and beer list.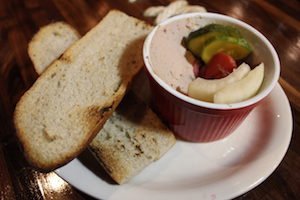 4th and Olive is a traditional Franco-German restaurant and beer garden serving Alsatian style food. Under the culinary direction of Chef Alex McGroarty, the restaurant features house-made dishes such as sausages, braised meats, pretzels and sauerkraut and, and other comfort foods of the region, plus unique European beers and wines.
"Long Beach diners have welcomed our unique concept as a dinner destination since our opening in November, so introducing a weekend brunch was a natural next step," Owner Dan Tapia said.
Executive Chef Alex McGroarty designed the new brunch menu featuring specialties that include Smoked Salmon on Toast with fromage blanc, arugula, herbs and shallots ($14), Boudin Blanc or Hunter Sausage with eggs, country potatoes and greens ($14/$15), Venison Hash & Eggs ($14), Roast Pork Sandwich with apple and pickled fennel slaw ($14), German Pancake with butter, powdered sugar and lemon ($12) and Christmas Lima Beans with braised turnip greens, sunchokes and eggs ($15). Eggs, meat and produce are procured from local ranchers and farmers.
A variety of reasonably priced sparkling wines are available by the glass or bottle for guests to enjoy during brunch, as well as an extensive beer and wine menu.
Unique to the restaurant industry, disabled veterans were actively recruited to staff 4th & Olive, resulting in an over 50% make up of current employees by Tapia, a proud Navy veteran and recovering quadriplegic himself. The layout of the restaurant and kitchen were remarkably designed with these challenges in mind.
Weekend Brunch is served Saturday and Sunday, 10am – 3pm. The restaurant is open for dinner 4:30 – 10pm Monday through Thursday and 4:30 – 11pm Friday and Saturday.
4th and Olive is located at 743 E. 4th Street, in the East Village neighborhood of Long Beach. Phone (562) 269-0731. For more information, visit www.4thandOlive.com.
Known as "the softer side of charcuterie,preserved meats other than whole cured cuts and dry sausages include pâtés, terrines and rillettes.  And then the fun begins.  For example, all pâtés are terrines, but not all terrines are pâtés. Rillettes make great pasta stuffing, but terrines do not. Pâtés and rillettes can be made with very little effort, but terrines take years to master.
A terrine made from layered coarse-ground pâté and smooth foie gras, paired with tangy celery remoulade.
A Terrine is a dish of ground meat, organ meat, seafood, vegetables, boiled eggs, herbs and/or other seasonings packed or layered in a ceramic or steel loaf-shaped mold, cooked in a water bath, cooled, turned out and sliced for serving. Sometimes an infused gelatin (called aspic) is set on top for a decorative effect that also adds an additional layer of flavor. Terrines can be par-cooked, wrapped in puff pastry and baked for "pâté en croute."
Silky-smooth duck liver pâté baked with aspic and surrounded by buttery puff pastry (known as pâté en croute).
"A terrine is a terrine because of the pan it is cooked in. Some pâtés are terrines — it depends on the dish the pâté was cooked in. And not all terrines are pâtés. You can also prepare terrines from other ingredients, including vegetables.
Meat cooked confit and shredded makes a perfect, hearty spread for crusty baguette. Pair it with cornichons.
Rillettes
Rillettes are meat, fish or poultry that's been chopped or shredded, seasoned with salt and pepper and preserved slowly in its own fat, the fat of another animal, olive oil or butter to make a thick spread for sandwiches, crudité or pasta stuffing. Confit items are usually cooked and served whole, whereas rillettes are the result of shredding the confit. "Confit is just the cooking method," Westermann clarifies. "It is a traditional way of preserving meat, which also adds a lot of flavor to the meat. Because rillettes are so rich, you need plenty of salt and other spices to help balance the flavors."
How are rillettes different from pâtés and terrines? "Pâtés and terrines are smoother and usually use organ meat, like liver," whereas rillettes will use meat from the leg, thigh, shoulder or rib. "Cornichons are usually served as an appetizer.   Pâté and rillettes, known as "potted" meat or fish, are served with other items.
Pâté
A finely or coarsely ground blend of meat, organ meat and herbs or seasonings. Some pâtés contain milk (for a smoother texture), egg (which helps it set in its mold), or bread (which helps stretch the ingredients and forms a firmer loaf). Pâté is often one element of a layered terrine, as simple as chicken liver mousse, served with items that balance out the richness.  A good bread and cornichons, pickled vegetables and wine are perfect. Many wines pair well with pâté — you can enjoy it with a light red or white, as long as the wine is crisp.